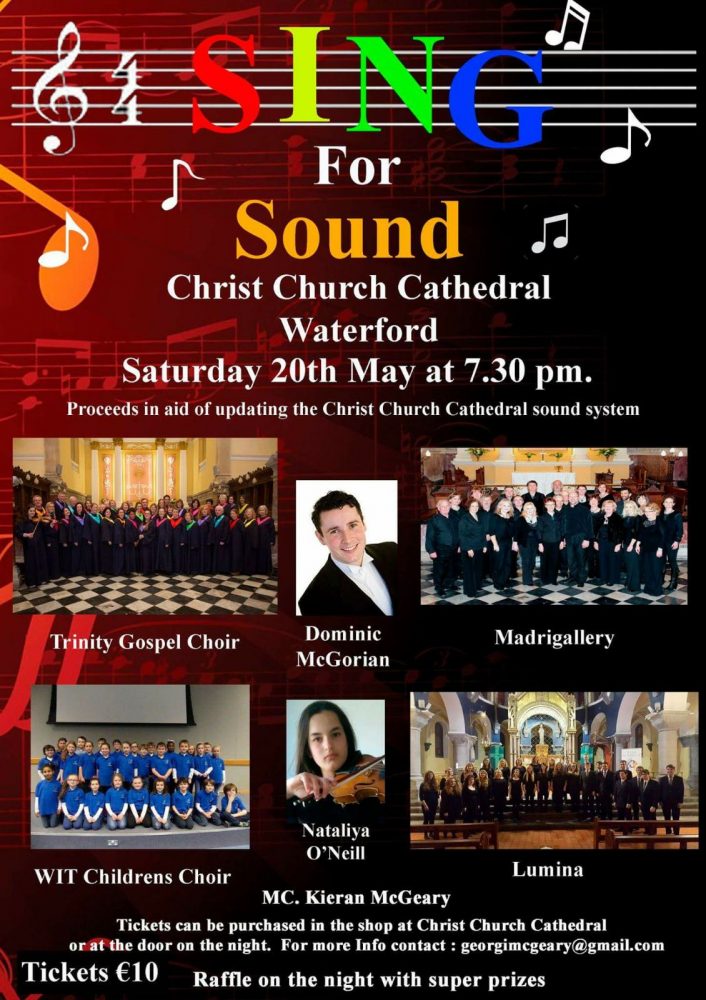 Waterford's ecumenical Trinity Gospel Choir present Sing For Sound on Saturday 20 May 2017 at 7.30.
It will be a night of wonderful music and song from some of Waterford's best musical talent.
Acts include Trinity Gospel Choir, Dominic McGorian, Madgri Gallery, WIT Childrens Choir and Lumina. Mc on the night will be Kieran McGeary.
Tickets €10. For more ticket information contact Georgi on 0861712994 email georgimcgeary@gmail.com
Proceeds in aid of a new sound system for Christ Church Cathedral.
Trinity Gospel Choir was formed to celebrate the twinning of Waterford city's magnificent Cathedrals and is a multi-faith, multi-ethnic choir representing the connection between the faiths that praise in unison in Waterford today.
"We sing on the 3rd Sunday each month in Christ Church Cathedral at 10 o'clock and at Most Holy Trinity Cathedral Waterford at 12 o'clock. We would welcome new members from all faiths to come along and join in our rehearsal and are especially looking to expand our Bass section. For more information call Colette McInerney, Musical Director on 0868438129.
Musical Director Colette McInerney With accompanists Jay Shannahan on piano and 13 year old Natalia O'Neill on violin.