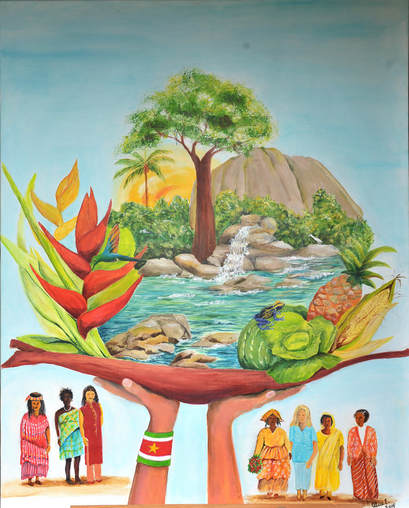 This service will be held on March 2nd in the Friends Meeting House, Enniscorthy, at 7.30 p.m.
For more information about what this service will involve see the detail of the 2018 plan below from the World Day of Prayer International website – this link
The theme this year is All God's Creation is Very Good!
Remember – World Day of Prayer services are held in all parish groups or unions in the Diocese on 2nd March.
Please check with your rector, in your parish newsletter or on your parish FB page/website for times and venues..
All God's Creation is Very Good!

Program written by the
​World Day of Prayer Committee of Suriname for WDP 2018
Genesis 1:1-31

A heri grontapu di Gado meki bun doro, dóro!

As in the beginning, God created from chaos. But everything that was created found its place in creation. All were related to each other – the earth with the light, the waters with the sky, the tree seeds with the living creatures, and the humankind with God. None could exist without the other, and the source of all was God.

There was goodness in that integrated system of relationships. But essential to that was the commitment to care. And we know that we are failing!

Women from Suriname lift up their voices to remind us that we are caretakers of God's creation! They are bringing to our attention the urgent need for caring at a time when more than 180 countries have signed the Paris Agreement on Climate Change. A commitment to keep the earth cooler depends on public policies implemented by governments, but also on our personal lifestyle.
​
As one of our Guiding Principles affirms "prayer is rooted in listening to God and to one another." Through the worship service, we listen to the multicultural and multi-ethnic people of Suriname. They take us to their communities and through their concerns. History is before our eyes! The flora and fauna are remarkable! The everyday life is weaved into the prayers.
How good is God's creation? That is the question to meditate and respond to with a personal commitment to care for creation. But it can also be an opportunity for the WDP motto "Informed prayer and prayerful action" to be affirmed in the community. What is it that we, as the WDP movement, can do to keep God's creation good?

Co