The Reverend Pat Coleman was ordained priest in the Church of God, for service in Ordained Local Ministry, in St Laserian's Cathedral, Old Leighlin, County Carlow on Sunday, January 30th at 4 p.m. by the Right Reverend Michael Burrows, Church of Ireland Bishop of Cashel, Ferns & Ossory.
From Killeshin where she also did her training, she will continue to be a member of the ministry team in Killeshin Union of Parishes and in Leighlin Union.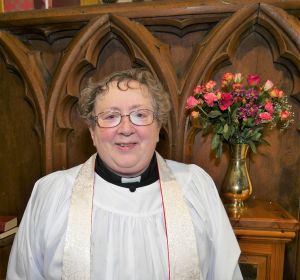 Ms Coleman is the second trainee in the Diocese to be ordained priest since the Ordained Local Ministry (OLM) course was introduced by the Church of Ireland in 2018. She was ordained deacon in 2020, the first step to becoming a priest.
Ordained Local Ministry is a collaborative one and involves working voluntarily. Training, over a number of years, encompasses a blended form of lectures, tutorials, workshops, on-line learning and self-study.  While OLMs serve in their own parishes after they are ordained to the priesthood it is intended that they will be supervised during their ministry by a rector or archdeacon in charge of a much larger area.
Bishop Michael Burrows, leading the service, welcomed Pat and her family on this auspicious, happy, hopeful and joyful occasion and wished her every blessing for all that lies ahead.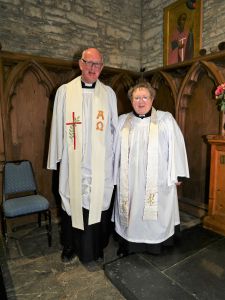 The preacher at the service was the Reverend Robert Stotesbury who told the congregation that it was a great privilege and joy for him to be invited to preach on this occasion, 'this milestone in Pat's life'.
Remembering all the study that Pat has put in to get to this day and her work in the Killeshin Union of Parishes he assured her that she will never be alone in her ministry.
"Not only are you partnered in your mission by Our Lord, you have great support here in this Diocese and in the wider community," he said.
In his sermon he asked what it means to answer the call to ministry especially during a pandemic.
"A priest is expected to be pastor, prophet, a preacher and a teacher, in other words we are expected to comfort those in need, challenge the comfortable and preach the Word…and this can be difficult at times like these," he said. "The pandemic restrictions and lockdowns have put our churches and congregations under stress but have also shown that we must be open to change."
Given all Pat's experience as a Diocesan Reader and as a wife, mother and grandmother she will find ministry enjoyable, he told her.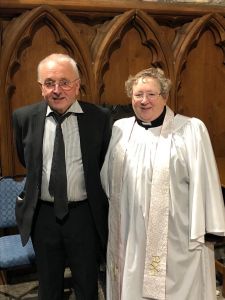 "You will be trusted with the pastoral and priestly care of people. You will also minister to a wider community whom you are called to love as neighbours. Ministry becomes exciting when you give and earn the love of the people both in the congregation and in the wider community," he added.
He also said that this was a special occasion as it would be one of the last of Bishop Michael Burrows' ordinations before he moves to the west of Ireland to become Bishop of Tuam, Limerick and Killaloe in April.
After the laying on of hands Pat was vested with her priest's stole and she was presented with a Bible.  The loud Amen of the congregation at the end of the laying on of hands completed the act of Ordination in the name of the whole Church.
The organist was Fran Durey and hymns sung (behind masks) during the service included Be still for the presence of the Lord and Father I place into your hands.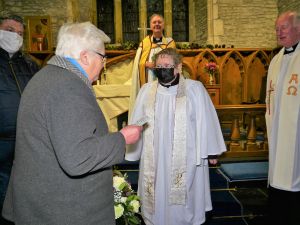 Light refreshments were available after the service due to the lifting of restrictions. Pat received a basket of flowers and words of congratulation from Vivienne Rigley on behalf of Killeshin Union parishioners.
Pat receiving flowers from parishioner Vivienne Rigley and below with well-wisher Mark Bowyer who trained as a Diocesan Reader with her.