Carlow
Posted on November 9, 2013 by admin No comments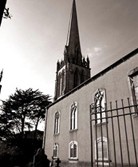 Carlow Union of Parishes is a Union of three churches, in North County Carlow, in the Diocese of Leighlin.
St. Mary's Church, Castle Hill, Carlow
GPS: 52°50'13.7″N 6°55'59.8″W
The present church is the third Church of Ireland church on this site. The first was built in the 17th century, the second in the early 18th century and the present building was completed in the 1830s. The church has a set of eight tubular bells which are played every Sunday. St. Croneybeg had her religious cell in the 6th century close by and St. Mary's Abbey, which was founded in 634, was also located in the vicinity.
Staplestown Church, Church Road, Staplestown
GPS: 52°48'51.0″N 6°53'06.6″W
The church is a detached three-bay building in the Gothic Revival style. It was constructed c. 1821 with a crenelated tower with pinnacles and a spire. Renovated c. 1870 when the chancel added. There is a freestanding vaulted mausoleum on the site dated 1853.
Rutland Church, Urglin
GPS: 52°50'37.1″N 6°51'40.0″W
A church was built here in 1659 and there is evidence to suggest that there was also an older church building previously on the site. There are views across Counties Carlow and Wicklow to Lugnaquila Mountain and down to the Blackstairs. The plaque over the door in Latin states: 'This building in its old age being a complete ruin, was rebuilt, and its tower beautified, by the rector Thomas Brooke, a.d. 1820.'
Facebook Page: www.facebook.com/carlowunion
CARLOW UNION– Service times
Staplestown Church: 9.30 a.m.
St Mary's Church, Carlow: 10.45 a.m.
Rutland Church, Urglin: 12.00
Fifth Sunday: varies
For further information contact Rev. David White, Rector.
T: 059 913 2565
E: carlow@leighlin.anglican.org

View Dioceses of Cashel, Ferns & Ossory in a larger map