Diocesan Reader Ger James took part in the CAS – Cycle Against Suicide (Carlow Town Spin Off)  on Saturday 24th June, 2017
Here's what he had to say about the experience: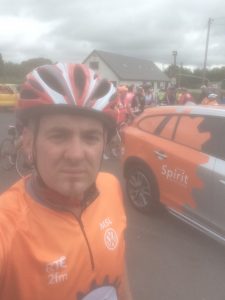 On the same days as the St Willibrord Relic walk along the banks of the River Barrow another event took place in the centre of Carlow Town – a Cycle Against Suicide (Carlow Town SpinOff).
In 2013 I sadly lost a cousin to suicide, which devastated his parents and siblings and his family. To lose a family member to suicide is probably one of the hardest ways to lose someone, you are left without answers, and you feel guilty for feeling angry. Suicide is like a heart attack, it is the split second the brain stops (like the heart stopping) but there is no coming back.
With an army of Orange on what was a dull Saturday Morning the Family of CAS met at Carlow Ruby Club to set off on a 51km spin taking in Carlow Town, Fenagh, Bagenalstown, and Milford and back to the Ruby Club for a BBQ and chat
To cycle along enjoying the scenery for a complete stranger to come along side you and start chatting, hear their story and why they are there is a very overwhelming place to be and to know that each person is there because of the same reason, no words can describe what it is like till you take on the challenge. For me it is spiritually and mentally moving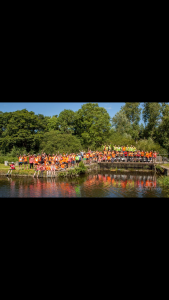 CAS is a group of people who have been affected by suicide, who suffer with depression and mental health, and get up on their bikes to raise awareness and promote positive mental Health around our country
 A SpinOff is a cycle that takes place monthly after the main 14-day Cycle around the island of Ireland ends. The events are locally organised, owned by the community and championed by Cycle Against Suicide 'Local Leaders'. A SpinOff has all the colour, energy and fun of the annual Cycle but is packed into a single day. 
#shouldertoshoulder
"It's OK to Not Feel OK and It's Absolutely OK to Ask For HELP"
GER JAMES
Carlow Union