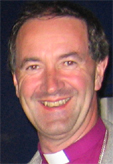 BISHOP'S LETTER
October 16 2016
In this month's letter Bishop Michael writes about what happens at our Diocesan Synod each year and about how he would like debates to be outward as well as inward looking in the future so that, as a church, we are not ostrich-like in our approach to social challenge.
Also, the appointment of a new communications officer.
Dear Friends
Each October brings with it the autumn meeting of the Diocesan Synod, to be held this year in Enniscorthy on October 19.
The synod is a necessary piece of good diocesan housekeeping and accountability – reports are debated and adopted, finances are examined, committees are elected.
It is also an occasion with an atmosphere that is essentially familial and usually good-humoured.
I was much cheered recently by a conversation with someone who by virtue of their work visits and observes many diocesan synods and, in their view, the synod here was notably positive and upbeat.
Can be rather inward-looking
That said, many people do criticize diocesan synods because of their nature they can be rather inward looking, with an emphasis on matters structural and administrative.
This is a year when we might expect to have a rather 'routine' session, not least because of the amount of strategic attention already given to our finances at the special meeting in April. The occupant of the Chair might regard the prospect of a 'routine' meeting with a certain degree of relief, but our critics might level at us the criticism that at the synod nearly two hundred people from all over the diocese gather for many hours but sometimes discuss nothing that is particularly topical or connects the affairs of the church with the challenges of the world.
It is, of course, open to members to put down motions to stimulate debate on matters of this sort… perhaps particularly when the agenda of the synod is otherwise reasonably short .. and on some occasions in the past this has been done to very good effect.
Motions reveal the real concerns and needs of parishioners
I think for example of excellent debates on subjects from farm incomes to the commemoration of 1916. Motions of this sort at their best help us to look beyond ourselves, they reveal the real concerns and needs of our parishioners, they allow people to leave the synod feeling they have been part of a well informed and challenging discussion. So I wonder what are the kind of issues which might merit careful synodical attention this autumn.
Complex issues of the future
People might wish to raise the complex issue of the future of the eighth amendment to the constitution, or they might wish to articulate concerns about the impact of Brexit not only on the economy of this island but on the witness and mission of the churches as all-Ireland bodies.
Others might wish the synod to examine how this church might best respond pastorally to rapid change in Irish society in matters touching family life, including in the area of marriage law and practice.
There might also be those who feel the synod should somehow contribute to wider public discussion concerning future models for school patronage and the future of faith based education. What unites all these issues … And they are but examples of questions at the forefront of many minds in these days … Is that the church will do neither itself or society any good by adopting an ostrich-like attitude to them.
So as I write I wonder what motions will land on the desk of the secretaries to the synod in time for the prescribed deadline of September 28, twenty one days before the session.
Meaty discussion – marker down
Of course we would not have time to deal comprehensively with a huge range of issues, but a judicious motion stimulating meaty discussion of one or two pressing social matters would in my view be very helpful indeed.
However, there is little use in pressing my appeal too much by means of this letter! By the time its words are being read, it will be too late anyway to do anything specific in time for the synod this year. But I do want to put down a marker for the future about the need to address the social challenges posed by the context in which the synod meets, prays and deliberates. And perhaps indeed this year by September 28 others will have shared my feelings or read my mind….
Important appointment 
One important appointment I cannot mention now because I write in advance of its ratification by the Diocesan Council is that of a new Diocesan Communications Officer to succeed the late Herbie Sharman who had a double role as DCO as well as editor of this magazine.
However I am confident that by the time the synod meets I will have announced the appointment of a highly talented, experienced and committed person to strengthen the work of the diocese in this vital ministry which of its nature builds bridges between church and society, which assists us in communicating our views concerning the very issues I have highlighted earlier in this letter. Whether it be through the spoken word, the printed word or via the website it is the DCO who (often even more than the bishop) is in a position to write what many read and speak where many hear.
Michael Cashel Ferns and Ossory.
——————————————–