'SMILING WHEN THE SHOE PINCHES'
CELEBRATING TRANSFORMATIONAL WORSHIP IN UNHELPFUL BUILDINGS
with Richard Giles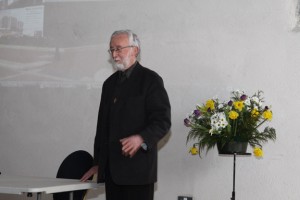 This seminar with Richard Giles considered the familiar subject of worship in restrictive buildings. It took place on Monday 20th April in St Laserian's Cathedral, Old Leighlin and hosted by the indefatigable Dean, the Very Revd Tom Gordon.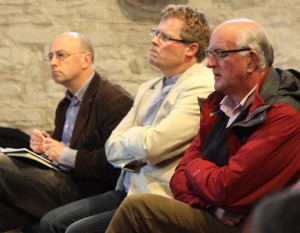 The seminar was supported by a respectable number of people, mostly those ordained. So the Diocese may be ready to listen perhaps to some rather radical views on how our services and congregations should be organised to maximize the act of collective worship in a society where in many places church attendance is steadily falling.
Richard's presentation of today's challenge for the church ongoing as observed by him in other parts of the world will undoubtedly resonate with those who were present as they considered their own local experience with the problems laid out by the speaker. He was quick to provide ideas as how to help keep the slide in check and turn despair into hope and solution.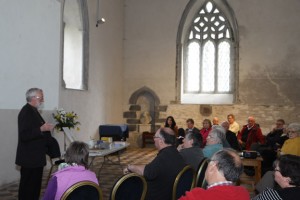 Richard began his dissertation by observing how appropriate it was for this to be taking place in this new space in St Laserian's.  The former old Chapter Room is now refurbished with modern facilities while retaining its ecclesiastical appearance and that can now be put to a variety of uses, one of which was this lecture.
Firstly Richard considered how a space can be reconfigured and then how it might be used.  He showed illustrations of some examples of worship space that had outlived its usefulness with falling numbers or space badly arranged and furnished and then how all that can be improved.
Seating re-arrangement was a foremost example.  Where possible to have the opportunity of seating in the round rather than in long rectangular pews stretching the length and breadth of a church which condemns everyone to passive observance, virtually containing and constraining them.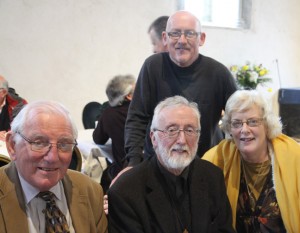 Richard did admit that it was not always possible to achieve such alterations especially if the furniture was fixed in place and an integrated part of the building.  And that there might be resistance by long serving parishioners.  He candidly suggested that now is the time to 'do or die' and perhaps even now it is too late but perseverance can achieve much, particularly if it is accomplished in small stages so that people can become accustomed to change even at the expense of losing those who fervently insist on former concepts.
At least 'have a go' and do not wait or nothing will happen, it may be surprising what positive impact there will be.  Moreover if the area of a church cannot be altered then there may be other places within the building to convert for worship.
A small room adjacent might be brought into use with seating in the round or even two rooms with a congregation moving from one to the other depending on the stage of a service or for teaching or for meetings, etc., even within the main building part of a service might take place at the West end and then move to the East end for the remainder.
Congregations that today have become smaller in number, can feel a greater sense of togetherness if they are brought together in a space that suits the number rather than a random selection of people scattered about a huge church space.
Rows of pews encourages a passivity, a 'disconnect', from theological ideal and almost with a waiting to be entertained. But in a space proportionate to the number of worshippers there is much more of a sense of interaction and collective activity showing that they are have come in order to take part. It was even shown how the minister can be included as one of the circle rather than at an isolated remove 'up in the sanctuary.'
His illustrations startlingly contrasted large empty and demoralising church spaces filled only with grand pillars as opposed to warm, suitable areas comfortably housing any average Sunday congregation.
Richard went on to show how churches can become buildings that accumulate unnecessary materials and furniture.  Places like vestries where piles of 'junk' can conceal the important aspects of the space.  Lack of clutter helps an attitude of orderliness and clear thinking.
Similarly porches can often be given little thought as to their primary function, that of entry and welcome.
One 'before and after' situation was shown where it was physically awkward to gain access through the main doorway and then for the worshipper or visitor to be confronted with obstacles that discouraged an open and warm welcome.  A little thought, a tidy up and a little more space gave both visitor and a churchwarden the opportunity to offer welcoming entry, a sense of anticipation and of participation.
Richard took the specific example of the font, traditionally placed at the door of the church to symbolise baptism.  He showed instances of fonts hidden in obscure corners, some even used as flower stands.  The ideal, he purported, was to have a font in direct proportion to the size of the church, in keeping with its style, in a prominent position showing quite clearly what it is even to the extent of keeping the interior filled with water.
Other places to take a look at might be the chancel and sanctuary.  Is it laid out to the best of its use, is the furniture in the right place, is there too much furniture, is it fit for purpose for today's needs? All these matters can be considered in the light of what is practical today and not just as it was in days gone by and which is no longer practicable.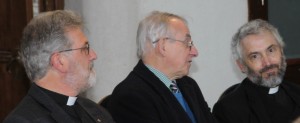 With these rather radical views that gave those present much food for thought, the session concluded with some question and answer which in turn gave way to yet another use of this newly reconstituted room for the serving of lunch generously offered and served by the parish of St Laserian's and its Dean – Ed.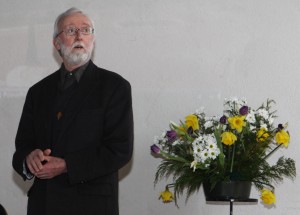 Richard Giles, one of Anglicanism's leading liturgists and the author of numerous publications on the topic of transformative worship and the design of liturgical space, presented his ideals reinforced by a variety of slides illustrating the good use of space and the opposite.
From 1999 to 2008 Richard was Dean of Philadelphia Cathedral in the Diocese of Pennsylvania, USA, where he oversaw the radical renovation of the cathedral to become a place of transformative worship. In 2008 he became a Visiting Fellow of St John's College, Durham. He continues to work as a facilitator of transformative worship and a consultant in liturgical.  His specialism is the design of liturgical space, and his books 'Re-Pitching the Tent' and 'Creating Uncommon Worship' are published by Liturgical Press. He now lives in Tynemouth, UK.

============================