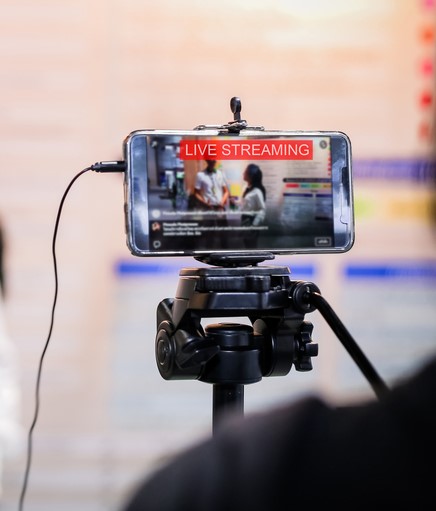 ONLINE CHURCH SERVICES
DIOCESE OF CASHEL, FERNS & OSSORY
Week of Saturday 2nd May to Friday 8th May
Due to the COVID-19 pandemic church services are suspended at present but you can link in to these services at diocesan and national level:
1.Bishop Michael Burrows' audio-visual reflection GATE OF THE SHEEP will be live on cashel.anglican.org at 1 p.m. tomorrow, Saturday. 2ND MAY 2020.
The May 2020 Diocesan Magazine – a free digital version (and Covid special) – is now available on the cashel.anglican.org homepage. Print copies will be distributed when restrictions lift. Postal copies as usual.
 Also please check out your parish Facebook page or website (if there is one)for details of online services in your parish this Sunday or contact your rector for information.
The planned online services in the diocese of Cashel, Ferns & Ossory include:
For other Church of Ireland services around the country that you can link in with please click on the following:
Link to www.ireland.anglican.org for details of services available online nationally. Click on Online broadcast services for Sundays and for weekdays.
Also, the BOOK OF COMMON PRAYER can be accessed on line on the Church of Ireland's national website on the Worship Resources, 2004 Texts page: here
RADIO
Details of spiritual/religious radio programmes broadcast in this diocese
CHRISTIAN MEDIA TRUST programmes on SOUTH EAST RADIO 95.2 – 96.4FM
See https://www.southeastradio.ie/listen-live/
http://www.christianmediatrust.ie/
Saturday morning
Simply Divine
10.04 a.m. -10.30 a.m. with Maria Colfer
Topic: vocations
Sounds For Sunday presented by Patricia McNally
With a reflection from the Reverend Ian Cruickshank
EMAIL ADDRESS FOR REQUESTS: sforsundaycmt@gmail.com
Sunday Celebration 10 a.m.
 Sunday Reflection – 8.30 p.m. – 9.00 p.m.
Topic: praying for the world
Music Box – 8.04 p.m. – 8.30 p.m.
Faith Matters – 8.30 p.m. – 9.00 p.m.
Topic: the Parable garden in Wexford
 Thoughts for Tuesday – 8.04 p.m.- 8.30 p.m.
 TIPPERARY MID WEST RADIO
Dean Gerald Field of Cashel presents Midweek Musings on this station on Wednesday evenings at 6.30 – 7 p.m.  Tipperary Mid West Radio is a community radio station serving Tipperary town, Cashel, and south Co. Tipperary on 104.8fm, 106.7fm and online.
Check out http://www.radio.tippmidwestradio.com/
TIPP FM
Canon Barbara Fryday, rector of Clonmel Union of Parishes presents the Sunday Life programme once every 5 weeks on Tipp FM 97.1 between 7 – 8 a.m.
 COMMUNITY RADIO KILKENNY CITY
Heidi Good and Fr. Willie Purcell alternate as presenters of Spirit Alive on Saturday mornings at 10 a.m.
Community Radio Kilkenny City 88.7fm
See http://communityradiokilkennycity.ie/listen-live-back/
Also don't forget to listen live/listen back to:
SOULWAVES https://www.soulwavesradio.ie/ the organisation that distributes spiritually-focused audio to stations round the country. Lots of topical clips to listen to here each week.
RTE's religious programmes by clicking https://www.rte.ie/player/all-programmes/category/Religion for television and RTE radio programme LEAP OF FAITH aired on Friday nights at 10.03 p.m.
https://www.rte.ie/radio1/the-leap-of-faith/  Always interesting items.
Spirit Radio – listen by clicking on https://www.spiritradio.ie/ as well.  You can download the app on your phone also so that you can listen anywhere.
Enjoy