Kilkenny
Posted on January 20, 2014 by admin No comments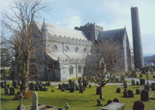 Website: www.stcanicescathedral.com
Facebook page:
https://www.facebook.com/TheKilkennyUnionOfParishes
Kilkenny, known as the marble city, is the home of the magnificent St Canice's Cathedral.
Along with the cathedral parish are three other parishes:
St John's in John Street is located within the city.
St Lachtain's, Freshford and St Aidan's, Kilmanagh are both about 10 miles from the city.
KILKENNY UNION
St. Canice's Cathedral, Kilkenny: Sunday 11.30 a.m.
and Wednesday 10.30 a.m.
St John's Church, Kilkenny: Sunday 10.00 a.m.
St Lachtain's Church, Freshford: Sunday 10.00 a.m.
St Aidan's Church, Kilmanagh: Sunday 10.00 a.m.
These are the usual service times but there are special holiday and united services
Dean: Rev. Katherine Poulton
Curate: Rev. David Compton

View Dioceses of Cashel, Ferns & Ossory in a larger map