SENIOR BISHOP'S MEDAL PRIZEWINNERS 2014
2014 Medal winner: Osasu Igbinedion
Runners – up: Catherine Burström & Rachel Orr 
All three are students in Kilkenny College. 
Thanks to all who took part and congratulations to the 2014 prizewinners.
+++++
JUNIOR BISHOP'S MEDAL RESULTS 2014 
Congratulations to this year's prizewinners – 
2014 Junior Bishop's Medal – Hannah Graham, Kilnamanagh NS 
Joint second – John Moynan & Dylan Whiteford. Both from  
Abbeyleix South NS. 
Third equal – Emma Alexander, from Abbeyleix South NS;
Andrea Caldbeck from Clonenagh NS and Craig Chamney from
Carrigduff NS.
++++++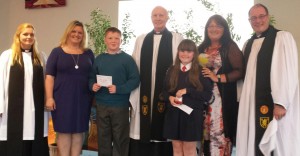 ++++++++++