THE MANX LINX!
The Diocesan Link with The Isle of Man, was established in 2009.
The Isle of Man is about the size of an Irish Diocese with the Bishop being regarded as its spiritual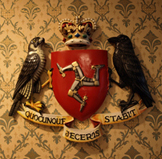 leader by all of the regular christian denominations, including the Roman Catholic population which is small and comes under their Bishop of Liverpool. The Bishop of Sodor also as, by right, a seat in the Upper House of the Tynwald which is the parliament of the Isle which regards itself as a christian country with prayers beginning each sitting of the daily parliament. There are three Houses; the Upper House is the Legislative Council, the elected members of the Lower House (the House of Keys) and the two bodies join in a joint chamber to ratify laws. The Isle of Man is not part of the EU and it has its own parliament ­ the oldest continuous parliament in the world and the country defines itself as an"internally self­governing dependent territory of the Crown".
The Island with a population of abour 80,000; it is a particularly safe place to live in with a very low crime rate. The Government supports the education system to a very large financial degree and there has been over recent years a growing pride in all things Manx. From actively discouraging the learning of the celtic manx language some years back, it is now being enthusiastically promoted with over 500 people speaking manx fluently with even a national school especially dedicated to the teaching of the language. The country is still regarded as a haven for the rich and famous with its low tax regime.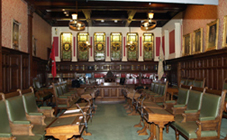 Both dioceses have had previous experience with links: for us not only Lünd but also a former liaison with the Diocese of Huron in Canada. The Isle of Man maintains contact with Bali with a particular island-to-island aspect and also works with the Save the Children in Rwanda.
It was appreciated that the island isolation factor was common to both the Isle of Man and to Ireland both being separate from the mainland of Europe.