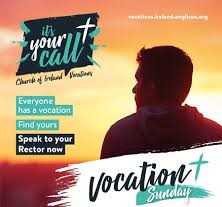 Please see videos related to Vocation Sunday, September 13th at the link below.
The first video It's Your Call,  was produced for last year's Vocation Sunday. The second – Called to Ministry – has been produced by the Diocese of Down and Dromore.
Canon David Gillespie, the Central Director of Ordinands, has suggested that it may also be helpful.
Videos: It's Your Call & Called to Ministry
www.ireland.anglican.org/news/9971/videos-its-your-call-called