A Night of Joy – The Reverend Norman McCausland becomes Rector of Wexford and Kilscoran Union of Parishes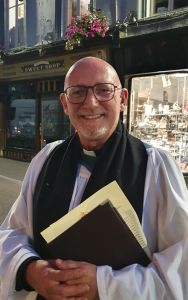 A NIGHT OF JOY
'I'm about building and rebuilding community and communities of faith'
The Reverend Norman McCausland was instituted as incumbent of the Church of Ireland's Wexford and Kilscoran Union of Parishes at a special service in St Iberius Church, Wexford, on Friday night last, August 12th.
He was instituted by The Venerable Ruth Elmes, Archbishop's Commissary until the consecration of new Bishop-Elect Adrian Wilkinson in October.
Mr McCausland succeeds Canon Arthur Minion who is now Rector of Birr Union of Parishes in County Offaly.
The new rector is from Omagh originally but has ministered in many places. Prior to his appointment here he was rector of the parish of Raheny and Coolock in the Diocese of Dublin and Glendalough for nine years.
Ordained in 1989, Norman has a rich variety of pastoral and parochial experience and has served on the staff of the Church of Ireland Theological College. He is also known for his interests and qualifications in music, theatre and communications. He is married to Tara and has three sons – Cian 23, Tom 21, and Conor 12.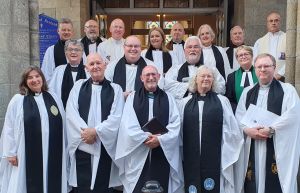 The preacher at the service of institution was The Reverend Canon Gillian Wharton, Rector of Mount Merrion parish in Dublin (first on left – front row).
She welcomed the new rector and his family to Wexford and wished Mr McCausland well in this new chapter of his life.
"It is an exciting and daunting time for ministry as we try to work out how it is that we go forward," she said.
She pointed out that people, clergy and parishioners are tired after the difficulties of the pandemic and witnessing the human cost of the more recent war in Ukraine and other strife around the world. She said that it is time to look to the future and to using everyone's skills in a parish to develop its ministry, particularly as there are now 'many more boxes to be ticked and forms to be filled' in order to comply with State rules and regulations.
"Clergy can't do it all," she said. "Today as we gather here in this new sphere of Norman's ministry we look to the future. Norman is a strategic thinker, he thinks things through, he works out what people's expectations might be…he is courageous to go and try things…but all those things will be tried with you, as parishioners, working alongside him… and all of those things are subservient to being and doing what God is calling Norman to be and to do with you in this place. Norman has been chosen and called because of the gifts and skills that he has just as in the same way each of you has been called because of the gifts and skills that you have."
The blueprint for all that's to be done will be the personal ministry of Jesus Christ, she continued.
"He had to deal with the rules and regulations, with the prejudices, vices and notions that people had in his day too. The hallmark of His ministry was how people loved and cared for each other. Norman is first and foremost here to care and love you and bring you an experience of God's love and God's ministry as shown in the person of Jesus of Christ," he told the congregation, "and each of you is called to share in that ministry with him so tonight is a night of joy for Wexford and Kilscoran. Tonight our hope and our prayer is that God will richly bless you in your ministry here, Norman, and that together you will grow in your understanding of God, in your faith in Christ and in your care, compassion and love and welcome and inclusion for each other and all those who are beyond these doors and part of the wider community."
Fr Billy Swan welcomed Norman on behalf of the Roman Catholic Church and looked forward to continuing the strong ecumenical relationship that has been established by clergy of all faith traditions in Wexford.
"I would like to wish you every blessing for a long and fruitful ministry here in Wexford for many years to come," he said.
He also acknowledged the work, service and friendship of the new rector's predecessor, Canon Arthur Minion, and saluted the dedicated ministry of the Reverend Conor O'Reilly, curate, particularly as priest-in-charge during the recent vacancy.
Norman McCausland was also welcomed by The Reverend Katherine Kehoe of the Methodist Church.
"I am delighted to be here this evening to greet you and welcome you and your family to the sunny south-east," she said. "My prayer for you this evening as you set out on a new adventure and journey with God that the light of hope will fill your heart with peace and love."
Struck by the first scripture reading (Joshua 1:2), she reminded him of what it said and its value when someone was starting out on a journey – Be strong and courageous: do not be frightened or dismayed, for the Lord your God is with you wherever you go."
Cathaoirleach of Wexford County Council, George Lawlor welcomed him on behalf of the people of Wexford town and county.
"I hope it is a most enjoyable stage in your ministry," he said. "Congratulations on being appointed to this place where you will find friendly and welcoming people."
He also pointed out the many attractions of Wexford for a person interested in the arts listing the many drama, music and cultural organisations in the area.
Completing the greetings, parishioner Anna Skrine welcomed Norman to the Union of Parishes that includes nine churches – St Iberius, Wexford, Ardcolm (Castlebridge), St Munn's, Taghmon, St James's, Horetown, Killurin Church, St Enoch's, Killinick, St David's, Mulrankin, St Paul's, Balloughton and St Peter's, Kilscoran.
"We hope you will be very happy here," she said.
In reply, the new rector thanked everyone for the warm parish, civic and ecumenical welcome he had received – and all those who had organised the service.
"I look forward to getting to know you all, to time together as we meet the challenge of being a Christian in the world today, in a post-Covid era that has taken its toll on our numbers, our congregations, on our mental health, in so many different ways. I'm about building and rebuilding and the challenge for all of us is to rebuild community and communities of faith," he said.
The organist at the service was Dr Jeffrey Cox accompanied by trumpeter Anthony Nolan.
Choral pieces included the Introit Lead Me Lord, Bruckner's Motet 'Locus Iste', If ye Love me by Thomas Tallis and the Anthem -Stanford's Jubilate Deo. Congregational hymns were Love Divine All Loves Excelling, Be Thou My Vision and Go Forth and Tell.
Raheny and Coolock parishioner Séamus Puirséil and Wexford and Kilscoran Youth Intern Victoria Hawkins read the lessons and seven other parishioners presented symbols of the teaching, pastoral and sacramental ministry of an incumbent, namely a Bible, water, The Book of Common Prayer, bread and wine, oil, a towel and a key of the church. Canon Mark Hayden of Gorey Group of Parishes presented him with a copy of the Diocesan directory.
Guests included the Mayor of Wexford, Ms Maura Bell and the President of Wexford Chamber of Commerce, Mr Brendan Crowley.
Refreshments were served in Clayton White's Hotel Wexford after the service and a cake cut by The Reverend McCausland to celebrate the special event.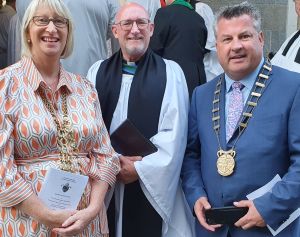 The new rector with the Mayor of Wexford Maura Bell and Chair of Wexford County Council George Lawlor and below – being greeted by the President of Wexford Chamber of Commerce Brendan Crowley