Bishop Adrian Wilkinson was enthroned as Bishop of Leighlin in St Laserian's Cathedral, Old Leighlin yesterday afternoon at 3.30 p.m.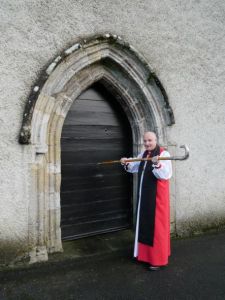 Diocesan Readers were also re-commissioned at this special service and the Bishop thanked them publicly for their much-appreciated work.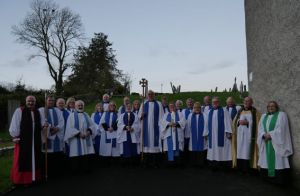 In his three-point sermon Bishop Wilkinson spoke about Jesus the Supreme King, Jesus the suffering King and Jesus the servant King in order to link the concepts of Jesus of Nazareth and God, on this, the Feast of Christ the King.
The lesson readers were Diocesan Readers Janet Crampton and Heidi Good and ecumenical colleagues Bishop Denis Nulty, Fr Pat Hennessey and The Reverend Susan Gallagher welcomed the new bishop to Leighlin.  (See main image)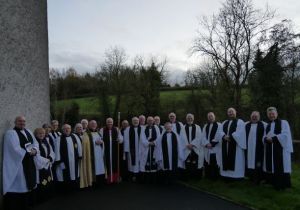 Civic representatives present were Mayor of Carlow, Fintan Phelan, Cathaoirleach of Carlow County Council, Brian O'Donoghue and TD Jennifer Murnane-O'Connor.
The hymns chosen were Praise to the Lord, the Almighty, the King of Creation, Alleluia! Sing to Jesus and Crown him with many crowns. The organist was Fran Durie.
The collection was in support of ministry in the diocese and refreshments were enjoyed in the Lady Chapel afterwards.
The service was organised by The Very Reverend Tom Gordon, Dean of Leighlin.