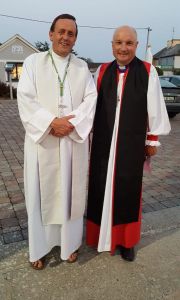 Continuing a long history of ecumenical fellowship and collaboration in the Diocese of Ferns, Bishop Wilkinson joined his Roman Catholic counterpart Bishop Ger Nash and other clergy at the annual ecumenical service in Our Lady's Island Church on Tuesday, 5th September. The service was arranged by Fr James Murphy, a member of the Ferns Diocesan Ecumenical Committee. Also in attendance was the Revd Canon Trevor Sargent, the Church of Ireland representative on the Ferns ecumenical committee and Fr Jim Cogley PP.
Lady's Island in south County Wexford has been a place of pilgrimage for many centuries and it looked at its best on the warm and sunny evening.
Before he began his sermon, Bishop Wilkinson acknowledged that it was the second anniversary of Bishop Nash's ordination as Bishop of Ferns. He extended his congratulations to Bishop Ger and thanked him for his ecumenical solidarity and support and the congregation greeted this with applause.
In his sermon Bishop Wilkinson referred to the gospel reading from Luke which recalls the visitation of the Blessed Virgin Mary to Elizabeth. Recalling that both women were on the margins, Elizabeth as a childless wife until she was old and Mary as an unmarried expectant young mother, Bishop Wilkinson said 'Elizabeth's words and actions invite us to reflect on our own openness to the ways that God chooses to act in our world. What is God doing through unexpected people in our society today? Where is God at work through the people that we in our churches might overlook or exclude? Will we listen to the Spirit's prompting when the bearers of God's new reality show up on our doorstep?'
The service ended with generous hospitality in the nearby community centre.