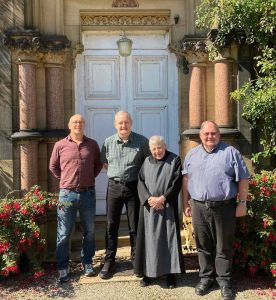 Daniel Fleming is currently on retreat at the Community of the Resurrection at Mirfeld in West Yorkshire. Joining him there are the Very Revd Paul Draper, Dean of Lismore. Lismore is Daniel's home parish. Also on retreat is the Very Revd James Mulhall. Daniel is to serve as deacon in Cashel Union with Dean Mulhall. Leading part of the retreat is Fr John Gribben CR,  who is known to many in the Church of Ireland as he is a native of Belfast.
Daniel was born in Cork and for many years worked in engineering, IT and project management in Ireland and abroad. In his younger years he felt a spiritual calling but did not pursue it. However, the feeling that he should follow this calling never left him and six years ago at the prompting of a trusted friend he began the process of discernment. 'It was not an easy path' he says, 'it held its challenges but now I'm very much looking forward to serving in Cashel Union where the mentorship and guidance of Dean James will be invaluable in this formative year of my ministry.'
Daniel is involved in Interfaith work, and in 2022, he spent four weeks on placement at the Anglican cathedral in Cairo where he worked at the coalface of Christian-Muslim relations. He recently presented papers on Interfaith topics at conferences in Germany.
Additionally, he is the Curator of the Cotton Library in St Carthage's
Cathedral in Lismore. In 2019 with the Dean of Lismore, Daniel began an ambitious conservation and preservation project for the collection. He also led a successful fundraising campaign to buy a rare Bedell Irish language Bible for the library in 2020.
As someone who is a member of the Royal Society of Antiquarians of Ireland he says, 'as might be expected I am passionate about books and have far too many. Returning to full-time study has not helped with the book problem!'
Daniel will be ordained Deacon in St Canice's Cathedral this Sunday afternoon 10th September at 3.30. All are most welcome to attend this service as Daniel takes this next step in his ministry.