A fun filled Holiday Camp with a circus theme was held from 23rd to 27th July in St. Peter's Parish Centre, Kiltegan attended by 36 children and led by 8 teenagers (with a small group of adult leaders providing support and first-aid).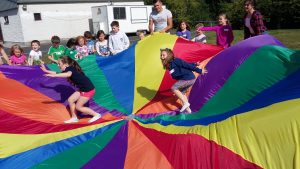 It was organised by BKT (Baltinglass, Kiltegan and Tullow).Youth group.
Each day was action-packed and followed The Big Top programme written by John Hardwick. This included puppets, Watt family stories and bible narratives, crafts, work sheets and lots of games.
The children engaged with the stories of Samson(Strong Man), Elijah (Fire-Eater), Daniel (Lion-tamer), Jonah (Escape artist) and Moses (Ring Leader), learning new memory verses daily.
Lunch was provided daily by parishioners for the leaders which was very much appreciated.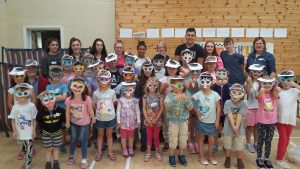 Mid- week, the teenage leaders enjoyed a visit to the cinema in Carlow with a choice of movies, Mama Mia Here we go again and Mission Impossible!!
A parent hosted a midnight pizza party on return to Kiltegan which ended a great night out.
The event was organised by BKT Youth Club with the support of the Reverend Robert Jones.
DON'T FORGET TO BOOK YOUR PLACE ON OUR DAY TRIP TO TAYTO PARK – 11TH AUGUST
Booking forms are now available for a day trip to Tayto Park on Saturday 11th August with a bus leaving Weaver's Square, Baltinglass at 9 am.
This trip is for all secondary school students including incoming first years in September.  Any enquiries please contact Myra Moody(087) 9873471.