Carlow National School -Music Rich School Award
Carlow's contribution to music and music education was boosted pre Christmas when Carlow National School on Green Road was presented with the prestigious Music Rich School Award from Music Generation.
M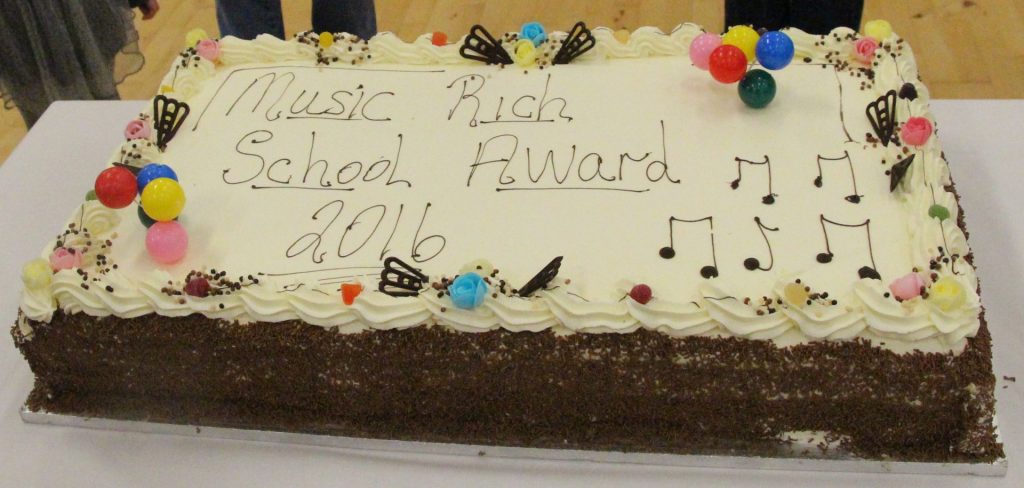 usic Generation is Ireland's National Music Educational Programme, initiated 6 years ago by Music Network and co-funded by U2, The Ireland Funds, the Department of Education and Skills and Local Music Education Partnerships.
Making the presentation Paula Phelan , Music Generation Co-ordinator explained that Carlow N.S. are only the second school in the county to receive this award. She said that the award acknowledges the effort and determination undertaken by the whole school in its approach  in music . (Ballinabranna National School is the other school in the county to achieve the Music Rich School designation two years ago.
On acceptance of the award on behalf of the school, Deputy Principal Hazel Smyth thanked the Music Generation Tutors Aideen Mc Loughlin , Imelda Andrews and Co-ordinator Paula Phelan for their hard work ,dedication and musical progression throughout the school.
The Green Road School began working with Music Generation in the 2013/14 School Year. Prior to then only 1 classroom had "singing tuition". This has been upgraded to "Whole School Music" for the last and current school year. School Principal, Marie McDermott-Walshe describes the Carlow NS as primarily a "singing school" where song and vocal element are fostered. The younger classes, – Junior and Senior Infants plus 1st Class, take part in "Early Years Music" programme which is based on singing and percussion instruments.
In May 2016 Carlow NS ran a very successful Music Generation Concert. The school's senior choir performed in the St Mary's Valentines Day fundraising concert in 2014/15.
At the Music Generation presentation Deputy Principal Hazel Smyth acknowledged the contribution of the very active Parents' Group, and the support of the Board of Management to the school's music effort. "Every child  in the school, can avail of  Music Generation with a Musical Programme in the Junior end of the school and a Vocal Programme in the Senior end."
Chairperson of the Board of Management , John Shirley , commended the staff and children and paid tribute to the rich and varied musical background already in place in the school through its involvement with  Carol and Gift Services , Christmas Fairs , weekly Choir Practice , School Assemblies  and annual Choral Festival.
At the Music Rich School Award Presentation the Parent's Group donated a huge "celebration cake" which was enjoyed by the fully deserving school pupils and staff and parents.