GRANDPARENTS VERY IMPORTANT IN PASSING ON THE CHRISTIAN STORY
How to work with children who haven't heard the Christian story and the necessity for focusing on whole family ministry rather than on children's ministry alone – these were the main issues discussed at a recent UK and Ireland Children's Ministry Network Conference held in Dungarvan, County Waterford.
Organised by the Reverend James Mulhall, the Diocese of Cashel, Ferns and Ossory's Children's Ministry Officer, this major three-day conference focused on how the challenges of nurturing children in the Christian faith could be met.
It was attended by 17 people involved in children's ministry from different faith traditions in Ireland, England, Scotland and Wales.
Ireland has it easier, the conference heard, in that it hasn't yet 'lost the generation that knows the story'.
"You've still got a bedrock of knowledge," Martin Payne of the Bible Fellowship Society stated, "whereas in England we've lost some of this. That's why have to think much bigger than children's ministry. It has to be about inter-generational ministry – working with parents and grandparents as well. The grandparents' factor is huge."
Communicating with young people who learn in a very different way to their parents was also discussed.
"Young people are not used to sitting and listening," Joy Rainer of the Moravian Church added. "You have to offer them more."
"Ministry has to be more hands-on," Martyn Payne agreed. "You have to talk to people in a people way, in the language they understand."
The term 'inter-generational ministry' cropped up repeatedly as did the value of Messy Church and Godly Play in engaging with families.
WEAR THEIR CHRISTIAN VALUES LIKE A BEAUTIFUL NECKLACE
Well-being of children was the focus of another workshop led by Penny Fuller of the Methodist church. She spoke of a call in the UK for churches to provide children's mental health supports.
How to rear children to be resilient, to be themselves in an often inauthentic, social media driven world also came up.
"Are we preparing spaces for spiritual conversations – for the big questions to be talked about?" one delegate asked.
Another attendee didn't mince his words when the impact of social media came up.
"Church should be a bull**** free zone, a place where kids can say 'this is me as I am, the authentic me' and a place where people are helped to build up the skills to cope with life."
A delegate from Wales spoke of the pressures young people are under from social media.
"How do we train or inspire them to wear their Christian values round their neck like a beautiful necklace?" he asked.
The answers, the conference heard, were in developing inter-generational ministry, more creative learning methods in a technological world and influencing college lecturers to train clergy to be better able to communicate the Christian message to generations who 'haven't heard the story'.
Open cafes were mentioned where people choose what to talk about and training youth leaders to become facilitators of (spiritual) discussions rather than just craft and story session providers.
Bishop Burrows, who addressed the conference, also spoke of how parents carry a level of responsibility in children's ministry and of how they should show their children that they love God with their minds as well as parents doing things like sending their children to church schools or simply being involved in the church community.
"Children pick up the attitudes they hear at the dinner table after all, and see what parents' priorities are," he stated.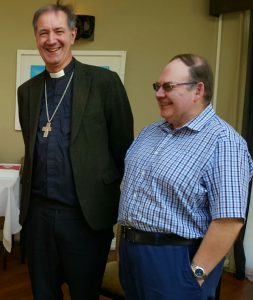 SCHOOL/CHURCH LINK AN ASSET
The still-strong link here in Ireland between school, church and parish was seen as a great asset by those from abroad where that link no longer exists.
This followed teachers from the Diocese talking about this link and how it worked.
"We could make a lot more of that space," Reverend Mulhall said.
Bishop Burrows agreed.
"A lot of people would like to take that away from us and nationalise the schools system. I visit 28 primary schools and it's an absolute privilege to do that."
"We lost that privilege a long time ago…" replied a Scottish delegate.
The group later visited the Cathedral centres of Kilkenny and Waterford to witness children's ministry there.
SPIRITUALLY ENRICHING – KNOW WHERE WE NEED TO GO
The response to the conference has been very positive, according to Reverend Mulhall.
"We were given the space to see ourselves (this Diocese) through others' eyes and in telling our story of how we do children's ministry to realise all that is going on in our parishes.
Overall it was a spiritually enriching experience, almost like a retreat where one's soul is refreshed and energised in taking new brave steps to further the kingdom of God among us.
It came across that we are still looking at Sunday school ways of interacting with children whereas the emphasis is now on inter-generational faith contexts.
It's obvious that while we may not know exactly how to get there we now have the vision of where we need to go."
See –  www.cmn.ireland.anglican.org.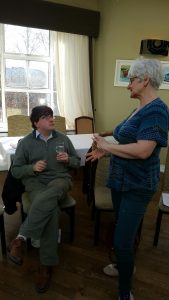 ENDS