CHORAL AND ORGAN SCHOLARS SOUGHT FOR ST CANICE'S
 Bartosz Thiede, the new Director of Music at St Canice's Cathedral, is seeking applications for choir and organ scholarships there.  Four Junior Choral Scholars (under 18s) and four Senior Choral Scholars (college age) are sought as well as one Organ Scholar. Having experienced the value of such training himself Bartosz believes that this is a great opportunity for young people.
"We need people to join our flourishing and vibrant voluntary choir," he says. "I am a huge advocate of the benefits which singing, and more generally communal music making, can bring to our lives. I hope that through these scholarships, as well as all the exciting music provisions at the cathedral (both those already present and future ones), we will be able to achieve something quite special and put St Canice's Cathedral on the map as a place where people come to sing and where the next generation of organists, choral directors, and choral singers is forged."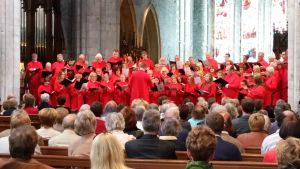 What the scholar gets in return
In exchange for attending Friday evening rehearsals and singing for Sunday services, scholars receive free singing tuition (singing, organ and conducting in the case of the organ scholar) and a stipend.
"They will also have a chance to develop all the essential skills of being a choral singer such as sight-singing or blending with an ensemble – not to mention the fun and social aspect of being in a supportive choir."
Four Junior Choral Scholarships available – up to 18 years of age
The Junior Choral Scholarship programme is aimed at children aged up to the age of 18 who are confident singers but would benefit from extra tuition and experience of a wide range of choral music and developing skills such as sight-singing, tone production, or blending with an ensemble.  The scholarship for the year 2019-2020 comes with a €400 annual stipend, a weekly individual singing lesson, as well as help with applying for university choral scholarships post-Kilkenny Cathedral life. The scholar (open to any voice type) would be expected to attend a weekly choir rehearsal 7-9 p.m., sing for most Sunday services, as well as being expected to take up their hour lesson offered as part of the scholarships.
Four Senior Choral Scholarship available – aimed at college students
The Senior Choral Scholarship programme comes with the same expectation of attending Friday rehearsals as well as Sunday services. However, the senior Scholars will also form the 'St Canice's Consort' which will explore a more challenging range of choral music. In return, the Senior Scholar will receive a €1250 annual stipend, weekly singing lessons, as well as opportunities for solo and consort work. This is aimed at 'university-aged' students, however, there is no stipulated age limit.
One Organ Scholar
The Organ Scholar will receive an annual stipend of €1500, a weekly singing lesson, a weekly organ lesson, as well as an opportunity to develop basic knowledge of choral conducting. The Organ Scholar will be expected to attend Friday evening rehearsals as well as Sunday services and be involved in the musical life of the Cathedral.
Anyone who might be interested in one of the scholarships, or who would like to join St Canice's Cathedral Choir should email the Director of Music, Bartosz Thiede at Music@StCanicesCathedral.com.