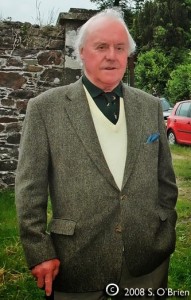 LORD WATERFORD
John Hubert de la Poer Beresford, 8th Marquis of Waterford, passed away on 11th February 2015 and was laid to rest among his ancestors and relatives in Clonagam cemetery on Saturday 14th February, following a memorable ecumenical service in Clonagam church. 
His remains were received at the church by former rector Canon George Cliffe, priest-in-charge of Fiddown Union the Revd Mellissa Jeffers and Father Richard O'Halloran, CC Portlaw. The church was filled to capacity with a large number in the grounds outside.
Chief mourners were his beloved wife Caroline, sons Tyrone, Charles, James and daughter Alice and extended family members were supported and comforted by the congregation which overflowed to the grounds outside. His brother Lord Patrick Beresford was unable to be present owing to illness.
Lord Waterford served his church well and in many capacities, Diocesan Synod, Select Vestry, parochial nominator and as rector's churchwarden for many years. A very generous supporter of parish funds he was always willing to make the grounds of Curraghmore House available for parish fund-raising events something which the parish is eternally grateful for.  Within the wider community he was regarded as a good and kindly neighbor.
Service:
Chief celebrant at the service was the Revd Canon George Cliffe, recently retired rector of the Fiddown Union of Churches. Canon Cliffe was assisted by the newly appointed, part-time priest in charge – the Revd Mellissa Jeffers, and also from Athy, Co. Kildare, came the now retired Dean of Cashel, the Revd Dr Philip John Knowles, who played the organ. Dr Knowles made many visits to Portlaw in recent years, coming especially to play the organ in Holy Trinity church. There being no electricity, ever, in this church at Clonagam, a generator was in use for the occasion to power the instrument.
Participating also at the service, and representing the wider community, were the Revd Fr Richard O'Halloran, Portlaw; the Very Revd Fr. Ned Hassett, Parish Priest of Abbeyside, Ballinroad and Garranbane; the Very Revd Fr Pat Geer, Ballyneale and the Very Revd Jimmy Brown from the Rosminian community at Glencomeragh House, Carrick-on-Suir.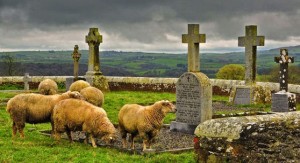 Tribute (abridged)
To the late Marquis by John Perceval Maxwell:
John Hubert de la Poer Beresford, 8th Marquis of Waterford was better known in the area as Tyrone.  Born in 1933 he succeeded to the title on the untimely death of his father a year later.
Just after the second World War, he was being taught at Eton and then did National Service in the Royal Horse Guards, 'the Blues' before returning to the family home, 'Curraghmore' in 1956 and marrying Caroline in 1957, starting a happy union of 58 years with Caroline his love, rock and inspiration.
Tyrone took over the family estate form his mother who had resisted all pressure to sell through the difficult years after the 7th Marquis's death.  Grateful that Curraghmore stayed in the family hands, Tyrone helped it survive with his frugal and hands on management and the help of the staff on the estate, many of whom had been part of it for generations.
As an Irish Peer he regularly attended the House of Lords until hereditary peers were sidelined.
He was a particular lover of polo, hunting, racing and shooting.  He showed himself to be a fearless competitor and a committee member of the All Ireland Polo Club for 50 years and played the game in 14 countries, including places like Hawaii, South Africa, North and South America and England winning many competitions along the way.
He enjoyed seeing his sons and grandchildren follow on in the tradition.
Tyrone bred and trained many horses that played at the top level.
He hunted all over these islands but enjoyed most nearer home in Waterford, Kilkenny and Kilmoganny.
He gathered many wins at point-to-point races and was National Hunt Steward for many years and in his three years as Senior Steward he visited every track in the country.
One of his greatest thrills was to see his horse 'Imperial Call' win the Gold Cup with his lifelong friend Fergie Sutherland.
Shooting was another great interest,  whether it was woodcock at Dereen, grouse at Glenbride, quail in Georgia or snipe in Limerick and Curraghmore itself was regarded as one of the best driven pheasant shoots in Ireland.
All of this was centred with much hospitality at Curraghmore with guests worldwide enjoying the wonderful dining room and roaring fires throughout the house.  Friendships, duty, tradition, honesty and a sense of humour were Tyrone's hallmarks.
The wish by everyone is that there is the ability and resources to carry on the great traditions of Curraghmore as a family home.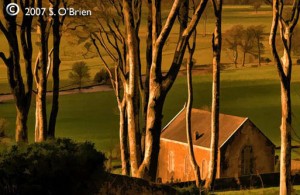 The content of the service also included that popular excerpt from the Old Testament – Ecclesiastes – 'For everything there is a season . . .', read by Camilla Beresford;   an excerpt from Psalm 118 – 'The Lord is my strength and my song . . .', read by Charlie Beresford and a New Testament reading by the Revd Mellissa Jeffers.
Particularly touching was a poem read by Carolina Beresford, which ran as follows:
'Remembrance is a golden chain
Death tries to break,
But all in vain.
To have, to love, and then to part
Is the greatest sorrow of one's heart.
The years may wipe out many things
But some they wipe out never.
Like memories of those happy times
When we were all together.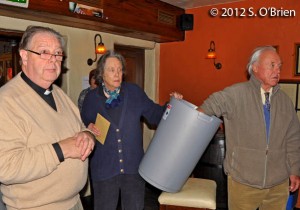 The service concluded with the entire congregation reciting that well-known Gaelic blessing –
'May the road rise up to meet you.' 
He was laid to rest among his ancestors and other relatives' directly in front of the church.
Lord Waterford had always been a staunch supporter of the parish and was a member of the Select Vestry.
Because of the very large attendance, many had to remain outside the building for the entire service.
He is survived by his wife, the Marchioness Lady Caroline, his heir, the ninth Marquis Henry Henry Beresford and by Lord Charles, Lord James and Lady Alice.
'The End of an Era!'. . . remarked a bystander near me, as the burial concluded.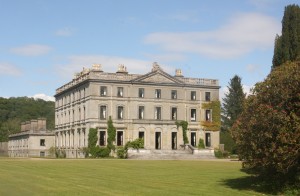 Material kindly supplied by the Revd Canon George Cliffe and Mr Sean O'Brien of Waterford.