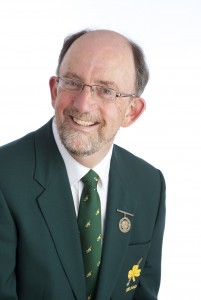 It is with sadness that we share the news of the death on Monday 11th January of  Mr Herbie Sharman. He had been a teacher in Kilkenny College, where he was involved in hockey coaching, and was a former President of the Irish Hockey Union.
In the Diocese he was Diocesan Communications Officer, Editor of the Diocesan Magazine and Webmaster of this site, all of which roles he carried out with grace, charm, wit and sensitivity.
Bishop Burrows said:  "Herbie Sharman was a marvellous magazine editor and DCO – diligent, ever-available, always good humoured. Despite living for years with a serious illness, he served this diocese superbly, working almost to the day of his death. The diocese will miss him hugely and I personally have lost a great friend who has been at my side for ten years".
His funeral took place in St Canice's Cathedral, Kilkenny on Friday 15th January
Our deepest sympathies go to his family and all who loved him.