PLOUGHING CHAMPIONSHIP 2014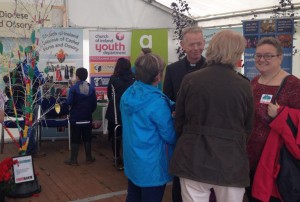 'Moo-meter' may have been the buzzword around Ratheniska at the record-breaking National Ploughing Championship this year, but tucked away in a quiet but visible corner was positioned the Church of Ireland 'Welcome' Stand.  Created, organised and mainly manned by Cashel, Ferns and Ossory since in its Diocese it lay.
Flagged by attractive looking posters, there was an inviting appeal for everyone to stop by, say hello and take momentary respite from the rigours of the crowds and the walking.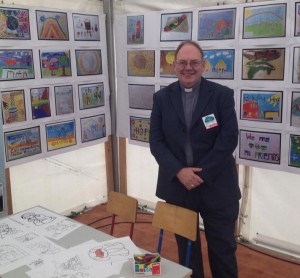 Headed up by the Ven. Andrew Orr and Canon Susan Green, each of the three days had a rota of crew, both clerical and lay, to meet and greet the many visitors who called in.
The centre-piece of the marquee was the Prayer Tree, created by the Art Department of Kilkenny College.  It was designed so that visitors could take paper 'leaves' on which personal prayers could be written and placed on the outreaching branches.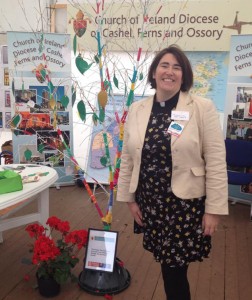 Both adults and children were encouraged to participate with further steps available to both groups as a prayer desk was provided in one corner for those who felt inclined to pray and in another there was a children's corner where they could sit and draw.  The walls here were decorated by prints of the winners of the annual Bishop's Lenten Art Competition.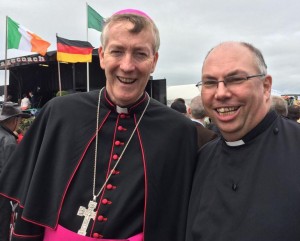 The life of the diocese and beyond was well represented with bright displays from BB, GFS, Bishops' Appeal and the C of I youth department.
Bishop Michael Burrows was on hand for much of the time, greeting members of his diocese and also those from the wider community.  His Roman Catholic counterpart, Bishop Denis Nulty also paid a visit, calling in from the their stand next door, as did the Papal Nuncio.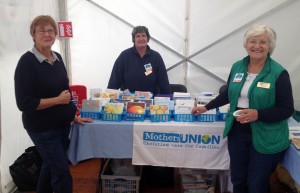 Further 'down the road' the annual presence of the Mothers' Union was providing its usual ' baby-changing' service to weary parents and their offspring who had perhaps visited one stand too many!  This practical service is much appreciated, even it is just a sit down and a maternal chat for five minutes before heading out again into the multitudes.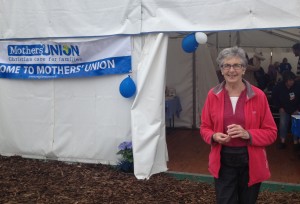 The Ven. Andrew Orr also represented the Church of Ireland and the Bishop at the official opening when he took part in the opening ceremony in the presence of An tUachtarain Michael D. Higgins.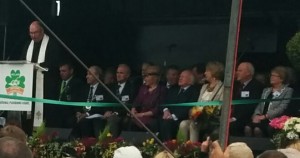 ——————————————-