Pentecost – Come Holy Spirit – Audio-visual service on Saturday, June 8th
June 8, 2019 @ 8:00 pm

-

9:00 pm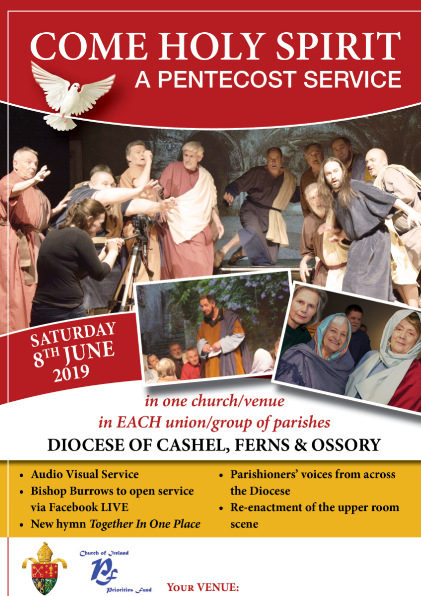 This audio-visual  Evening Prayer service called Come Holy Spirit: A Pentecost Celebration  will be held all over the Diocese at the same time on the same night – Saturday night next, June 8th, 2019.
It will include the voice of at least one person from each group/union of parishes and our Bishop will introduce the service on screens across the Diocese via Facebook Live from St Canice's at 8 p.m. sharp.
The audio-visual service will then be screened and congregations will join in the hymns and prayers during the service as well as enjoy the filmed drama related to Pentecost acted out by clergy and parishioners from the Diocese.
The goal has been to use technology and the arts to bring us all together spiritually in this geographically huge Church of Ireland Diocese. This service has been 18 months in the planning and as well as the dramatic re-enactment of the Upper Room at Pentecost scene it includes a hymn composed especially for the service – 'Together in One Place' by Henry Percival.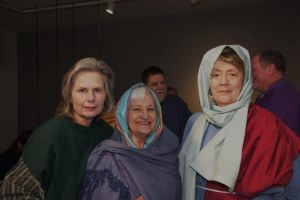 Bishop Burrows:
The Diocesan Pentecost worship initiative is one of the most exciting and imaginative and important things we have done together in the diocese for a long time and it owes a huge amount, of course, to the vision and the skill of our communications officer.
I really hope that you will all, in great numbers, go to wherever is the appropriate venue in your union or group and join in the worship and the expectation and indeed the excitement of the eve of Pentecost and feel at one with the young church in an atmosphere of renewal and of spiritual energy. The Bible describes everyone as being of one accord in one place as they waited the gifts of the Holy Spirit. We can't quite be  all in one place but we can certainly through the achievements of technology we can all be in one accord in our different places but all in a common spirit, gathered as a diocesan family, waiting upon the renewal and energy of the Spirit in our time.
Michael
Cashel, Ferns & Ossory