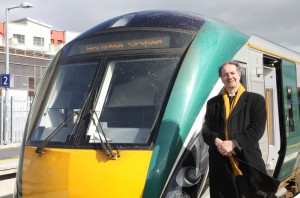 The Bishop achieved his objective on Good Friday last when he visited fifteen railway stations throughout the length and breadth of his diocese – all in one day.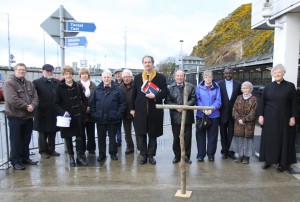 Symbolically emulating the traditional stations of the cross, the bishop followed the way of the cross by devising a tight schedule to spend a brief time at certain ralway stations endeavouring not to duplicate a station within a parish.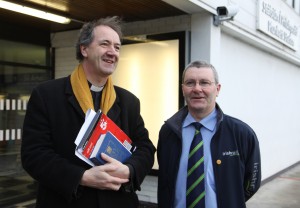 At each point he delivered a short reflection which combined the theme of the relevant religious station with the specific aspect of the area.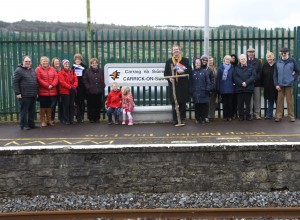 Setting himself a gruelling timetable, he began in Waterford Cathedral with the Litany at 7 a.m. moving to Waterford station where he was greeted by his first group of parishioners and Irish Rail staff.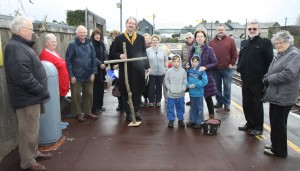 This was repeated at each stop along the route, initially incorporating Carrick-on-Suir, Clonmel and Tipperary.  It was then on past Cashel to hit the main Dublin-Cork main line at Thurles and along to Templemore and Ballybrophy.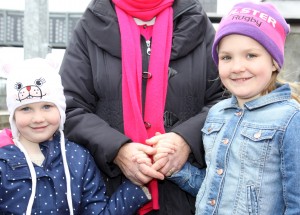 At Ballybrophy he took the first of his two train trips when he travelled the short distance to Portlaoise where he also greeted by Irish Rail Chaplain Gregg Ryan.
Having accomplished approximately half of the stations, it was on to Kilkenny to draw breath and recognise the quiet time of the Vigil between 2 pm and 3 pm.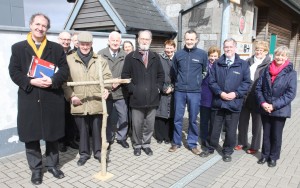 The second tranche began at Kilkenny station and the small halt of Thomastown.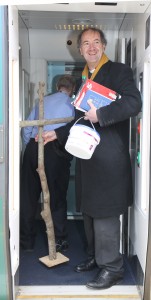 It was one of longest road journeys of the day across to the South East corner where the parishioners of Wexford were waiting.  They were being led by the Revd Canon Arthur Minion, barefooted and carrying a full size cross.  After the reflection at O'Hanrahan Station it was on to Enniscorthy while the Wexford people followed their pastor through the streets of Wexford to Selskar Abbey.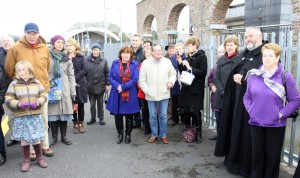 At Enniscorthy the Bishop took his second rail trip of the day catching the Dublin bound train as far as Gorey.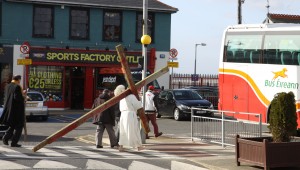 Finally it was back West in the long hop by Mt Leinster to the Diocese of Leighlin calling first at Carlow, then the 15th station at Bagenalstown and concluding with Compline ay S Laserian's Cathedral.  A large congregation of over 80 awaited the Bishop for 10 p.m.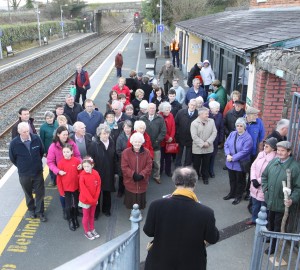 While not a fund-raising exercise, a collection taken at each station for the benefit fund of Irish Rail who had been cooperative in the venture.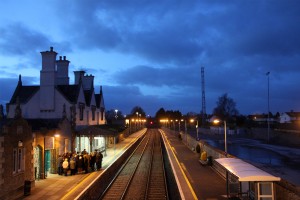 A longer illustrated account will be pubilshed in due course.