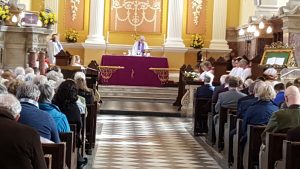 Christ Church Cathedral, Waterford was packed for the JOY BELLS peal launch by former President Mary McAleese.
The Hungarian ambassador to Ireland H.E. Mr Istvan S Palffy was in attendance at the service.
"This is a great initiative and a beautiful, solemn occasion and I was delighted to be here," he said. "The words from the former president Mrs McAleese were appropriate and they had to be said in these challenging times and times of uncertainty."
Dean Maria Jansson believes that St Patrick's weekend was a pertinent time to hold the event.
"I think this has redefined Patrick's weekend. Instead of it being about green beer and silly hats it now means something deeper about the Irish and maybe that the real heritage and the real tradition is solidarity."
Two choirs took part in the service – the Choir of Christ Church Cathedral and the ecumenical Trinity Gospel Choir
Music included the hymns Eternal Father, strong to save and Be Thou My Vision. Bob Dylan's Chimes of Freedom was also sung. Lessons were read by a long-standing member of the parish and by a new, young member of the choir in the Waterford city parish that now includes people from 12 nations.
Parishes from Ballaghadereen to Cobh to Enniskillen had signed up to ring their church bells at the same time as well as parishes as far away as Rome, Newfoundland, Missouri, Australia, India, South Africa, Thailand and the Middle East.
The service was streamed live on Facebook.
Bellfry photo credit: Noel Browne Photography Waterford