Mothers' Union Festival Service
The Mothers' Union held its Festival Service on Wednesday, 31st May, in St. Canice's Cathedral, Kilkenny.
Over 160 members from all over the Diocese attended and banners representing all the branches were carried in procession at the service.
This was a special event to celebrate 130 years or 13 Decades of Love or Service of Mothers' Union in Ireland. The first branch was set up by Mrs Anabella Hayes in Raheny, Dublin in 1887, following the Christian care organisation's founding in England in 1887 by Mary Sumner.
Members gathered for photographs, tea and fellowship after the service and, when asked, some spoke of how they had come to join the Mothers' Union and why they had stayed in the organisation.
Being invited into the organisation seems to have been the norm. Mary Katherine from Kilkenny first joined after moving to Ballydehob from the US.
"It was purely fellowship initially and I just enjoyed getting to know the ladies. While we came from different backgrounds I found a lot of common ground with other members. It was a comforting, nurturing group to be with. I stayed in the background for a year getting to understand what MU is about."
Living in Kilkenny this past year, Mary Katherine is now media officer for MU in this diocese.
Marcella from Abbeyleix has been in MU a long time.
"I've been in it since my youngest child was born and she's now 46. My mother-in-law brought me along. I liked the fellowship and in those days it was a night out and your husband looked after the children, once a month, and I always enjoyed going. It helped me make friends and get to know other mothers.  I liked the meetings, meeting the different people and hearing the different speakers. "
Maisie from Hacketstown, who jokes about deserving a medal after 40 years' membership, joined MU when she became a mother.
"I'd just had my first and only child.  MU was only for mothers at that time. In our parish new members were being looked for so I joined. I quite enjoyed it, all the different talks and so on. I don't believe I ever missed a meeting. I got a pot plant one time for good attendance! "
Hymns at the Eucharist included Praise to the Lord, the Almighty, Glory in the Highest, Tell out, my soul, the greatness of the Lord, O God beyond all praising and Take My Life.
With the service occurring on the Feast of the Visitation – Mary's visit to Elizabeth – Bishop Burrows concentrated, in his sermon, on giving insights into the relationship and situation of these cousins at a dramatic time in their lives – Mary, a teenager, pregnant, and her cousin, Elizabeth, also pregnant but much, much older.
While Mary's visit to Elizabeth in remote hill country– due to give birth to John the Baptist that July, five months ahead of the birth of Jesus – is often portrayed in works of art as a 'pleasant tea party', it wasn't like that at all, he said.
"Think of the detail. Mary actually stays for three months. Here are two women of different ages, bizarrely pregnant and not getting much support from the men in their lives and whom a lot of people would have considered in crisis. Crisis pregnancy is not new… All sorts of judgments must have been passed on them. These true relatives of different ages, much gossiped about… No wonder they needed to get away from it all for a period of months in a remote place."
The Bishop spoke of how he loved the idea of women finding solace in each other's company, getting away from it all to make sense of things together, not dependent on the men in their lives.
He went on to compare this strength with the 'marvellous work of the MU at the moment in empowering development and women's literacy' in the developing world.
"When it comes to issues of sustainable development and management of crisis in small communities it's often the women who do the heavy lifting," he said, "who co-operate to do the real work, who behave steadily, who see the community projects through, who find solace in each other, who together pass on skills to their children…"
Mentioning his Route 66 sermon marathon in aid of Bishops' Appeal this September, in partnership with MU literacy projects in Ethiopia and with Feed the Minds projects in the Congo, to aid the empowerment of women through literacy, he said this is the chosen emphasis 'because it is groups of women…who can bring sustainable hope to tricky and challenging situations'.
Route 66 involves him preaching 66 short sermons with a text from every book in the Bible on the importance of the literacy of women.
He then went on to mention the valued music and prayer that sprang from the visitation by Mary to Elizabeth.
"Think of the music, the devotions that come out of all of this… "
He mentioned the Angelus and, in particular, the Magnificat.
"At the end of her visit Mary even managed to write a song about it which is a wonderful song of young radicalism and is also the staple diet of Anglican evensong."
"The Magnificat is an amazing timeless song, in one way from the lips of the young radical and yet, from the metrical 'tell out my soul', to the most sublime musically challenging settings of the Magnificat used in our cathedrals, the Magnificat has permeated the worship not least of Anglicans daily."
He said that, in its timelessness, it is really the song of someone who realises that an ordinary person can, by God's grace, be enabled to do extraordinary things.
"That is the power of the Magnificat. That is why it sings to all our souls. It reminds us, in the rhythm of life, of the capacity of everyday people to be extraordinary. The MU are a group of people, for 13 decades, have in so many ways, near and far in their witness, been extraordinary…ordinary people, doing the most extraordinary things and that will be our vision for ourselves and for our children."
He also focussed on Mary's concern about her other children who didn't always believe in their older brother, Jesus, or behave as she would have liked them to.
"Mary is the one still mentioned in the Acts of the Apostles as being with the disciples while they wait for the coming of the Spirit. Mary is the one who painfully, obediently and courageously sees the whole endeavour through from that village in the mountains to the Cross and beyond.
Mary always believed in her eldest son even when her other children, it seems clear, didn't. They seem to have been wayward and on the fringe of the story of Jesus and their relationships don't seem to have been entirely easy.  But what is amazing is when the disciples wait for the coming of the Spirit in the upper room they are joined not just by Mary but by the siblings of the Lord. Suddenly they join their brother's cause, they see that he has been right and that he has been vindicated and it must have been comforting to the now elderly Mary to see those other offspring come onside at the end. In her old age, despite her sadness, she could see the vision of Magnificat fulfilled and continued through them."
He also suggested that this experience of Mary's is a 'reminder to not get over-worried about our wayward children, our adult children, our wandering offspring, our questioning family members who don't always seem to do things along the dotted line that we'd like. Mary had the same experience. Don't worry about it, all things work together for good."
Diocesan President, the Reverend Margaret Sykes, thanked the Bishop and everyone involved in organizing the service and paid tribute to two retiree officers – Lilia Harper and Cecily Jones – for their work with MU.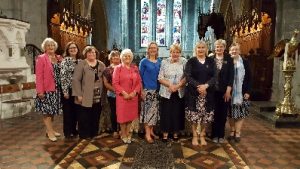 The following women were commissioned as officers within the MU in this Diocese by Bishop Burrows:
The Reverend Canon B Fryday: Faith and Policy Unit Co-ordinator
Ms Cecily Jones: Indoor Members Co-ordinator
Ms Joan Blake: Finance and Central Services Unit Co-ordinator
Lesley Bayley: Ferns Area Vice-President
Margaret Jacob: Diocesan Secretary
Linda Condell: Indoor Members
Mary Katherine Compton: Media
Phyllis Foot: Enterprise Representative
Pearl Olsen: Overseas Representative
Ms Claudia Kidd: Young Families Representative and The Reverend Canon Mark Hayden, Diocesan Chaplain to MU were unavoidably absent and will be commissioned at a later date.
Note:  A more in-depth article about MU based on interviews with members at this service and more will be written for the Diocesan Magazine in the near future.