Margaret Stephens
All Saints' Carnew
16 September 2015
Abridged Address given by the Revd Ruth Elmes of Tinahely & Carnew Union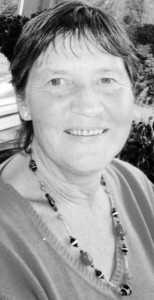 It is with some degree of shock that everyone was present remembering Margaret at her funeral. During the tea following the songs of praise on 31 May at All Saints', (which she helped to organise) she told the rector she was going into hospital for some tests but was hopeful that the doctors would find nothing serious. Her illness was made more bearable by the warmth and concern she received from so many.
Derek and the family have said many times that Margaret would not only be much missed but that she was a person who liked 'things kept simple'. Margaret left instructions for her service (specifying the old funeral liturgy and the King James Bible) and chose the hymns, the flowers and the instructions for the cup of tea afterwards.
The Bishop spoke of her diocesan role but she also served in many capacities in the parish in Carnew. She was a long time member of the Select Vestry, serving time as secretary, taking services, as a member of our choir and on so many various committees over the years.
As her husband Derek knew, she liked things kept simple and so the address was in this vein.
In line with that simplicity, the qualities mentioned in the first letter to the Corinthians chapter 13 verse 13 sprang to mind. The King James translation reads 'And now abideth faith, hope, charity, these three; but the greatest of these is charity.' Charity, a late Old English word is defined as 'Christian love of one's fellows' and therefore is translated into love in the newer version of the Bible.
In Christian love, Margaret welcomed people to her home, shared friendship, took an interest in the welfare of others and cared greatly for the plight of those less fortunate as seen by her interest in the Bishops' Appeal.
Her faith was shown in every aspect of her life through her work – for God, family and community, in worship, and in her personal life. The flowers on the coffin were from her own garden and her appreciation for God's creation was seen through every window of her home and beyond.
Margaret's faith was evident during her illness. In June she found herself unexpectedly in the High Dependency Unit of the hospital, seriously ill, and she said that she trusted God and she wasn't afraid of dying – even in the midst of a health crisis she drew comfort from her relationship with God – she welcomed prayer and her faith continued undaunted by circumstance. Her hope was firmly placed on God and the promise of eternal life. This faith and hope and love sustained her.
To speak of Margaret simply- without mentioning her family would do her a great injustice. Her care, concern and love for her family was evident to all who knew her. She shared a long and devoted marriage with Derek and not only had three sons Karl, Bobby and Ivor but considered herself to have been blessed by three daughters in Georgia, Lorna and Edele and was suitably proud of her wonderful grandchildren –  Robyn, Kenzie, Jasmin, Jill, Sara, Glen, Harry and Charlie who will all miss her very much. She was surrounded by her family every step of the way and they were very present in her final illness returning some of the love that they had received.  Margaret embodied faith, hope, love with a healthy sense of humour!
The Dean of Connor, John Bond sent some words to share with the family:
"Margaret enriched and blessed many lives and we are all the poorer for her passing. She spoke with compassion, clarity and conviction at General Synod and was not backward about coming forward to have her say! Margaret had a charisma all of her own. Her warm, gentle and gracious disposition, combined with her radiant faith and trust in the Saviour made her the exceptional lady that she was. Her husband and family have lost a wonderful wife, mother, grandmother, sister and the Diocese of Ferns and the whole Church of Ireland has lost a faithful servant and a good and valued friend.'
May she rest in peace and rise in Glory. Amen.
Some Thoughts from the Revd Canon Barbara Fryday, Warden of Diocesan Readers.
In spite of knowing how unwell the late Margerat Stephens was, it came as quite a shock to learn of her death.  She bore her final illness with courage and  patience.
Margerat was a lay reader in this diocese for about 40 years. She was commissioned in Ferns cathedral at about the age of 30 years. During that time she conducted worship regularly in many churches where her expression of her deep faith was much appreciated.
She had a passion for the development of lay ministry within the church of Ireland. She spoke regularly at General Synod; always identifying herself as being a member of her beloved Ferns Diocese.
She was always true to her faith. We will miss her passion for that which she believed to be right for our Church at this time and for her expression of a deep faith. To Derek and her beloved family we offer our sincere and heartfelt sympathy.
May she rest in the peace of the Lord.
Service:
At Margaret's request the only people robed were the Rector, the Revd Tom Haskins, the Revd Robert Stotesbury, Mr Richard Codd and the Bishop, though many diocesan clergy were present.
The Bishop spoke at the beginning the service of Margaret's Diocesan role as she was one of the longest serving readers in the Diocese.
Hymns sung were 'When I survey the wondrous cross', 'Love divine, all loves excelling,'
'Breathe on me, Breath of God' and concluding with 'Guide me, O thou great Jehovah.'
Lessons were read by Lynn Bailey,  and grandchildren Kenzie and Robyn Stephens.
Prayers were led by Sara Stephens, Jill Stephens and Jasmin Stephens (grandchildren).
Other prayers were led by the Revd Tom Haskins, the Revd Robert Stotesbury and Mr Richard Codd.
A guard of honour was provided on the way in by members of the Carnew agricultural show committee with whom Derek and Margaret were very involved and lent their land for the show each year.
Diocesan lay readers formed a guard of honour with the Revd Canon Barbara Fryday as the coffin left the church process to the adjoining graveyard.