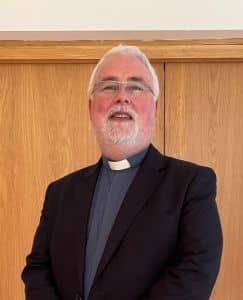 The Bishop of Cashel, Ferns and Ossory the Right Reverend Adrian Wilkinson, has announced that, following the institution of Archdeacon Ruth Elmes as Incumbent of Dalkey on Friday 10th March, the new Archdeacon of Ossory and Leighlin is the Reverend Canon Mark Hayden. Archdeacons are appointed by the bishop, and their role is to assist the bishop in his or her pastoral care of the diocese, as well as in general oversight and administration. The Diocese of Cashel, Ferns and Ossory has two archdeacons and Archdeacon Hayden will be working with the Venerable Bob Gray who is Archdeacon of Cashel, Ferns, Waterford and Lismore.
Bishop Wilkinson said: 'As someone who is in the early months of his episcopate, I am delighted that Mark Hayden has accepted my invitation to take on this additional work within his ministry. He has served his parish and contributed to the life of this Diocese for over two decades. The bishop and archdeacons work closely together, and he will bring many valuable gifts, insights, and abilities to his new role'.
Archdeacon Hayden trained for the priesthood in Clonliffe College and was ordained as deacon in 1992 and priest the following year. In 1999 he was accepted into the ministry of the Church of Ireland and following a curacy in Monkstown in the Diocese of Dublin, he became Rector of Gorey Group of Parishes in 2001. Mark has an interest in military history and is the author of several books on the subject. In 2007 he wrote 'Changing Collars' about his experience of ministry in both the Roman Catholic Church and the Church of Ireland. Mark is married to Lorraine and they have two sons Luke and Daniel.
Canon Hayden said: 'I am deeply honoured by our Bishop to be asked to be Archdeacon. I follow in the footsteps of many great people who have carried out this role, not least my dear friend Archdeacon Ruth Elmes. I look forward to this new chapter in my ministry'.
While Archdeacon Hayden's appointment takes immediate effect, he will be licensed and installed at Evensong in St Canice's Cathedral on Sunday 7th May at 3pm.