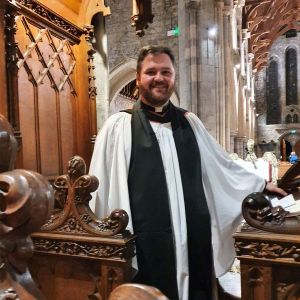 The Very Reverend Stephen Farrell was installed as Dean of Ossory and instituted Rector of Kilkenny Union of Parishes at a special service in St Canice's Cathedral, Kilkenny on Tuesday, 1st February 2022 at 7.30 p.m.
The new dean is from a Tyrone farming background and, most recently, was Rector of Zion parish, Rathgar in Dublin and Provincial and Diocesan Registrar in Dublin and Glendalough Diocese.
He succeeds the Very Reverend David McDonnell who has returned to primary school teaching.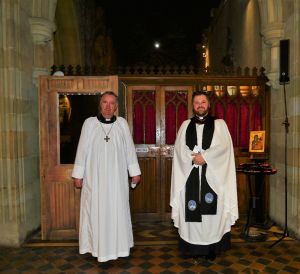 Dean Farrell is an ecclesiastical lawyer with a Masters Degree in Canon Law from the University of Cardiff. Among other roles he is a member of the Colloquium of Anglican and Roman Catholic Canon Lawyers and teaches Ecclesiastical Law to Intern Deacons in the Church of Ireland Theological Institute. He has also published many papers related to ecclesiastical law.
The preacher at the service of institution and installation was the Right Reverend Michael Burrows, Bishop and Cashel, Ferns And Ossory.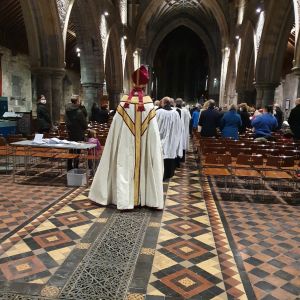 He spoke on the Gospel theme of the beautiful Shepherd and after referring to Stephen's many academic achievements said that this is a joyous occasion and that he has no doubt that Stephen's contribution as Dean, when viewed through the prism of history, will be considerable.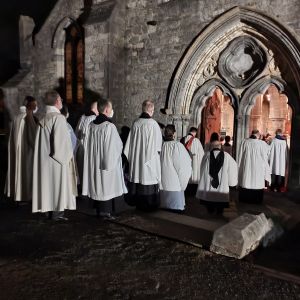 He went on to mention four areas in which he believes Stephen's ministry as Dean and Rector will be a thing of beauty – the skilled application of his exceedingly fine mind (beauty of mind), pastoral gifts that stem from legal training (beauty of academic discipline), being Dean of St Canice's (beauty of place and space) and the attractiveness and beauty that flows from genuine empathy, something that will lead to meaningful conversation connection with farmers and people from all walks of life in his parish and community.
"I finish by wishing Stephen, his wife Laura and their three daughters many years of happiness in the Close," he said.
Father James Murphy, speaking on behalf of the wider community in Kilkenny, said that he was delighted to welcome Dean Stephen and that he was very much looking forward to working and interacting with him in the future. Fr Murphy also spoke of how glad there was a Farrell connection in Kilkenny again, this time as Dean.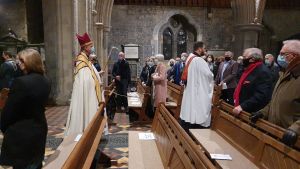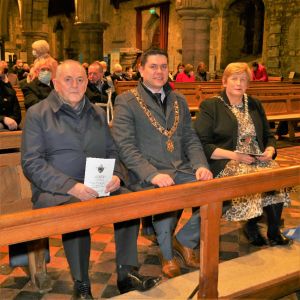 Cathaoirleach of Kilkenny County Council, Ms Fidelas Doherty, speaking on behalf of the people of Kilkenny and of civic dignitaries John McGuinness TD and Mayor Andrew McGuinness who were in attendance, wished Dean Farrell every success, stating that he brings a wealth of experience to the role.
Also in attendance was a representative of the Defence Forces and the Reverend Susan Gallagher of the Methodist Church who, she said, is looking forward, very much, to working with Stephen and on this St Brigid's Day she welcomed him and also the 'four strong women in Stephen's life' – his wife and three daughters.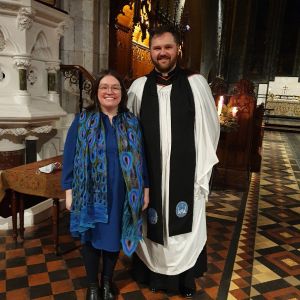 Mr James Morrow welcomed Stephen warmly to the union of parishes that also includes St John's, Kilkenny, St Lachtan's, Freshford and St Aidan's church, Kilmanagh.
"We are delighted that you and your family are finally amongst us. Be assured of the support, cooperation and encouragement of the parish in the months and years ahead," he said.
 Speaking at the end of the service Dean Stephen thanked all those for the warm welcome he received, all those involved in organising the service and preparing the Deanery for his arrival and mentioned, in particular, Bishop's Vicar Canon Dr Richard Marsh who looked after the parishes and cathedral during the vacancy.
"I look forward to working with Richard and getting to know you all in the coming months," Dean Farrell said.
"It is with great anticipation, eagerness and joy that I commence our shared building up of this part of the Kingdom," he concluded. "May the years ahead be characterised by equal measure of fruitfulness and good fun."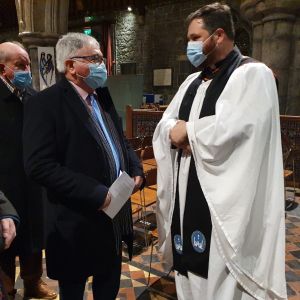 The Director of Music was Bartosz Thiede and the service was sung by members of the St Canice's Cathedral Choir.  The organist was Peter Barley who stood in at short notice. Music included Ubi Caritas, Christ is made the sure foundation, I bind unto myself today, A New Song, John Milton's metrical version of Psalm 84 and Hide not thou thy face, O Lord and Jubilate Deo.