The Reverend Victor Fitzpatrick was instituted to the incumbency of Clonenagh Group of Parishes* last Friday night, August 24th with the service taking place in St Peter's Church, Mountrath.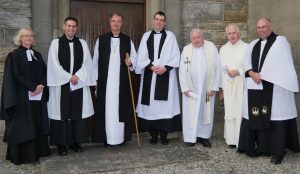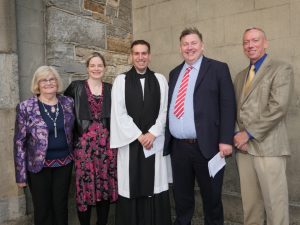 Formerly incumbent of Kilcooley Union of Parishes with Fertagh Mr Fitzpatrick was wished well in his new appointment by Bishop Michael Burrows who also prayed that Victor and the Clonenagh group of parishes would be good for one another.
Members of Victor's family were in attendance on the night.
The Reverend Robert Ferris, Assistant Priest, Carrigrobane Union in the Diocese of Cork and a friend of Victor's, gave the address on what was the Feast of St Bartholomew.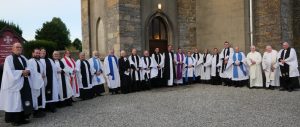 He spoke of the importance of pressing the 'pause' button to think regularly about what ministry is and to keep our 'L' plates up because as humans we all make mistakes. "As disciples we are all called to live as lifelong learners," he said, "learning from both success and failure.
During the service of institution members of the congregation brought forward symbols of the teaching, pastoral and sacramental ministry of an incumbent.
These included a bible, a container of water from the font, the Book of Common Prayer, bread and wine, oil and a towel, with the purpose for which each item should be used stated also.
A clerical colleague then presented him with a copy of the Diocesan Directory – a reminder of the new rector's place in the mission of the wider diocese and of his contribution to its counsels, the Bishop said.
Lastly, the new incumbent received the key of the church from a churchwarden to highlight that 'the doors of this place should be open to all people.
Stan Lalor warmly welcomed the new incumbent to the parish and hoped that he found the people there to be a warm audience. He also thanked the parishioners who had helped to keep the parish going during the vacancy and the Bishop and parochial nominators who had helped with the search for a new rector.
Martin Meade of the Mountrath Community Forum also spoke and hoped that Mr Fitzpatrick will find his time in Clonenagh both interesting and fulfilling.
Father Brophy wished him the same care in the community of Mountrath as he had received there and also hoped that his ministry will be fruitful.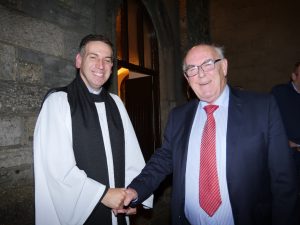 Bishop Burrows ended the service by relating an incident showing Victor's care for God's creatures – 'something that, in the week that's in it,' he said, 'is positively Franciscan'.
Hymns sung during the service were Love Divine all loves excelling, Alleluia Sing to Jesus, Spirit of God, Great is Thy Faithfulness and Christ Triumphant, ever reigning.
Refreshments were provided by parishioners in the parochial hall afterwards.
The Clonenagh Group of Parishes also includes St Matthew's church, Roskelton, Lacca, St Jude's Annatrim, St Mark's Borris in Ossory and Seir Kieran Clareen.