Scotsman, the Reverend Ian Cruickshank, was instituted as Church of Ireland Rector of Killanne Union of Parishes, in St Anne's Church, Killanne, on Friday night last, December 15th .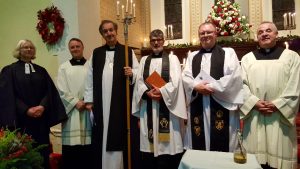 Originally from Aberdeen, North East Scotland and having served in parishes in Bray, County Wicklow, Kilcooley, County Tipperary, Ballygawley, County Tyrone and Sydenham in east Belfast he has now moved back to the Diocese of Cashel, Ferns and Ossory to take up his new post and live in the rectory in Clonroche with his wife, Donna.
Describing himself as the 'new fella', succeeding Canon Roger Harmsworth who retired last July, Ian has worked in psychiatric nursing, on oil rigs, supported the NE fishing fleet, in residential care for adults with learning difficulties and has been chaplain to Bray Wanderers Football Club while curate in that parish.
Motorbikes are a big interest and he is a member of the CMA – the Christian Motorcyclists Association.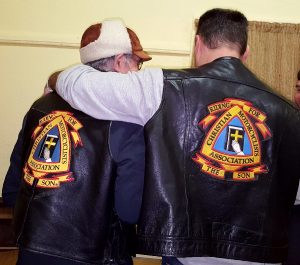 "It is lovely to have Ian back in this Diocese again and we look forward to having a biker in the Diocese again," Bishop Michael Burrows said. "It is marvellous that you've decided to return to these parts where you were well loved and well valued and where those on the land came to realise your special empathy with them."
The Reverend Ian completed his Green Cert while rector of Kilcooley parish in County Tipperary, also in the Diocese of Cashel, Ferns & Ossory between 2007 and 2013.
The preacher at the service was Ian's friend, the Reverend William Bennett, Incumbent of Newcastle parish in the Diocese of Glendalough, and he spoke of how Ian will turn heads travelling through the area in full leathers on his motorbike and of his great gifts as a communicator.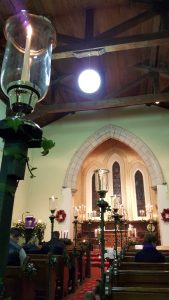 He was welcomed to the parish by parish secretary, Margaret Jacob, who wished him and his family every joy and blessing in his ministry here.
Father Brian Broaders, speaking on behalf of priest colleagues in the wider area including Father Bernard Cushen and Father Jim Fegan, said that they are looking forward to working with Mr Cruikshank.
Councillor Kathleen Codd-Nolan, representing civic dignitaries in attendance including James Browne TD and Cllr Barbara Ann Murphy, praised the new rector's evident communication skills after she had listened to him speak of the importance of respecting diversity.
"Such skills are very important in the very diverse society that we have today," she said.  "We welcome you and know that you will help bring people together in this community."
Bishop Burrows concluded the service by saying that while Ian, like many others, is lively and exuberant, there is a reflective side to him too.
"Talking to him over time you'll suddenly discover that he has tremendous insights. Enjoy this 'other Ian' as well as the one you've seen such joyful evidence of here tonight."
The Reverend Ian Cruickshank, who doesn't have much time for pulpits – he prefers to preach on the ground – thanked everyone involved in organising his institution service.
"It's great to be here with family and friends and guys from all different circles and I am looking forward to the coming year as we get to know each other and learn to grow in the majesty and peace and love and joy of Christ."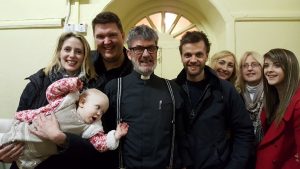 The candlelit ceremony was followed by tea in the parish hall.
Killanne Union of Parishes incorporates the parishes of Killanne, Killegney, Rossdroit and Templeshanbo,