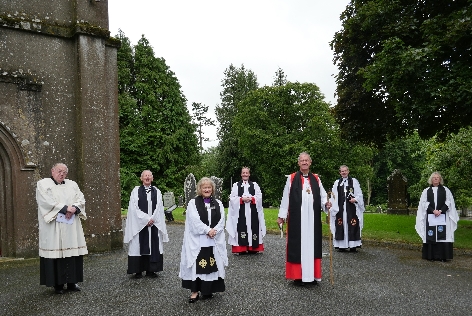 NEW RECTOR IN CASTLECOMER
The Reverend Edna Wakely was instituted incumbent of Castlecomer Union of Parishes at a special service in St Mary's Church, Castlecomer on Friday night last, July 3rd, 2020.
The new rector comes to Castlecomer from Limerick City Parish in the Diocese of Limerick and Killaloe where she has been Curate's Assistant since 2014.
She succeeds the Reverend Patrick Burke who was rector of Castlecomer for seven years.
From Omagh in County Tyrone and a qualified music teacher and organist Edna spent most of her adult life in South Africa with her husband Robin but relocated to Dublin in 2001 when Robin trained for full-time ordained ministry.  Edna started training for ordained ministry herself in 2009.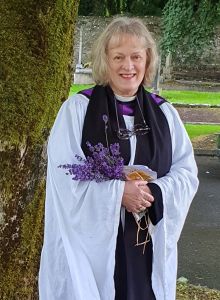 The preacher at the service of institution on Friday night was Edna's former rector, the Dean of Limerick, the Very Reverend Niall Sloane.
The Dean spoke of how the institution service echoes back to the ordination service and is a reminder of responsibilities and joys related to ministry.
"It has a touching and soul-subduing beauty which goes directly to the heart and fills it with an overwhelming sense of responsibility and awe," he said.
"Your new rector's gifts will become evident very quickly," he continued, "her musical ability, pastoral quality, unique powers of administering to the elderly and her careful planning and preparation of the liturgy".
He also added that while Edna's role as the new shepherd in this union parishes was to keep watch over the flock it is also a charge for parishioners to pray that God will support, uphold and encourage her.
With the service falling on the day of St Thomas he also hoped that this apostle's honesty and questioning mind would be a model of ministry as the new rector and parishioners' journey together in this new chapter in their lives.
Bishop Michael Burrows profoundly welcomed the new rector to the parish and the diocese and the wider community and, introducing the service, he described the occasion where ribboned-off pews signalled Covid-19 social distancing rules were being adhered to as 'an extraordinarily historic occasion' because it is taking place after the end of Covid -19 lockdown and the closure of church buildings for over four months.
"While conviviality after the service will not be possible," he said, "this service nevertheless has been a very joyful occasion."
He also thanked parishioners who had upheld worship and the life of the union of parishes for the past two years, saying that gratitude 'is so beyond capacity to describe that the best thanks are profound silence'.
Following the liturgy, Monsignor Michael Ryan, parish priest of Castlecomer, speaking on behalf of the parish of Castlecomer and clergy colleagues in the wider community, said that there has always been a great spirit of Christian friendship in Castlecomer and prayed that Edna's ministry would be a fruitful one and that she will be very happy there.
Ken Wilson, speaking on behalf of the union of parishes that includes St Mary's, Castlecomer, The Colliery Church, Mothel and Holy Trinity, Bilboa, thanked many parishioners for their help during the vacancy and warmly welcomed their new rector also.
"You are our first lady rector. We hope you will have many happy years among us. May God grant you every blessing on your journey with us as together we start a new chapter in this place," he said.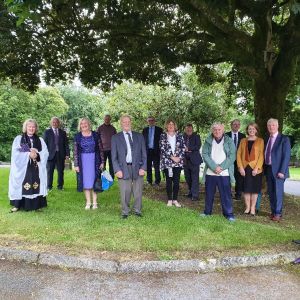 Lessons were read by Edna's elder daughter Jenny, by Diocesan Reader and parishioner Rachel Treacy and the Gospel was read by the Reverend Ian Coulter.
Friends of the new Rector present at the service included Dean Rod Smyth, The Reverend Canons Peter Thompson and Aisling Shine and the Reverend Paul Fitzpatrick.
Edna's two daughters Jenny and Joanna attended the service along with her son-in-law Darren and her two grandchildren, Robyn and Kyle.
Due to Covid-19 restrictions there could be no singing but the following hymns were played for the purposes of reflection: Come down, O Love divine, Be Thou My Vision, How Shall I Sing That Majesty and The Day Thou Gavest Lord is Ended.