ONLINE CHURCH SERVICES
DIOCESE OF CASHEL, FERNS & OSSORY
***
The list below (in alphabetical order of parishes) gives details of online services available in this diocese this week (links included).
The Bishop's video reflection for this Sunday entitled Look At The Footnotes! will go live on Saturday 1st May at 1 p.m. on the diocesan website https://cashel.anglican.org/ and will also be relayed to the diocesan FB page https://www.facebook.com/DioceseofCashelFernsandOssory/
In this week's refection he talks about Philip's spontaneity in baptizing the Ethiopian official and about the missing detail in this story that is mentioned only in the footnotes.
Previous videos are also available for viewing
SPECIAL RTE SERVICE THIS SUNDAY
RTÉ Radio 1 Extra (11.00am) & RTÉ One television (11.10am)
A service with Christian Aid Ireland will be broadcast at 11.00am on RTÉ Radio 1 Extra / LW252 and 11.10 a.m on RTÉ One television this Sunday, 2nd May, in advance of Christian Aid Week.
Christian Aid Ireland's Chief Executive, Rosamond Bennett, will lead the service and the sermon will be delivered by its Chairperson, the Reverend Dr Liz Hughes.
Music will be provided by Ballysillan Presbyterian Church's worship team.
The theme of the service will be 'A new song to sing' with a focus on climate change, which is causing a hunger crisis and driving millions more into poverty in the global south.
The service will include the Christian Aid Week video, telling the story of Florence Muthiani from the Kitui region of Kenya. See photo below.  Here is her story:
Christian Aid's local partner built a sand dam for Florence and her community, just a short distance from her village in Kenya. With easy access to water, Florence has been able to grow tomatoes, onions, papayas and chillies on her farm. She also manages 10 beehives and sells the honey for cash at the market. Before the sand dam, she would spend eight hours a day collecting water but now she has time to develop her farm business. She has a cow, a donkey, two turkeys as well as some goats and sheep. Florence told us: "I am very happy now. I have strength and power. I have learned to depend on myself."
RTÉ Service with Christian Aid
www.ireland.anglican.org/news/10602/rt-service-with-christian-aid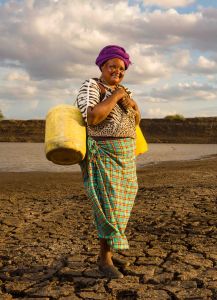 Florence Muthani heads to gather water from the dwindling lake formed by the dam nr the village of Kyenge in the Kitui area of Kenya. 3/10/19 Photo Tom Pilston
ABBEYLEIX
Online services at 11 a.m. each Sunday and week nights during Lent at 7 p.m. (nights may differ) See this FB page for details
https://www.facebook.com/abbeyleixandkillermogh/
The Reverend Canon Patrick Harvey
ARDAMINE
Act of Worship emailed weekly to parishioners and Zoom service at 11am on Sundays.  Contact the Rector, the Ven. Bob Gray on (053) 9425423 or ardamine@ferns.anglican.org for details
BALTINGLASS
Online services continue with a weekday act of worship service on either Tuesdays or Wednesdays. Sunday services will be broadcast via FB live on
https://www.facebook.com/baltinglassgroup
https://www.facebook.com/RevMairt/
Also regular meditations on YouTube https://www.youtube.com/results?search_query=mairt+hanley
At least one prayer at each service is in Irish
The Reverend Máirt Hanley
BUNCLODY
The Reverend Trevor Sargent's online services are available via his YouTube channel
https://www.youtube.com/user/tsargentgreen
or in YouTube.com search for Reverend Trevor Sargent and you will be brought to his channel.
Services go live from 12 midnight on each Saturday night.
CARLOW
Carlow Union. Online service now available every Sunday morning at https://youtube.com/channel/UCdJZJ7B5cnnNHTzChAdzLpQ
The Reverend David White
CASHEL
Sundays – A direct link to the podcast of Morning Prayer on Sunday is posted on the Parish Website www.cashelunion.ie each week under Digital Service on the home page. A link is also available on the parish's Facebook page each week https://www.facebook.com/cashelunion, and can be emailed out along with the parish Pew Sheet to anyone wishing to be added to our mailing list by emailing cashelunion@gmail.com.
The Very Reverend Gerald Field
CLONENAGH
A Sunday service is available on my YouTube channel: http://www.youtube.com/prayspot every Sunday morning at 11 a.m.
The Reverend Victor Fitzpatrick
CLONMEL
The Reverend Canon Barbara Fryday is continuing her online service on Sundays via Soundcloud. The Clonmel Union of Parishes' act of worship for this Sunday can be accessed via a link on the parish's Faceboook page
https://www.facebook.com/OldStMarysClonmel/
or website http://oldstmarysclonmelunion.blogspot.com/
Canon Barbara Fryday
DUNLECKNEY
The Reverend Kevin Ronné
The times are as follows:
Monday, Tuesday, Thursday and Friday 11 a.m.
Wednesday 7 p.m.
Saturday 6 p.m.
See the following for information:
https://m.facebook.com/Dunleckney-Union-of-Parishes-109033024079498/
The Reverend Kevin Ronné
ENNISCORTHY
Enniscorthy & Monart services via webcam.
Live service at 10.30 a.m. each Thursday and 11.30 a.m. each Sunday. No option for playback at the moment so must be watched live.
Services can be viewed from Www.churchmedia.ie and find St. Marys, Enniscorthy.
Or the link can be found on our FB page and parish website
https://www.facebook.com/ireland.anglican.org/
The Reverend Nicola Halford
FERNS
Dean Paul Mooney was broadcasting services each Sunday via his YouTube channel but Ferns Union of Parishes now has its own YouTube channel. Click on this link:
https://www.youtube.com/channel/UCdq7w1KjLYcNvZztg5WCgDg
or search for Ferns Union of Parishes on the YouTube search bar.
The Very Reverend Dr Paul Mooney
GOREY 
There will be an on-line service from Gorey uploaded each Saturday evening to the parish Facebook page for the period of Level 5.
See https://www.facebook.com/Gorey-Group-of-Parishes-475243015970989/
The Reverend Canon Mark Hayden
KILLANNE
Online services and on CDs are carrying on as normal.
Services of Morning Prayer and Compline available on Sundays and at any time on the parish website – click on link to SoundCloud on www.killanneunion.ie
Also reflections.
As well as church services now being available again:
"By going onto the parish website killanneunion.ie you can find a link that gives different listening options. You can listen to a Full Service recorded by myself with all aspects of a service of Morning Prayer. Or you have the options of listening to, Just the hymns, Just the liturgy, Just the prayers, Just the readings or Just the Talk.
These six options along with a Service of Compline are recorded onto CDs and are available for anyone who can't obtain internet or would simply prefer a CD."
Canon Ian Cruickshank
Canon Ian also provides a reflection for the Sounds for Sunday requests programme on South East Radio between 9 and 10 a.m.
*****Send requests for Sounds for Sunday to presenter Patricia McNally on sforsundaycmt@gmail.com
KILLESHIN
The Reverend Robert Stotesbury is now providing Sunday services via the Killeshin Group of Parishes FB page.
See https://www.facebook.com/KilleshinUnionofParishes/
KILKENNY 
Evensong is broadcast every Sunday evening at 5.30 p.m. on Community Radio Kilkenny City 88.7 fm and live on their website http://communityradiokilkennycity.ie
An audio link to this service is also uploaded to the Kilkenny Parish Union FB address below.
For details of services see
https://www.facebook.com/KilkennyParishUnion/
and
https://www.facebook.com/stcanicescathedral/
The Very Reverend David McDonnell
LEIGHLIN
Sunday services at 10.30 a.m. are being broadcast via
https://www.facebook.com/pg/St-Laserians-Cathedral-and-the-Leighlin-Union-of-Parishes-200026636680660/posts/
also daily services:
Weekly Wednesday service at 7.30 p.m. livestreamed on FB. On all other weekdays during Lent and Holy Week there will be a short prayer service to start the day each morning at 7 a.m. (available to view throughout the week)
The Very Reverend Tom Gordon
LISMORE
Services are held each Sunday by Zoom (alternating Sundays :  Morning Prayer 11.00 am & Compline 5.30 pm).
Liturgies and Reflections for each Sunday at www.stcarthagescathedral.ie
Videos and Guided Meditations for Lent & Holy Week also on Website.
Also FB and YouTube channel links:
https://www.facebook.com/Saint-Carthages-Cathedral-Lismore-474784722604761/
https://www.youtube.com/channel/UCeXKc_5hts0xKC0aQn1lhKA
The Very Reverend Paul Draper
PORTLAOISE AND BALLYFIN
FB and YouTube links:
Facebook: https://m.facebook.com/StPetersPortlaoise/?__tn__=~-R
&
YouTube: https://m.youtube.com/channel/UCqF5Fg3z-1qe1k_4SUpwpiA
The Reverend Alec Purser
The Reverend Janet Finlay – Ordained Local Minister
STRADBALLY
Stradbally Union Co. Laois
Weekly service uploaded to YouTube and Facebook at 10.00 for Oct 18th and Oct 25th
All posted on FB:
https://www.facebook.com/StradballyUnionOfParishes/
See also the parish's YouTube channel:
https://www.youtube.com/channel/UCnygmUSCtj24e86GkP5CdAA/featured?view_as=subscriber
The Reverend Alec Purser
TINAHELY AND CARNEW
1 p.m. Sunday on Facebook live
Live streamed via https://www.facebook.com/tinahely.carnew
The Venerable Ruth Elmes
(occasionally with assistance from 'Eile' and/or 'Betsy')
TEMPLEMORE
An online service will be available each Sunday morning from 9.30 a.m. on the YouTube channel entitled Services: Thurles Templemore and Kilfithmone
This is the link:
https://www.youtube.com/channel/UChIcafjeTGf1zLrwFZHVrAQ
TULLOW
The Reverend Canon Brian O'Rourke will be continuing to broadcast a live service from
Tullow Group of Parishes each Sunday during lockdown.
See this FB page for details http://www.facebook.com/tullowgroupofparishes
Now also on YouTube
https://www.youtube.com/channel/UCD82YepI6vD_XHzygQimEDA+
WATERFORD
Our service is available each Saturday at midnight
Link to YouTube channel: https://youtube.com/channel/UC_tfbtxmVMkYyJ23V-MAY7g
A PRAYER AT BREAKFAST reflection each morning at 8 a.m. is also available
or see http://christchurchwaterford.com/
The Very Reverend Maria Jansson
WEXFORD
St Iberius church now has a webcam installed. Sunday service is at 11.15 a.m. and there is a Wednesday Holy Communion service also at 1 p.m. via webcam You can view the services at these time by clicking https://www.ipcamlive.com/stiberiuschurch
Matins also broadcast via FB each day on
https://www.facebook.com/arthur.minion.3
also
Sundays @ 9.30 a.m. the Reverend Conor O Reilly broadcasts a service of Holy Communion live on his Facebook page
https://www.facebook.com/conor.reilly1
Reverend Conor O'Reilly, Assistant Priest for the Wexford and Kilscoran Union of Parishes, is celebrating an Easter Vigil Service of the Lord's Resurrection on Easter Eve, Saturday April 3rd at 10.30pm from the Rectory in Killinick.
It will be broadcast live on his Facebook page above. With the pervasiveness of darkness and death surrounding the Covid-19 pandemic, this service is an opportunity to celebrate the light and hope given by the Lord's resurrection. It is a celebration of the ultimate triumph of light over darkness and life over death. You are all most welcome to join me online. The link is
https://www.facebook.com/conor.reilly1
Ministry to Schools:
A Thought for the Week, Monday during term time, 10.00 a.m., Chancellor Arthur Minion, live on his Facebook page
School Assembly, Friday during term time, 12.00 noon the Reverend Conor O Reilly, live on his Facebook page
NATIONAL SERVICES
For other Church of Ireland services around the country that you can link in with please click on the following:
Link to www.ireland.anglican.org for details of services available online nationally. Click on Online broadcast services for Sundays and for weekdays.
Also, the BOOK OF COMMON PRAYER can be accessed on line on the Church of Ireland's national website on the Worship Resources, 2004 Texts page: here
RADIO
CHRISTIAN MEDIA TRUST PROGRAMMES on South East Radio 95.2-96.4fm
Saturday 1st May – Tuesday 4th May
Simply Divine Saturday 1st May 10.04am – 10.30am
Maria Colfer speaks with Pat Fogarty on his involvement with the Legion of Mary and about its work of outreach.
Sounds For Sunday 2nd May 9.04am – 10.00am
Sounds for Sunday, is presented by Patricia McNally, with reflection from Reverend Canon Ian Cruickshank, and includes requests, hymns and sacred songs.
Send requests for Sounds for Sunday to presenter Patricia McNally on sforsundaycmt@gmail.com
Sunday Mass 2nd May 10.00am
St Mary and St Michael Church
New Ross.
️Sunday Reflection 2nd May 8.30pm – 9pm
Presented by Fr. Sean Devereux on the theme of ' Emerging from Lockdown' a focus on the Christian message.
Music Box Mon 3rd May 8.04pm – 8.30pm
Michael Dwyer treats us to a selection of musical favourites.
✝️Faith Matters Mon 3rd May 8.30pm- 9pm
Presented by Reverend Canon Ian Cruickshank on the theme ' God is bigger than that'.
️ Mission Impossible Tues 4th May 8.04pm – 8.30pm
Anne Cousins speaks with Fr Martin Pender on the role of Mary in our Redemption.
https://www.southeastradio.ie/listen-live/
TIPPERARY MID WEST RADIO
Dean Gerald Field of Cashel presents Midweek Musings on this station on Wednesday evenings at 6.30 – 7 p.m.  Tipperary Mid West Radio is a community radio station serving Tipperary town, Cashel, and south Co. Tipperary on 104.8fm, 106.7fm and online.
Check out http://www.radio.tippmidwestradio.com/
TIPP FM
Canon Barbara Fryday, rector of Clonmel Union of Parishes presents the Sunday Life programme once every 5 weeks on Tipp FM 97.1 between 7 – 8 a.m.
COMMUNITY RADIO KILKENNY CITY
Heidi Good and Fr. Willie Purcell alternate as presenters of Spirit Alive on Saturday
Community Radio Kilkenny City 88.7fm
See http://communityradiokilkennycity.ie/listen-live-back/
Also don't forget to listen live/listen back to:
SOULWAVES https://www.soulwavesradio.ie/ the organisation that distributes spiritually-focused audio to stations round the country. Lots of topical clips to listen to each week. This week – a tribute to John Hume who died this week.
RTE's religious programmes by clicking https://www.rte.ie/player/all-programmes/category/Religion
Spirit Radio – listen by clicking on https://www.spiritradio.ie/ as well.  You can download the app on your phone also so that you can listen anywhere.