St. Canice's Cathedral, Kilkenny
website: stcanicescathedral.com
Facebook Page:
https://www.facebook.com/stcanicescathedral
The cathedral is closed to visitors during services, although you are invited to join us for worship if you wish.
| | | | | |
| --- | --- | --- | --- | --- |
| Entrance Fees: | Cathedral | Round Tower | Combination (Cathedral & Tower) | |
| Adults | €4.00 | €3.00 | €6.00 | |
| Concession | €3.00 | €2.50 | n/a | |
| Groups(10+ pax) | €3.00pp | €2.50 | €5.50 | |
| Groups (10+ pax)with a cathedral guide | €3.50pp | €2.50 | €6.00 | |
| Family ticket | n/a | n/a | €12.00** | |
Cathedral facilities include:
Gift Shop, Toilets and Wheelchair access to cathedral
Guided tours of the cathedral are available by prior appointment
Information leaflets are available in 10 languages: English, Irish, German, French, Italian, Dutch, Spanish, Swedish, Japanese & Welsh
Worksheets are available for students & children
History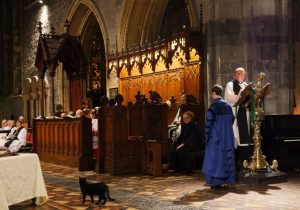 Prior to his death in 1202, it was the vision of Bishop Felix O'Deleaney that the monastic settlement that was St Canice's should house a cathedral church. Since the 1120's the see of Ossory had been shifted from Aghaboe to Kilkenny but no new building was erected to mark the move. The bishop was one of the few who realised the significance of the Norman settlement of the region.
In consequence, he established the foundations of the cathedral with a view that the practically minded Norman overlords would sponsor the stone masons to erect a house of God worthy of both worship and prestige. Bishop O'Deleaney died before his vision became real. However in laying the foundations he left the challenge to his successors to complete the task.
The 13th century cathedral of St Canice is the second longest cathedral in Ireland. The site on which the cathedral stands has been a site of Christian worship since the 6th century.
The architectural style of the cathedral is Early Gothic and it is built of limestone. The cathedral has been carefully preserved in its original style and form. It is richly endowed with many stained glass windows including the East window which is a replica of the original 13th century window.
The cathedral contains some of the finest 16th century monuments in Ireland. The memorials stretch right across the social spectrum from the great figures of the house of Ormonde to the humble shoemaker and carpenter.
The baptismal font is original and the ancient stone of enthronement for bishops still exists under the seat of the mediaeval throne in the North Transept, where to this day the bishops of Ossory are enthroned. The continental carvings on the choir stalls and the hammerbeam roof are not to be missed.
Beside the cathedral stands the 9th century round tower. It may once have been a watchtower and a refuge and it can be climbed to give an unsurpassing vantage point to view the city of Kilkenny and the surrounding countryside (weather permitting).
Dean appointed on Nov 7th 2021: The Reverend Stephen Farrell
To see a map and obtain directions to the cathedral click Here

View Dioceses of Cashel, Ferns & Ossory in a larger map