Children's Choral Festivals took place across the Diocese on Friday, June 8th and were a culmination of much hard work and dedication on the part of teachers, pupils and clergy.
Parents were also involved as helpers, chaffeurs and congregation members at these great events.
Services were planned, scripts written, hymns chosen, hymns practised and readings rehearsed in each participating school for several weeks ahead of these big annual events.
Hundreds of children attended each service, arriving by car, bus and on foot depending on how far they were from the church.
With the heat on the day itself it was a case of using service sheets as fans on occasion – particularly clergy who were a bit laden down, apparel wise, on such a warm summer's day!
Such were the crowds at our annual children's choral festivals this year that the numbers couldn't be accommodated in our own church buildings in several cases so we were delighted when Roman Catholic clergy in each area allowed the service to be held in their churches – an ecumenical gesture very much appreciated by the Diocese.
The Bunclody service, for example, was by kind permission of Father Lar O'Connor and his congregation.
As Diocesan Communications Officer I attended the children's choral festival closest to where I live i.e. the Ferns Diocesan Children's Choral Service in Bunclody.
I knew it would be an important event and that many children would be excited about taking part – and about hearing who had won prizes in the Bishop's Primary Schools Art and Craft Competition 2018!  Word had it that the Junior Bishop's Medal winner would be coming from this neck of the diocese too so off I set.
You could have fried an egg on the streets of Bunclody, such was the heat! Children, parents and teachers were dressed in cool colours and summer versions of uniforms and as mentioned above, clergy, particularly, had to do some discreet fanning with their service sheets given that they were fully robed in such hot weather!
The theme of the service in Ferns diocese, for example, was Exploring the Bible – 66 Adventures echoing the Bishop's Route 66 preaching marathon last September. Similar themes were taken up by organisers of the other children's choral festival services in the Diocese too.
The introduction and welcome for this service was scripted by Carrigduff National School principal, Ms Carolyn Good.  It was a dramatic opening and the roles of 'Bible', 'Road Atlas' and 'Fairy Tales' were well-acted by three pupils from Carrigduff.
The preacher in Bunclody was the Reverend Nicola Halford who held a 'true or false' quiz that had the congregation standing up for 'yes' and staying seated for 'no' and she even tested clergy on their knowledge of the Bible.  We won't say who got the lollipop and who didn't for their answers!
She also showed several different types of Bibles one could have – the huge one from the church (too heavy to carry around obviously), a home-sized one, a handbag sized one, a pocket-sized one and even that you could have Bible apps on your tablet or phone for handiness.
The Junior Bishop's Medal Award winner for 2018 got the spotlight mid-way through the service. He is from Kilnamanagh so it made total sense that his rector, also an Archdeacon, presented him with his prize.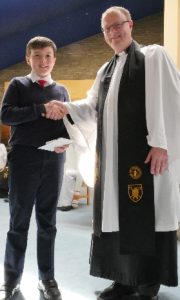 Prizes in the art and craft competition were announced toward the end of the service, as they were at the children's choral festivals in other parts of the diocese – Abbeyleix, Tullow and Stradbally, County Waterford.  Our congratulations to winners at all these services.
The overall art winner who received the Benson Memorial Award hails from Abbeyleix so she received her prize there.
Well done to everyone involved.
We don't have photographs from each service unfortunately but I have included what I can and the following reports from Abbeyleix, Tullow. There was a similarly joyous occasion in Stradbally, County Waterford.
In Abbeyleix the Reverend Patrick Harvey tells us that there were 350 in the congregation in St. Michael & All Angels' Church, Abbeyleix on Friday 8th June.
"Six schools were involved, Clonenagh (Mountrath), Maryboro (Portlaoise), Cosby (Stradbally), Abbeyleix South, Rathdowney and Templemore NSs," he says.
Each school took part in a different way, leading prayers, readings or words of welcome.
"The theme focussed on female biblical characters and the central place of Scripture in our lives. Bishop Michael Burrows preached magnetically about the Bishops' Appeal projects which his Route 66 fundraiser supported, and how African girls and women were helped in their education by the funds raised. He reminded us that our education allows us to make decisions in our lives."
Reverend Harvey also expressed gratitude to the staff and pupils of the Abbeyleix South NS for all the great work they put in preparing for the service, for example producing the service booklets, practising their singing and laying out the church to accommodate six schools.
The overall Bishop's Art & Craft Prize (The Benson Prize) was presented by the Bishop at this service to a South School pupil – Aoife Neavyn. Congratulations Aoife!)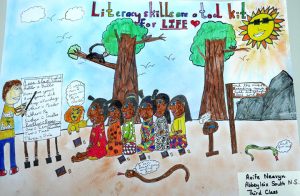 In TULLOW for this year's children'choral festival about 500 pupils came to the Holy Rosary Church, Tullow, from eight schools: Kiltegan, Stratford Lodge (Baltinglass), Wandesforde (Castlecomer), St. Columba's, Tullow, Model School Kilkenny, Green Road, Carlow, Bagenalstown, and the hosts, Shillelagh.
"Every school took a role leading prayers, readings and responses," Archdeacon Andrew Orr says.  "Shillelagh school opened with singing an African welcome song. The theme was "women in Scripture" and the readings were of Moses being hidden by his mother and sister, and the role of Priscilla, church leader, in the Book of Acts.
The preacher was Emma Rothwell, Chaplain to Wilson's Hospital School, and a native of Aghade parish. She told the enthralled students about Priscilla and her husband Aquila being tent makers and got a group of volunteers to erect a tent at the front of the church!!  She reminded us all about how they welcomed St. Paul and his friends and became leaders in the early Church and talked about the importance of hospitality and women in leadership."
Archeacon Orr thanked the staff and pupils of Shillelagh No.1 NS, who were hosting for the first time ever 😊 and for their hard work and welcome.
He also thanked Fr. Andy Leahy and his pastoral council for the use of the church, and Stephen Adams for playing the organ.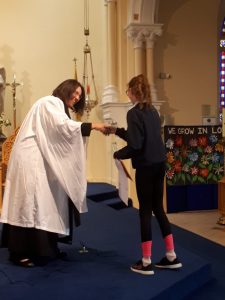 And there was a similarly joyous service in STRADBALLY, County Waterford where Canon Brian O'Rourke led the service.
The text of the Ferns service and two audio clips of the hymn-singing (Spirit of Love and This Little Light of Mine) are included below for your enjoyment.
Ferns Diocesan Annual Choral Festival
Friday 8th June 2018 at 11.00am
The Church of the Most Holy Trinity, Bunclody
(by kind permission of Fr. O'Connor and his congregation)
Exploring the Bible – 66 Adventures
Carrigduff NS, Bunclody : All Saints' NS, Carnew : Kilcommon NS, Tinahely : Kilnamanagh NS, Oulart :
St. Mary's NS, Enniscorthy : St. Iberius' NS, Wexford : St. Edan's NS, Ferns : Gorey Central School, Gorey
Canon Mike Stevenson welcomes everyone to Bunclody
Carrigduff NS:   Opening and introduction to the theme
Welcome to the Choral Festival
Jack
Welcome to Bunclody. Today in the Church of the Most Holy Trinity, the children of Carrigduff NS will lead you in a service about the bible. Our theme today is "Exploring the Bible – 66 Adventures".
Emer
Last Autumn Bishop Burrows travelled all around the Diocese on a fund-raising adventure called Route 66. He visited 66 churches and schools across Cashel, Ferns, Ossory, Leighlin, Lismore and Waterford.
Niall
At each venue he spoke about a different book in the bible. He also talked about education for girls in developing countries. In our school he spoke about the first book of Chronicles.
Emma
It doesn't always feel like it, but we are so lucky on our country to be able to go to school. In Ireland girls and boys are the same. I can study any subject I like. I can play any sport I like. I can I am treated the same as the boys in my class. I am treated the same as my brother.
Wei Shun
We would like you to meet three of our friends. Welcome!
Enter Bible, Bible should stand in the centre. 'Road Atlas' enters, making car noises, and bumps into Bible.
BIBLE: Ouch! That was a nasty bump. Who are you? What are you doing here?
ROAD ATLAS: I'm a Road Atlas – can't you tell? (more car noises) I'm very important – you'd be lost without me. My maps can get you anywhere you want to go, Gorey, Kilnamanagh, Carnew, Tinahely, Wexford, Enniscorthy, Ferns. I can take you to see your Granny if she lives a long way away; I can get you to places at the other end of the country. Don't ever set off on a journey without me! AND I'm on special offer on Amazon this week. So there!
BIBLE: Sounds interesting, but I've got maps in me too, although not of this country – they're of somewhere a long way away, but very special. Now who is this coming?
Enter Fairy Tales
FAIRY TALES: (reading Bible's cover) The Bible. I guess you've not been read for a long time! I'm out every bedtime – I'm their favourite book! I'm full of adventures – The Little Mermaid, The Tin Soldier, The Ugly Duckling, The Emperor's New Clothes…exciting stories about important people and important things. AND I'm full of pictures!
BIBLE: I didn't like to interrupt, but I'm full of stories too – only mine are true! They are exciting stories, full of adventure, about special people and important things. Other books come and go, but I've been around a lot longer than those two.
In fact I've sold more copies than any other book that has ever been written. God helped lots of different people to write me, and they all tell the most important story ever: that God loves people very much. Look – here's lots of children come to celebrate me!
Luke
The Bible is a very special book from God, just as we heard. It has lots of different sorts of stories in it. Who has got a Bible at home? Who has read the Bible? Which stories do you know that are in the Bible?
Mia
The Bible is more like a library really. It is divided into two sections called the Old Testament and the New Testament. There are 66 books in the Bible. The books are written in chapters and in verses.
Laura
We asked our pupils "What is your favourite bible story?" The most popular bible story in the Infant classroom was Daniel and the Lion's Den. They also liked the stories of Joseph and the Easter Story.
The children in 1st, 2nd and 3rd class voted for the story of Noah's Ark, the story of Esther and the Easter story. The children in 4th, 5th and 6th voted for the story of Noah's Ark, the Christmas story and the story of  the Lost Sheep.
Megan
The most popular story in our whole school was Noah's Ark. 28% of children in our school said that Noah's Ark was their favourite story. We asked the children why? This is what they said:
Adam
I like it:
"because God made a promise to Noah"
"because it is easy to follow and children don't like stories that are complicated"
"because it was one of the first stories I heard as a kid"
"because Noah brings all the animals with him which is really kind"
Hannah
I like it:
"because it has a boat in it and a flood"
"because it gets straight to the point"
"because God told Noah to do it and he didn't say no"
"because Noah put such hard work in to it"
"because God promised he'd never do it again"
"I like it because there's a happy ending with a rainbow and the animals are all safe"
Damien
We love to hear the stories from the bible at home, in school and in church. We love to
Attila
Thank you, God, for all the different stories in the Bible and for all the things that they tell us about you.
Kilcommon NS:
This is the day that the Lord has made
All: We will rejoice and be glad in it.
Lord direct our thoughts, help us to pray and lift up our hearts to worship you in spirit and in truth, through Jesus Christ our Lord,
Amen.
The Spirit of God fills the whole world.
All: Come let us worship.
 Our God is a Great Big God
Our God is a great big God, our God is a great big God,
Our God is a great big God, and he holds us in his hands.
Our God is a great big God, our God is a great big God,
Our God is a great big God, and he holds us in his hands.
He's higher than a skyscraper, and he's deeper than a submarine.
He's wider than the universe, and beyond my wildest dreams.
And he's known me and he's loved me, since before the world began.
How wonderful to be a part of God's amazing plan!
(Repeat Chorus and verse and then chorus again)
 All Saints' NS:
If we say we have no sin we are not telling the truth. If we confess our sins, God is faithful and will forgive us our sins and cleanse us. Let us kneel and confess our sins to God our Father.
O God, our loving Father in heaven, we confess that we have sinned against you; we have broken your commandments; we have often been selfish, and we have not loved you as we should. For these, and for all our sins, forgive us, we pray; through our Lord and Saviour Jesus Christ. Amen.
Absolution: Canon Mike
Spirit of God
Spirit of God, unseen as the wind, gentle as is the dove.
Teach us the truth and help us believe, show us the Saviour's love
You spoke to us long, long ago, gave us the written word
We read it still, needing it's truth, through it God's voice is heard.
Chorus
Without your help we fail our Lord, we cannot live his way;
We need your power, we need your strength, following Christ each day.
Chorus
St. Edan's NS:
A collect for St. Columba's Day (9th June)
O God, you called your servant Columba from among the princes of this land to be a herald and evangelist of your kingdom: Grant that your church, remembering his faith and courage, may so proclaim the splendour of your grace that people everywhere will come to know your Son as their Saviour, and serve him as their King; who lives and reigns with you and the Holy Spirit, one God now and forever. Amen
 Carrigduff NS:
Introduction to the first reading
St. Iberius' NS: First Reading
A reading from the book of Genesis, chapter 6, beginning at verse 14.
Build a boat for yourself out of good timber; make rooms in it and cover it with tar inside and out. 15 Make it 450 feet long, 75 feet wide, and 45 feet high. 16 Make a roof[a] for the boat and leave a space of 18 inches between the roof[b] and the sides. Build it with three decks and put a door in the side. 17 I am going to send a flood on the earth to destroy every living being. Everything on the earth will die, 18 but I will make a covenant with you. Go into the boat with your wife, your sons, and their wives. 19-20 Take into the boat with you a male and a female of every kind of animal and of every kind of bird, in order to keep them alive. 21 Take along all kinds of food for you and for them." 22 Noah did everything that God commanded.
The Lord is Here
The Lord is here – he finds us as we seek,
To learn his will and follow in his way.
He gives himself just as he gave his word,
The God of promise greets us every day.
The lord is here – he meets us as we share,
This is the life he calls us now to live.
In offered peace in shared out bread and wine,
Our God is gift and calls us now to live.
The Lord is here – inviting us to go,
And share the news with people everywhere.
He waits outside in need and help alike,
The spirit moves through deed as well as prayer.
So let us go intent to seek and find,
Living this hope that God is always near.
Sharing and trusting let us live his love,
That all the world may say "The Lord is here"!
Carrigduff NS:
Introduction to the second reading
Gorey Central School : Second Reading
A reading from the Gospel according to Luke, chapter 24, beginning at verse 13.
On that same day two of Jesus' followers were going to a village named Emmaus, about seven miles from Jerusalem, 14 and they were talking to each other about all the things that had happened. 15 As they talked and discussed, Jesus himself drew near and walked along with them; 16 they saw him, but somehow did not recognize him. 17 Jesus said to them, "What are you talking about to each other, as you walk along?"
They stood still, with sad faces. 18 One of them, named Cleopas, asked him, "Are you the only visitor in Jerusalem who doesn't know the things that have been happening there these last few days?"
19 "What things?" he asked.
"The things that happened to Jesus of Nazareth," they answered. "This man was a prophet and was considered by God and by all the people to be powerful in everything he said and did. 20 Our chief priests and rulers handed him over to be sentenced to death, and he was crucified. 21 And we had hoped that he would be the one who was going to set Israel free! Besides all that, this is now the third day since it happened. 22 Some of the women of our group surprised us; they went at dawn to the tomb, 23 but could not find his body. They came back saying they had seen a vision of angels who told them that he is alive. 24 Some of our group went to the tomb and found it exactly as the women had said, but they did not see him."
25 Then Jesus said to them, "How foolish you are, how slow you are to believe everything the prophets said! 26 Was it not necessary for the Messiah to suffer these things and then to enter his glory?" 27 And Jesus explained to them what was said about himself in all the Scriptures, beginning with the books of Moses and the writings of all the prophets.
28 As they came near the village to which they were going, Jesus acted as if he were going farther; 29 but they held him back, saying, "Stay with us; the day is almost over and it is getting dark." So he went in to stay with them. 30 He sat down to eat with them, took the bread, and said the blessing; then he broke the bread and gave it to them. 31 Then their eyes were opened and they recognized him, but he disappeared from their sight. 32 They said to each other, "Wasn't it like a fire burning in us when he talked to us on the road and explained the Scriptures to us?"
33 They got up at once and went back to Jerusalem, where they found the eleven disciples gathered together with the others 34 and saying, "The Lord is risen indeed! He has appeared to Simon!"
35 The two then explained to them what had happened on the road, and how they had recognized the Lord when he broke the bread.
This little Light of Mine (Song 10 on the CD)
This little light of mine I'm gonna let it shine,
This little light of mine, I'm gonna let it shine,
This little light of mine, I'm gonna let it shine,
Let it shine, let it shine, let it shine!
The light that shines is the light of love,
Lights the darkness from above,
It shines on me and it shines on you,
And shows what the power of love can do.
I'm gonna shine my light both far and near,
I'm gonna shine my light both bright and clear.
Where there's a dark corner in this land,
I'm gonna let my little light shine.
Chorus
On Monday he gave me the gift of love,
Tuesday peace came from above.
On Wednesday he told me to have more faith,
On Thursday he gave me a little more grace,
Friday he told me to watch and pray,
Saturday he told me just what to say,
On Sunday he gave me the power divine,
To let my little light shine.
 Chorus
Kilnamanagh NS:
We believe in one God who made all things: Did he stretch out the heavens, spread out the earth, and form us in the womb?
All: He did!
Is he the Lord Almighty, our King and our Redeemer?
All: He is!
Are we his own people, called by his name?
All: We are!
Does he pour his Spirirt on us as on a dry and thirsty land?
All : He does!
We believe in one God, the Almighty, Father, Son and Holy Spirit.
All: Amen
I will make you Fishers of men 
I will make you fishers of men, fishers of men, fishers of men;
I will make you fishers of men, if you follow me.
If you follow me, if you follow me,
I will make you fishers of men, if you follow me.
Repeat
St. Mary's NS:
(All sit or kneel and sing Domine Deus between each prayer.)
Domine Deus (Sung between the prayers)
Domine Deus, domine Deus, domine Deus, grant us peace.
Domine Deus, domine Deus, domine Deus, grant us peace.
Dear God,
Help us to have the courage of Daniel when he was in the lion's den. Sometimes it is hard to be brave, to tell the truth and to do the right thing. Help us to be the best that we can be.
Lord in your mercy………
Dear God,
When you asked Noah to build the ark he listened to you and was obedient. It is sometimes hard to do what we are told. Give us the obedience of Noah in our lives.
Lord in your mercy……….
Dear God,
Ruth was very kind to her mother in law. She stayed with her in a foreign country even though she missed her family. Help us to be kind every day. Help us to see kindness around us.
Lord in your mercy…….
Dear God,
Paul was in prison for so many years. He had great faith and he didn't forget you. In fact he wrote to people in other lands while he was in prison and told them about you. Help us to have faith and to be faithful in our lives.
Lord in your mercy……..
Dear God,
The Christmas story tells us a wonderful story of the new baby boy. Jesus was born as a baby and brought great peace to our world. We often hear stories of conflict and arguments. Help us to be peaceful and to work towards peace in the world around us.
Lord in your mercy…….
Heavenly Father, in darkness and in light, in trouble and in joy, help us to trust your love, serve your purpose, and to praise your name, through Jesus Christ our Lord. Amen
Gathering all our prayers and praises into one, we pray as our Saviour Christ has taught us:
Ár nAthair atá ar neamh, go naofar d'anim, go dtaga do ríocht, go ndéantar do thoil ar talamh mar a dhéantar ar neamh. Ár n-arán laethúil tabhair dúinn inniú. Agus maith dúinn ár gcionta mar a mhaithimidne dá gciontaíonn inár n-aghaidh agus ná lig sinn i gcathú ach saor sinn ón olc. Óir is leatsa an ríocht agus an cumhacht agus an ghlóir trí shaol na saol. Áiméan.
 The Grace of our Lord Jesus Christ and the love of God, and the fellowship of the Holy Spirit be with us all, evermore, Amen.
Address: The Rev. Nicola Halford
Tell me the Stories of Jesus
(Collection brought up by a member of each school) 
Tell me the stories of Jesus, I love to hear,
Things I would ask him to tell me, if he were here,
Scenes by the wayside, tales of the sea,
Stories of Jesus, tell them to me.
First let me hear how the children, stood round his knee,
And I shall think of his blessing, resting on me,
Words full of kindness, deeds full of grace,
While love was shining, in Jesus' face.
Tell me in words full of wonder how rolled the sea,
Tossing the boat in a tempest on Galilee,
How Jesus doing his Father's will,
Ended the storm with "Peace, peace be still".
Into the city I'd follow the children's band,
Waving a branch of the palm tree high in my hand,
Worshipping Jesus, "Yes" I would sing,
Loudest hosannas for he is King!
Show me that scene in the garden of bitter pain,
And of the cross where my Saviour for me was slain,
And through the sadness help me to see,
How Jesus suffered for love of me.
Tell me with joy of his rising up from the grave,
And how he still lives triumphant ready to save,
Wonderful story Jesus my friend,
living and loving right to the end.
Carrigduff NS: Poem about bible
Blessing: Father Laurence O'Connor
You Shall Go out with Joy
You shall go out with joy, and be led forth with peace,
And the mountains and the hills shall break forth before you,
There'll be shouts of joy, and the trees of the field
shall clap, shall clap, their hands,
and the trees of the fields shall clap (x) their hands,
and the trees of the fields shall clap (x) their hands,
and the trees of the fields shall clap (x) their hands,
and you'll go out with joy!
Repeat
Some of the winning art work.
See previous news post for images of all winning artwork.
M Hawkins
Diocesan Communications Officer