Interest started early
To go into my background and interest in pilgrimage, my interest started at an early age, I was brought up in England while I was very young and was brought up in the Roman Catholic faith. We attended a mass centre run by Worth Abbey and would regularly go to services in the main Abbey Church. It is here that I developed my spirituality early on and was influenced by the lay community which Worth Abbey had. This was one of the first expressions of new monasticism which was started in the late 60's early 70's at Worth where lay people would live together alongside the monastery and attend all the monastic services. Many individuals who were in the lay community went on to become monks or others went onto different aspects of life.
Deep respect
The lay community at Worth also ran events in and around the monastery, particularly for younger people. One of the things that they organised was a Holy Week Pilgrimage from Arundel Catholic Cathedral to Worth Abbey where they would carry a full size cross through the days of Holy Week to arrive at the Abbey on Good Friday.
From my experiences at Worth, I had a deep respect for the monastic offices, a sense of pilgrimage and also a sense of sacred space.
Joined the Church of Ireland
My family moved home to Ireland when I was about twelve years old and I ended up joining the Church of Ireland as a teenager, finding it more in tune with my own spirituality and emerging Christian faith. My interest in pilgrimage and holy spaces continued as I had always had an interest in history and, of course, many of the ancient sites in Ireland are either run by the Church of Ireland or have Church of Ireland churches next to them. I found the sense of liturgy in the Church of Ireland very in tune with my faith.
Love of walking and archaeology
Even from a young age I have had a love of walking and being out amongst nature so, by also having had an interest in history and historic sites, it was probably unsurprising that when I went to university I ended up choosing to study archaeology, having initially thought that I would do a degree in English and Philosophy, I did my degree in Archaeology and Philosophy.
Knowing the background
In archaeology I relished the opportunity to visit many early Christian and medieval sites and having chosen to do single Honours Archaeology rather than a joint honours degree I ended up doing more medieval and ecclesiastical elements in archaeology. This, aligned with my interest in philosophy and my interest in faith and theology, meant I have a reasonable grasp of not only the material remains that we have in our beautiful country but also the philosophical and theological background that is behind them.
Outside the Sunday box
One element within the Church of Ireland that I thought might be slightly lacking, where the Roman Catholic Church has great strength, is in the presence of religious orders. It struck me as unfortunate that the Church of Ireland doesn't have anything really outside of the parochial structure to offer ministry other than maybe the way that some of the larger Cathedrals in the Church of Ireland function. I have always had great respect for the way the Orders of the Roman Catholic Church operate and minister and add an extra context to faith.  They are very much able to live their faith as it were, outside of the Sunday box, whereas, parochial ministry always seems to revolve around that more weekly rhythm.
As I moved towards ministry, I was very conscious of older elements within the Church of Ireland elements going back to pre-reformation and even pre-east/west schism going back to the pre-Norman church. I was conscious that there are strands within the Church of Ireland that come from those origins.
Speaking to a modern context
I became more and more interested in how those strands, whilst maybe not particularly obvious or to the fore, might have interesting things to say to ministry in a more modern context – the idea, as Wesley said, of trying to take religion out of a Sunday box, the idea that maybe pilgrimage and other such activities might speak afresh to a more modern context.
After training for ordination full-time, I ended up ministering in a part-time capacity, first in a Tralee parish and then in Dingle Union where I was a house-for-duty priest and ran many prayer walks and walking retreats in Corca Dhuibhne which has the highest density of early Christian sites of anywhere in Europe outside of the Holy Land.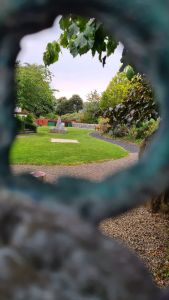 Prayer walks
These prayer walks were supported by locals and tourists alike. Many I ran on my own and some in conjunction with other organisations or individuals. I ran one particular event in conjunction with the Pan Celtic festival that invited speakers like Ray Simpson who participated in one of the organised prayer walks.
Pic: a view into a public garden on St Declan's Way
Retreat centre
Since taking up a full-time post in Killorglin/Kilcorman Union of parishes, my time for organising walks was curtailed although I still managed to run some while still in that parish. I then for family reasons moved across to Baltinglass in County Wicklow. It was while in this parish that the subject of a retreat centre within the Church of Ireland was discussed at General Synod and having spoken to the motion and taken part in the surveys that were started by the Committee as a result, I chose to write an article on the idea of retreat and pilgrimage for the Church of Ireland journal "Search".
Founded The Community of Brendan the Navigator
As a result of writing that article and the response to it – and also my involvement in the pioneer ministry group within the Church of Ireland – I chose to take the plunge and along with some colleagues and friends founded the community of Brendan the Navigator (Cumann Breandán Naofa).
This is a dispersive religious community dedicated to promoting pilgrimage, reflection and retreat within the Church of Ireland. We have been in existence for just over four years and have run on average, before Covid, about eight walking retreats a year, most of these being three or four hour retreats, as well as stationary quiet days.
Sabbatical – the time was right
With all of this activity and the possibilities being offered as a result, things were going quite well for us until Covid hit which put a dampener on our activities. However, this time of reflection led me to believe that the time was right for me to attempt to take a sabbatical.  This was to look at the subjects of pilgrimage and pilgrim places and how these might influence the Church of Ireland into the future, the possibilities in ministry and perhaps even the financial implications that having churches on or near pilgrim paths might have, for not only the Church of Ireland but other denominations also.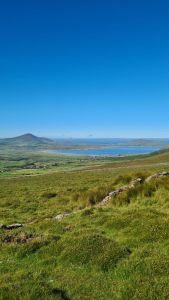 I am now doing this research and as part of my research I am walking several established pilgrim routes. I will be trying to walk some pilgrim routes that are not yet established and I have a plan to devise one possible pilgrim route. As well as doing this in Ireland I hope to walk one of the pilgrim routes in Wales and spend six weeks on the Camino in Spain.
Pilgrimage Journey
So, what is a pilgrimage? I suppose a pilgrimage is a journey, but then again, a trip to Tesco is also a journey. What sets a pilgrimage apart is, I believe, that it is a journey which is fundamentally relational rather than transactional.
pic – Over the hill on Cosán na Naomh coming into Kilmalkedar
When you pop off down to Tesco to buy some goodies you are engaging in a transaction. I suppose sometimes even when you travel for other reasons, your travelling is transactional. Getting from point A to point B to engage in activity C however, a pilgrimage is about having a relationship with the path on which you travel, a relationship with the places you visit and with the place that is your ultimate destination on the pilgrimage
I suppose in all pilgrimages those relationships echo larger relationships in our lives, our relationship with who we are and where we're going in life and our relationship with the place that we believe will be our final destination.
The best sermon I ever wrote (or shall ever write as I no longer write my sermons but compose pictures that I speak to) was when I was a student, an ordinand, and was preaching in Waterford Cathedral.
Sailing in our relationship with God
I had made a cross and I took off my surplice and hung it on the cross when I talked to the children about where we were standing which was in the nave. I wasn't in the pulpit, and I told them that this part of a Church was called a nave after the Latin word "navis" for ship. I asked them what kind of ship this was. I said it wasn't a rowing ship because you would be facing the wrong way. I said this ship is a relationship, a relationship with God and a relationship that brought to us through the cross, the death and resurrection of Jesus Christ.
Because of that, I put my surplice on the cross and of course then it resembled a sail, so we are hopefully blown by the winds of the spirit to sail in our relationship with God until we come to the safe harbour of heaven.
So, Church should also be about being in a relationship, a relationship that should transport us and transport our relations to the world and with the world.
However, whilst a lot of people may have a relationship with God in the Church, there is an unfortunate infection of this transactional attitude where the relationship begins when the door opens and is put on hold when the Church door shuts.
Seeking something relational not transactional
I am reminded of words I used to see on a poster near the Quaker meeting house in Waterford as I walked to school, a quote from Charles Wesley "don't put religion in a Sunday box" and unfortunately, I think many people do and I think that is why many people have wandered away from the Church because they seek something relational and not something transactional.
If they wanted something transactional, the world has far shinier and more glitzy and exciting things to offer them, but all the world i.e. the capitalist world and most of our modern society – all it offers is transaction – and if we wish to enrich ourselves, we must do so with something that is more than transaction.
We must break religion out of a transactional box to reveal the relationship at the heart of what Christianity is called to be.
One way in which we can help people break out of this prison of a Sunday box is by literally getting them out of the Church, getting them to walk, getting them to go on pilgrimage even if that is going to a different Church, to a different place, a holy spot in the open, somewhere where they can be reminded of the relational impulse within them and the relational nature of all true spirituality, the relational nature of our Christian faith.
Walking out of my mental map – liberation
One of the things that I have discovered on pilgrimage was that for the first time in a long time, I was on my two feet and taken out or walking out of my mental map.
Let me explain what I mean by this. Most people have a mental map of the places they know well, a mental map of where they go to day to day. They may even have key points outside of their everyday world on a mental map. We don't spend much time off our mental map other than on motorways and I think different splodges of our mental maps are actually connected like those little diagrams you see at the back of road maps where motorways are portrayed only by their exits with no real attempt at scale.
pic – a blessed bench on St Declan's Way
However, engaging on St. Declan's Way, whilst I had a vague mental map which included Cashel and Cahir, the distance between I had not. I was going along a road that I knew not, in a direction with a scale that I knew not, only roughly how many kilometres it was to go. But there was something immensely liberating about being taken off my mental map, something wonderful about being freed in the world and in the words of St. Brendan the Navigator "breaking fresh ground with Christ".
Note: Saint Declan's Way is a pilgrim walking route linking Cashel in County Tipperary and Ardmore in County Waterford. It follows the route that Declan took when going to Cashel to meet Saint Patrick in the fifth century.  http://www.stdeclansway.ie/
Sense of orientation and wonder
But having been taken off this map, does this mean I am disorientated? Well, maybe so a little, but I was orientating myself to the path and to the destination and to the relationship I had with both of them. This was enough to give me a sense of orientation whilst maintaining the sense of wonder as I walked along my way.
Listening
As I have been walking, I thought I might listen to a podcast or music or even an audio book, but no. I have preferred the silence, or should I say the lack of extraneous sound. I have listened to the pounding on the path, the metronome of my raised pulse on some of the climbs and the rustle of the breeze.  The space has let me get into the rhythm of the journey and with that and the winding up of my legs has come the unwinding of my mind. Sometimes I have become nearly oblivious to the space I am walking through as I am so engaged with the steady beat of the walk. Then sometimes I am overcome with a sense of wonder and beauty as I gaze up from my plodding and take in the beauty of a place, or its significance, spiritual or historical. At other times I have been struck by a sense of achievement as I arrive to the summit of a climb, or the end of the day's walk. With the latter a sense of thanks and relief has also flooded over me.
Each day a fresh invitation
However, each day brings a fresh invitation to challenge myself and slip back into this rhythm again. It has been somewhat expected as well as somewhat of a revelation. Even at one point when I was forced to make a detour and was quite annoyed at the person who had blocked a path, forcing me to find a go-around, even then the rhythm was quickly re-established, allowing me to get over this inconvenience, forgive and get back to hammering out my beat.
My beat
My beat is a comfortable self-made time signature that is rattled out by my feet and stick that invites the wandering notes of my cluttered mind to untether themselves and sound off one by one.
Some are long buried thoughts. Some are personal mental puzzles and others are drawn out by the path. The Spiritual, philosophical, theological thoughts that now can flow in time with my boots out from a cluttered sub conscious into the fresh space in my head that being on this walk has created.
Sometimes each step seems to deepen my faith. Sometimes each ache and blister seems to heal some past hurt or sense of past failure. Then there are times when the walk seems all. As I came to the end of St.Declan's way that was how I felt. My feet were sore and my boots seemed to have worn prematurely thin. I just had to make it to the end. When I did, I felt that I had achieved something but was not overwhelmed, that is until I knelt in the church there to finish with a prayer and found myself in tears. Unexpectedly hit by the final chord of the concerto and feeling the full emotional weight of the previous five days all at once. What will I be like after several weeks of walking? Goodness knows but I am ready and willing and please God will be able to find out.
I hope to put up some piece of writing to do with my pilgrim project every week of my sabbatical but other bits can be followed on: