'BE LIKE MARTHA AND MARY – Committed, emphathetic and tenacious'
 ORDINATION OF THE REVERENDS GER JAMES AND MIKE O'MEARA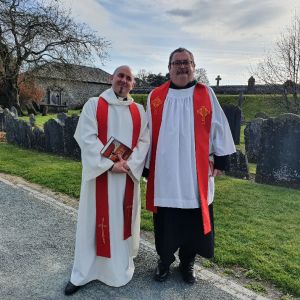 The Reverend Ger James (Carlow) and the Reverend Mike O'Meara (Cashel) were ordained priests in the Church of God, for service in Ordained Local Ministry, in St Canice's Cathedral, Kilkenny on Passion Sunday, April 3rd at 4 p.m.
They were ordained by the Right Reverend Michael Burrows, his last time to officiate in St Canice's Cathedral before he leaves to become Bishop of Tuam, Limerick and Killaloe.
Mr James and Mr O'Meara are the third and fourth trainees in the Diocese to be ordained priest since the Ordained Local Ministry (OLM) course was introduced by the Church of Ireland in 2018. They were ordained deacons, the initial step to becoming a priest, in 2021.  Now they will continue to be members of their respective ministry teams in Carlow and Cashel Unions of Parishes where they did their training.
What is Ordained Local Ministry? It is a collaborative ministry and involves working voluntarily. Training, over a number of years, encompasses a blended form of lectures, tutorials, workshops, on-line learning and self-study.  While OLMs serve in their own parishes after they are ordained to the priesthood it is intended that they will be supervised during their ministry by a rector or archdeacon in charge of a much larger area.
Bishop Michael Burrows, leading the service, welcomed Ger and Mike and their families and friends to St Canice's on this special occasion and wished them every blessing for the future.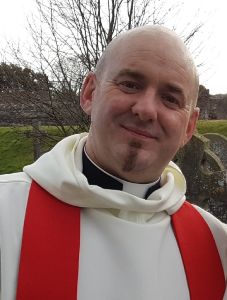 The preacher at the service was the Very Reverend Stephen Farrell, Dean of Ossory, who, welcoming both men into the church of God, asked them to emulate those mentioned in that day's Gospel.
"Today's Gospel is a perfect window into the call to priesthood. Mike and Ger, be like Mary and Martha," he said, listing the Biblical women's Christian characteristics of commitment, empathy, tenacity and love of the Lord.
"All priests are called to be like Martha… we need to take chastening from the Lord now and then, like Martha…We are servants of God unafraid to roll up sleeves and muck in, whatever the task."
Pointing out that her sister Mary's gift is extraordinary he said that it is the vocation of the priest to live like Mary 'giving the best and most beautiful to our Lord, modelling and encouraging others to make the church a place of extravagant love and care and delight.'
He went on to say that being a priest is not a job or a contract but a gift from God to his church adding that 'when we turn ministry into a mere occupation, we lose the heart of the call and the gaze of Jesus who once looked upon us and said 'follow me'".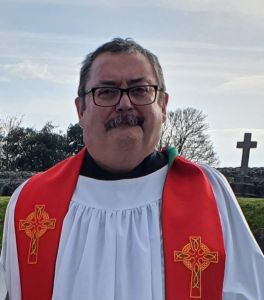 He also told the ordinands that they both bring wonderful gifts to their ministry and that their life experience and empathy will be immense gifts to all they encounter.
"We as your parish families and diocesan family are proud of you today," he said.
He also added they will need a listening ear in their ministry 'to hear both what is being said to you and often to discern what is really being said or what has been left unsaid' and reminded them to nurture a sense of community, value diversity and inclusion and 'draw out people's gifts and empower them to find their voice.'
After the laying on of hands Ger and Mike were vested with their priest's stoles by Bishop Burrows and presented with a Bible each.  The loud Amen of the congregation at the end of the laying on of hands completed the act of Ordination in the name of the whole Church.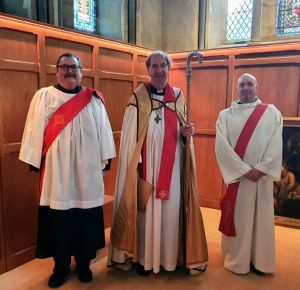 The musical director was Bartosz Thiede and hymns during the service included Lift High The Cross and Will You Come And Follow Me. Some choral pieces that had special resonance for Bishop Michael Burrows were also included in the service.
Light refreshments were provided afterwards by Kilkenny Union parishioners.
ENDS