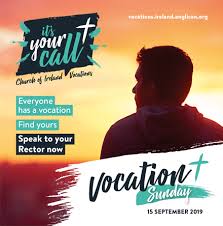 It's Your Call
Vocation Sunday, on 15 September this year, is a day to enable the whole Church of Ireland to reflect – prayerfully and practically – on how we as a Church nurture and foster vocations.
This will be followed up by a retreat at the Dromantine Retreat Centre, Newry, in February 2020, to give participants space and time to think about the call of God and help them to explore vocation further.  It's also an opportunity to broaden the conversation about vocations to all forms of ministry, whether lay or ordained, right across the Church of Ireland.
You can check out our video, which shares stories of how people have listened to God's call, at www.youtube.com/churchofireland and the Church of Ireland's Facebook page.  A range of articles and information, to help to discern and explore a call, is also up online at vocations.ireland.anglican.org
Vocation Sunday links
Articles
 Resources
Video (6 minutes 23 seconds)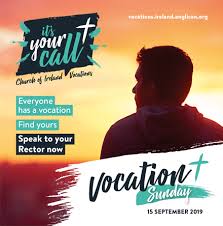 A trailer for the video (1 minute 24 seconds) is also available on YouTube, and can be used on its own or as a preview for the full version: https://youtu.be/u0nN5oR05_Q
The full video is available as a MP4 file at the following link and can be downloaded to a memory stick.  This is particularly to assist parishes where the building would not have internet access or where access may be unreliable: www.ireland.anglican.org/cmsfiles/vocations/church-of-ireland-its-your-call.mp4
 DON'T FORGET THE SPECIAL VOCATIONS/MINISTRY FOCUS AT DAY 2 OF THE NATIONAL PLOUGHING CHAMPTIONSHIPS AT THE CHURCH OF IRELAND STAND 587, ROW 25, BLOCK 3.