WHY WE DID IT – NEW DIOCESAN READERS TELL THEIR STORIES
Two new Diocesan Readers, Ann Gill (Cashel) and Ger James (Carlow) were commissioned at a special Advent Eucharist in Saint Laserian's Cathedral, Old Leighlin, on Sunday 27th November last at 5 p.m.
In the following question and answer interview they tell us the story of how they become diocesan readers, about facing challenge and receiving
confidence.
Q 1. WHAT WAS THE TRIGGER FOR YOU BECOMING A DIOCESAN READER?
GER: I guess there has always been an inner belief since I was 13 or 14 years of age that I would serve my God and the Church in some capacity.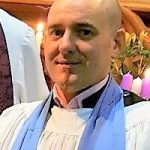 When my job came to an end and time was available, my rector at the time noticed that I had started appearing again in the pew. I believe it was the path that God had chosen, and that He felt it was now time to start.
ANN:
I was mentored by Olive Thornburgh (RIP) who could see into my soul. I was also spurred on by the long interregnums in my previous parish and encouraged by the community as a parish reader. My thanks to Dean Garry Paulson, Rev Stan Evans, Dean Sirr and Rev Keith Scott, Rev Melissa Jeffars and my dear friend Rev Allen (RIP) who was taken too soon.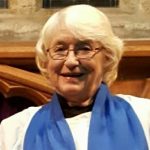 So many people encouraged and prayed for me in these times, my thanks to Bishop Michael for trusting me and Canon Barbara for her faith in me.
 Q.2. THE TRAINING – WAS IT EASIER OR MORE DIFFICULT THAN YOU ANTICIPATED? WHAT DID YOU PARTICULARLY LIKE AND WHAT CHALLENGED YOU?
GER: I am not going to lie – it was far from easy, but then life itself is not easy, is it?
Yes it was difficult but that said it was one of the most enjoyable, self-learning and testing undertakings I have ever had. I suffer with dyslexia and this adds to the difficulties a person has in writing and learning.
One of the most enjoyable parts of the course for me was listening to readings being pulled apart and the story/lesson that lies beneath the top layer of skin of what we see and read on a Sunday morning or any given day (being made clear).
The hardest part for me was the theology module. As much as I loved it, it was very hard at times to take on board but yet it was highly interesting too. Also essay writing…trying to get what's in my head on to paper.
ANN: It was wonderful. The vitality of the young people on the course was so lively and the lectures were so stimulating, I felt invigorated and stimulated all the time.
However, the essays were, I feel, very difficult, but I tried and researched with vigour and learned so much.
Dean Tom was supportive, energetic and alive to every aspect. Canon Barbara was a stabilising and practical support. Our Team was our support and there was a great feeling of love that will stay with us for the rest of our lives.
Q.3. GETTING STARTED AND THE WORK SO FAR – HOW HAS IT BEEN?
GER: Getting started, I guess, was the hardest part – standing up in front of people to read a lesson for the first time after you've sat in pews for years. Over the past 18 months while going through the journey of learning I have been able to do small bits like intercessions, helping with Communion, and taking Moring prayer in the parish hall on Wednesday mornings while the parish was vacant. For me this helped greatly.
Finding churches hasn't been a real issue and hopefully won't be with the help of sat-nav!
Sermon writing, with the difficulties in the learning and writing field it's not so easy, but we don't panic and there are plenty of resources to help.
I think if you feel you have a calling whether it's for lay or ordained Ministry you should go to your Rector and have the chat, explore, maybe undertake the Certificate in Christian Studies Course.
That said I do feel it's important that if they want/need people to go forward into either ministries they need to look at the academic side somewhat and not make it so hard for people. I reckon there are born clerics out there who find it far too hard academically and that's a real shame.
ANN:
This is my life, even though it took me a long time to realise it. When I'd fulfilled my other missions in life and did what I had to do, now it's time to increase my work for God and I thank Him for this great opportunity and allowing me this time to do His work.
Q.4: YOUR EMOTIONS ON THE NIGHT AND WHAT COMMISSIONING MEANS TO YOU?
GER: This is the start of a journey between me and God, one I feel that he has called me to fulfil, one of peace of mind and one of being one/whole with myself. God's will be done.   
The scarf* I wore for the service belonged to my grandfather, the late Thomas (Tom) James and it was given to me a short while after he passed away in 1992 as a keep sake, with my Gran saying that I would need it someday and I am honoured and delighted that I can use it now. Granda was commissioned on the 3rd of June 1987 by the late Rt Rev Noel Willoughby, Bishop of CFO, and for me it's having him as guidance and comfort with me as well as having God with me – a safety net as such!!
Emotions on the night were a strange mix of excitement, fear, delight, thankfulness and joy. It was very overwhelming, very humbling to receive so much support and congratulations. I'm normally the chap in the background chipping away at the little things and saying 'I've done nothing'.
ANN:
I felt overwhelmed, joyful, frightened and grateful, aware of the wonderful people of God who came to support us, of our families and friends.
I'm still amazed and humbled with the welcome to ministry.
I was overwhelmed with messages of support and love from friends who could not be there and grateful for the gifts and proud to be in the service of Jesus now in a recognised way. I cannot express the joy I felt to be accepted into the service of God. Unworthy as I am, I'll give it my best.
Bishop Michael Burrows:
"The commissioning of Diocesan Readers is always for me a special joy," he says, "and last Sunday was particularly special as we celebrated the completion of a demanding course of study and the commencement of a new phase in ministry.
Amid the sober beauty of a truly mesmerising Advent liturgy in Leighlin, all present were caught up in a mood of new beginnings, of striving (in the words of the Collect) to cast away the works of darkness and put on the armour of light.
Our warm congratulations to Ger and Ann and to all who successfully completed our Certificate in Christian Studies programme."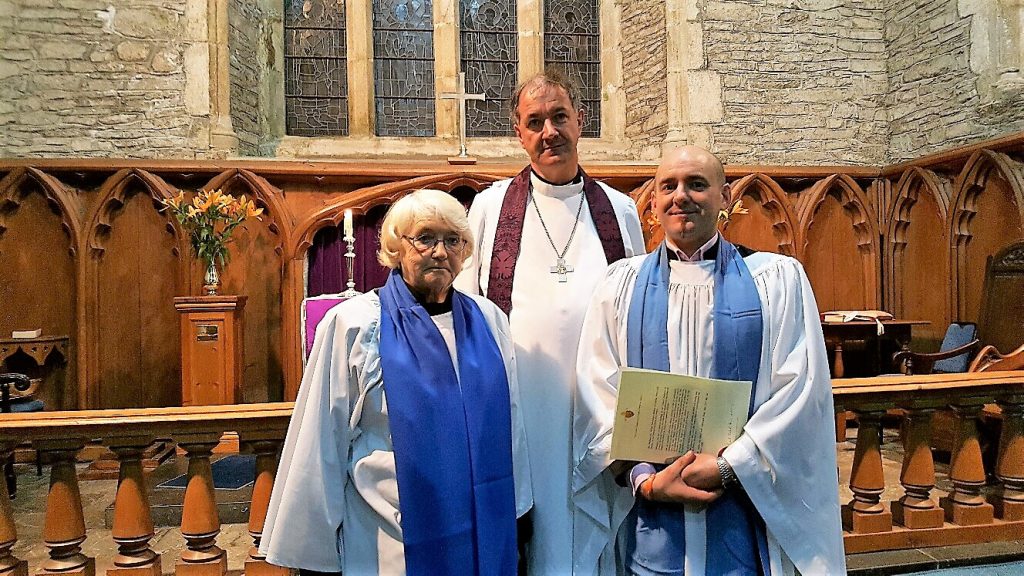 Certificates in Christian Studies were conferred on:
Norma Jean Carney
Ann Gill
Claire Jackson
Ger James
Valerie James
Isabelle Kurz (not in photo below)
Jerome Phair
Emma Rothwell
Judith Monk (posthumously)
Claire Jackson (second from left) was the winner of the Bishop's Medal 2016, awarded as part of this course.
The Certificate in Christian Studies is awarded to those who have undertaken an 18-month programme of theological study and faith formation. The course is run in conjunction with Saint Patrick's College, Maynooth. For more information contact Dean Tom Gordon in Leighlin Union of Parishes.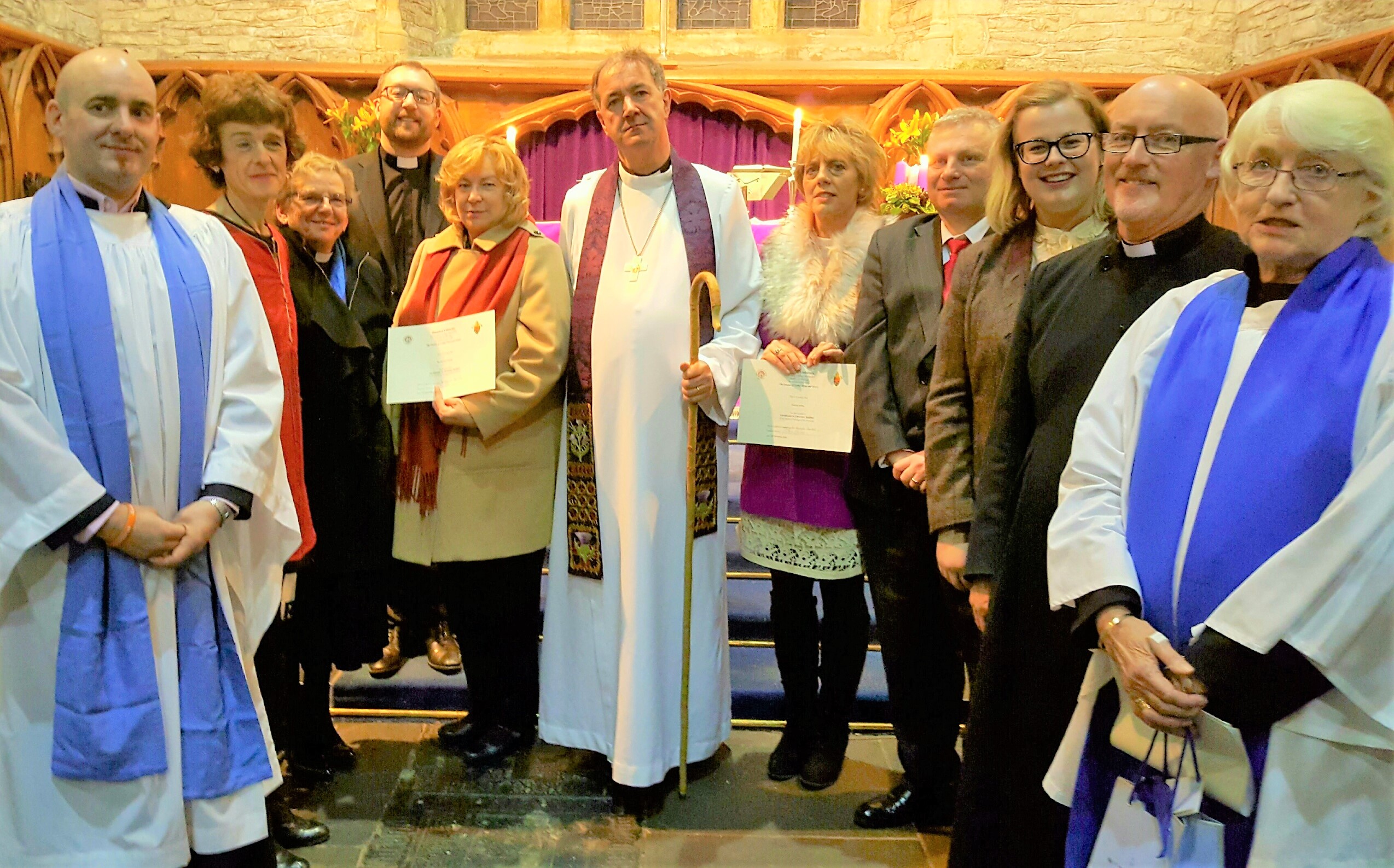 *scarf – diocesan readers wear what are technically called scarves but they are often referred to as stoles.