Overall winner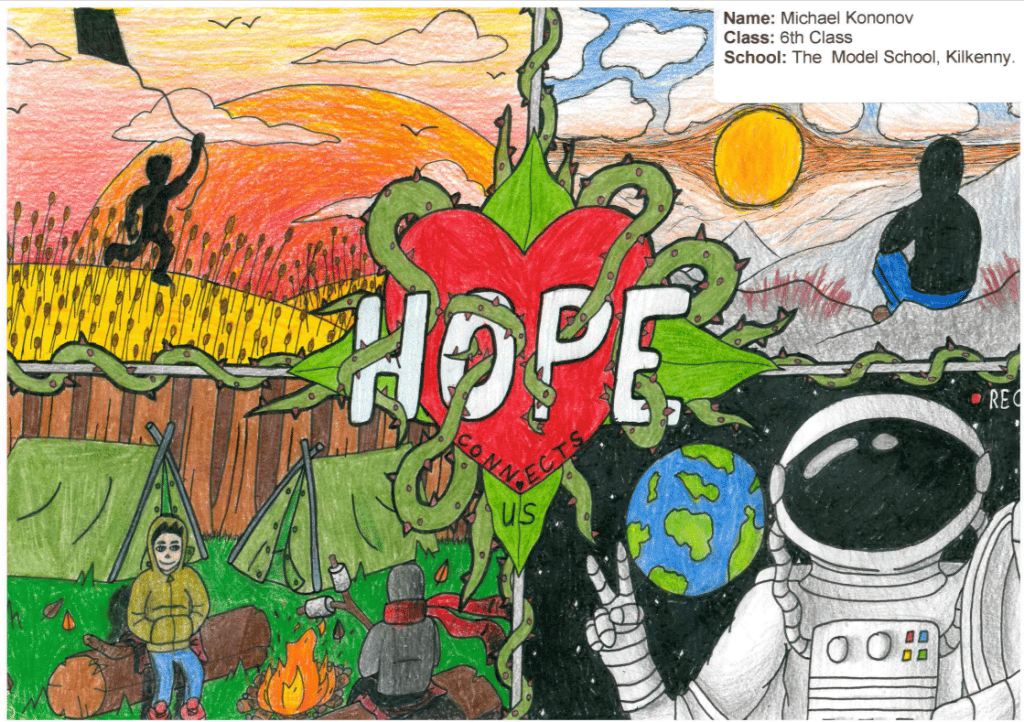 Congratulations to Michael Kononov
6th class
The Model School
Kilkenny
Michael's thought process when planning his painting:
The theme of the Bishop's Poster competition was HOPE this year.  My poster shows four situations connecting people, freedom and hope.
The top left picture represents the freedom that is felt when you fly a kite.
The top right picture represents the sense of happiness you feel when you achieve a goal like climbing to the top of a mountain.
The bottom left shows friendship, spending time with friends around the campfire.
The bottom right picture represents hope for space travel and future space exploration. When we achieve something we hope to inspire others by sharing our experience with them.
The centre of the picture shows the words "Hope connects us". The vines connect the four pictures as well as the letters in the word HOPE. I really enjoyed creating this poster.
Comment from Carolyn Good, a member of the Bishop's Advisory Committee, about the competition:
Back in December 2021 Bishop Burrows was keen to bring back the Bishop's Art Competition but was conscious not to put schools already stressed under more pressure, and so a scaled back competition was launched. The theme this time was Hope.
Bishop Burrows, unable to visit schools in person, sent a video to all of the primary schools in early January 2022 coinciding with Epiphany. He reminded the children and school staffs, of the hopefulness of the Magi on their journey and announced the theme for both the Art Competition and the Choral Festivals.
Schools across the United Dioceses took part and the judges were impressed by the very high standard of entries. The judges were hard at work in the Diocesan office sorting through many, many beautiful art works and making their decisions. The prizes were posted out to schools this year in plenty of time so that they could be presented either in school assemblies or at the school's own Choral Festival.
The overall winner was Michael Kononov, a 6th class pupil in The Model School, Kilkenny. Michael's picture is colourful, engaging, expertly drawn and has a simple, clear message "Hope Connects Us". Michael's message reminds us of exactly what Bishop Burrows articulated in a meeting about this challenging process last December, in a time when we couldn't easily meet in person, when some events could come back and some couldn't, when we needed to reconnect, Hope was needed and it did indeed, connect us.
FULL LIST OF WINNERS
| | | | | |
| --- | --- | --- | --- | --- |
| Prize | Name | Class | School | Diocese |
|   |   |   |   |   |
| Overall | Michael Kononov | 6th | Kilkenny Model School | Ossory |
|   | | | | |
| Special Prize | James Hearns | ASD | Clonenagh NS Mountrath | Ossory |
| Special Prize | Tyrone Dempsey | ASD | Clonenagh NS Mountrath | Ossory |
| Special Prize | Mollie Mai | ASD | Clonenagh NS Mountrath | Ossory |
|   | | | | |
| 1st | Saoirse Cleary | Junior Infants | St Iberius NS Wexford | Ferns |
| 2nd | Ben Peavoy | Junior Infants | Wandesforde NS Castlecomer | Ossory |
| 3rd | Cadhla Free | Junior Infants | Clonenagh NS Mountrath | Ossory |
| Highly Commended | Jasmin Ogbonyomi | Junior Infants | Maryborough NS | Leighlin |
|   | | | | |
| 1st | Sarah O'Dwyer | Senior Infants | Kilkenny Model School | Ossory |
| 2nd | Robyn Boyle | Senior Infants | St Iberius NS Wexford | Ferns |
| 3rd | Max Byrne | Senior Infants | Kilcommon NS | Ferns |
| Highly Commended | Bella Barrington Lucas | Senior Infants | Kilkenny Model School | Ossory |
|   | | | | |
| 1st | Evan Wall | 1st | Carrigduff NS Bunclody | Ferns |
| 2nd | Emily Willis | 1st | Carrigduff NS Bunclody | Ferns |
| 3rd | Clodagh Cantlon | 1st | St Mary's NS Bagenalstown | Leighlin |
| Highly Commended | Isabella Muth | 1st | Kilkenny Model School | Ossory |
|   | | | | |
| 1st | Maeve Armitage | 2nd | Clonenagh NS Mountrath | Ossory |
| 2nd | Conor Ryan | 2nd | Kilkenny Model School | Ossory |
| 3rd | Evan McLane | 2nd | St Mary's NS Bagenalstown | Leighlin |
| Highly Commended | Orán Best | 2nd | Kilcommon NS | Ferns |
|   | | | | |
| 1st | Kryill Pershenkov | 3rd | Gorey Central School | Ferns |
| 2nd | Isabelle Murray | 3rd | St Iberius NS Wexford | Ferns |
| 3rd | Tristan Kelly | 3rd | Kilcommon NS | Ferns |
| Highly Commended | Iris Roulston | 3rd | St Iberius NS Wexford | Ferns |
|   | | | | |
| 1st | Luke Tully | 4th | St Edan's NS Ferns | Ferns |
| 2nd | Alex Cotorobai | 4th | St Mary's NS Bagenalstown | Leighlin |
| 3rd | Ruth Peppard | 4th | Kilkenny Model School | Ossory |
| 3rd | Ben Doran Keenan | 4th | All Saint's NS Carnew | Ferns |
| Highly Commended | Jasmine Balhuc | 4th | St Iberius NS Wexford | Ferns |
| Highly Commended | Rosie Whelan | 4th | Kiltegan NS | Leighlin |
|   | | | | |
| 1st | Jamie Conway | 5th | Carrigduff NS Bunclody | Ferns |
| 2nd | Robert Murphy | 5th | Wandesforde NS Castlecomer | Ossory |
| 3rd | Anna Hunter | 5th | St Mary's Parochial School Clonmel | Lismore |
| Highly Commended | Hannah Murray | 5th | St Iberius NS Wexford | Ferns |
| Highly Commended | Vika O'Keefe | 5th | St James's NS | Lismore |
|   | | | | |
| 1st | Freya Lowe | 6th | Shillelagh NS | Leighlin |
| 2nd | Lauren Hogan | 6th | Kilcommon NS | Ferns |
| 3rd | Tessa Fox | 6th | Stratford Lodge NS | Leighlin |
| Highly Commended | Becky Olsen Byrne | 6th | Kilcommon NS | Ferns |
| | | | | |
See all the 1st prize winning entries below: