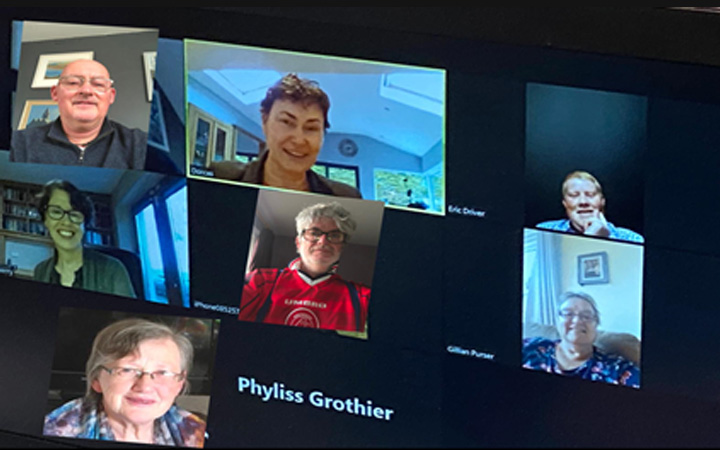 From top row, left to right: Dean Tom Gordon, Dorcas Collier-Hannon (Chairperson),  Eric Driver, Linda Rainsberry, Revd Ian Cruickshank, Gillian Purser, Phyllis Grothier
Members of the Diocesan Review Commission meet 'remotely'
Brain-storming 'Café Conversations' planned
Like so much else in our country, the work of the Diocesan Review Commission has been impacted by the public health restrictions currently in operation. We wish, however, to up-date you on the planning, preparation, and training that is continuing remotely for us.
Over the past few months the Commission has been discerning how best to serve our originating terms of reference. Our first, and we believe our key task, is to consult with all parochial unions and groups across the dioceses. To that end, we intend personally visiting each parochial union/group to meet with local parishioners, to listen to them as to what is working well in their parish, and what is not. These face to face conversations are, we believe, the foundation of our way forward. The strength of our parishes and dioceses depends on the holistic strength of relationships forged within them; the strength of our relationship with God, with our own selves, with others within the parish/dioceses, and with wider society.
We are of the view that beginning a dioceses-wide conversation will enable us to listen, to share and learn from each other, to foster trust, to help to heal divisions (where they exist), to face up to difficult realities, yet, all the while, to nurture hope. It will also enable us, practically speaking, to celebrate successes, identify shortcomings and ultimately to work together to find solutions.
As part of the training which we have undertaken, we have been introduced to the idea of "Café Conversations". These lively, informal, 'brain-storming' type conversations will be facilitated by members of the Commission team in each parochial union/group. This will allow ample opportunity for ideas and thoughts (and perhaps some hospitality!) to be shared. It is envisaged that these meetings will be for parishioners, parish office holders, Select Vestry members and lay ministers. The meetings are anticipated to last for about two hours, and we will notify each rector and Select vestry well in advance of the visit. What is clear is that these meetings cannot be undertaken 'remotely' via the internet, as has become commonplace recently. So, they must await the relaxation of current social-distancing rules.
In the meantime, our ongoing work includes the systematic analysis of a considerable input to the work of the Commission by the clergy (both serving and retired), each of whom received a detailed questionnaire covering the broad sweep of parochial and diocesan life. We are grateful for the time and care taken by clerical members of our dioceses in completing and returning these questionnaires, which affords us valuable insights and perspectives. This too will help to inform and to advance the work of the Commission.
Some may feel impatient for a 'result', for a report/recommendation from the Commission. Yet our view is firmly that the process is as important as the product. A true renewal/re-energising of our dioceses rests within all of our reach, but only by working together, by meeting face to face, by talking and listening to each other, by building understanding and trust, and ultimately, with God's help, by finding our unique way to bring about His will.
Wishing you good health, and safety over these times,
Diocesan Review Commission Team