Bishop Niall Coll was ordained Roman Catholic Bishop of Ossory on Sunday 22nd January. From Letterkenny, County Donegal and ordained a priest for the Diocese of Raphoe in 1988 he told the congregation that he is the 96th Bishop of Ossory and the first Ulsterman to serve in the office. He succeeds former Bishop of Ossory Dermot Farrell who is now Archbishop of Dublin.
Archbishop Farrell was principal consecrator at the ordination, along with two co-consecrators – Bishop Denis Nulty of Kildare and Leighlin and the Bishop of Raphoe, Alan McGuckian. The new bishop chose Christ Jesus our hope as his motto.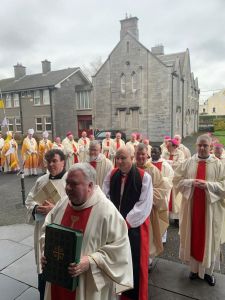 Bishop of Cashel, Ferns & Ossory, The Right Reverend Adrian Wilkinson, who attended the consecration, said it was a great joy to be present at the Episcopal Ordination of Bishop Niall Coll in St Mary's Cathedral.
"I enjoyed meeting him and told him that I was praying for him as he begins this next chapter in his ministry," he said.  "As we are near neighbours in Kilkenny, I look forward to meeting him regularly in the years ahead and sharing in any way we can in Christian solidarity and outreach.'