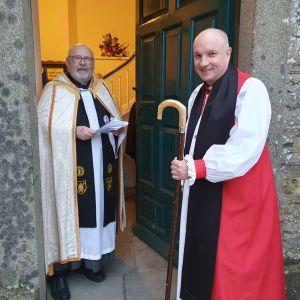 KNOCK THREE TIMES ONCE MORE
Another memorable service – this time in St Edan's Cathedral, Ferns
Sunday, January 29th, 2023
Bishop Adrian Wilkinson enthroned as Bishop of Ferns
Sunday evening, January 29th was a time of celebration at St Edan's Cathedral, Ferns as the new Bishop of Cashel, Ferns & Ossory, The Right Reverend Adrian Wilkinson, was enthroned there.
The service of enthronement formally began his ministry in the diocese of Ferns – one of the six dioceses in the Church of Ireland's United Diocese of Cashel, Ferns & Ossory.
The Evensong service was organised and conducted by the Dean of Ferns, The Very Reverend Paul Mooney, in the presence of County Wexford civic and religious dignitaries.
As per tradition Bishop Wilkinson knocked three times on the cathedral door before being admitted and welcomed by Dean Mooney. He was then introduced to clergy, ecumenical colleagues, and congregation before being installed in his seat.
(The word 'cathedral' comes from the Latin word 'cathedra' which means the seat where a bishop sits to teach the faith to the people of the diocese.) 
Religious dignitaries who greeted the Bishop in St Edan's included Fr Patrick Cushen, PP Ferns, The Reverend Katherine Kehoe of the Methodist Church and Malcolm Pimm of The Society of Friends.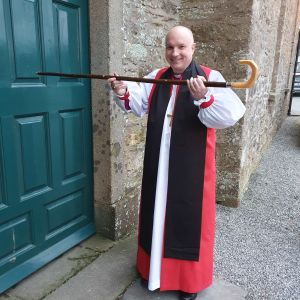 Civic dignitaries present were George Lawlor, Cathaoirleach of Wexford County Council, TDs James Browne, Brendan Howlin, Paul Kehoe, Verona Murphy and Councillor Barbara Ann Murphy.
In his sermon Bishop Wilkinson spoke about the pilgrimage link between Wexford and Wales, a link that is now being revived with the development of the Wexford-Pembrokeshire Pilgrim Way which follows in the footsteps of St Aidan's sixth century journey from Ferns in Ireland to meet his teacher and mentor, St David, in Wales.
"(As well as being former ecclesiastic cities) St David's and St Edan's or St Aidan's also have something else in common," he said, "which we mark in a significant way today with the crozier (the pastoral staff), St Edan's pastoral staff. It symbolizes the link between St Edan or Aidan and St David."
The staff*, made of hazelwood and ram's horn by local craftsmen, and made as part of an Ancient Connections initiative, was loaned, generously, by Ferns Museum for this special occasion.
Bishop Wilkinson then went on to point out the growing popularity of pilgrim paths.
"People are seeking meaning beyond the material," he said, before mentioning his hope that the Wexford Pembrokeshire pilgrim path will become 'part of that ancient network of routes in Northern Europe, one that predates the very popular Camino'.
During contemplative walks or pilgrimages we have the opportunity of enriching, chance encounters, he added.
"We discover that we are not alone in our journey through life and we share our common experience of life."
He finished by referring to a story of European travellers rushing to get through a trip through a jungle but having to pause when their porters refused to go further.
"We have come so far and so fast that we need to stop," the guides said. "We have to let our souls catch up with us."
"Sometimes we are so concerned with the demands and pressures of the world that we fail to pause and experience the essence of peace which is God's gift to us," he concluded.
Lessons were read by Valerie Power, Diocesan Reader, and Margaret Jacob. The Registrar was The Venerable Ruth Elmes, Rector of Tinahely and Carnew Union of Parishes.
The Ferns Diocesan Choir was led by organist Henry Percival from Gorey and  hymns included God is here! As we his people, Come, Holy Ghost, our souls inspire, Angel voices ever singing and Be thou my vision.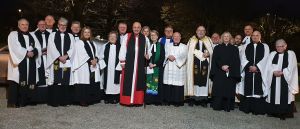 Bishop Wilkinson has already been enthroned Bishop of Waterford, Bishop of Leighlin, Bishop of Cashel and Bishop of Lismore and next Sunday afternoon, February 5th, his final enthronement service will take place in St Canice's Kilkenny at 3.30 p.m. when he will be formally enthroned as Bishop of Ossory.
He was elected Bishop of Cashel, Ferns & Ossory in June this year and succeeds the Right Reverend Michael Burrows who has translated (moved) to become the Bishop of Tuam, Limerick and Killaloe.
Adrian Wilkinson was previously Archdeacon of Cork, Cloyne and Ross and serves on many national-level Church of Ireland committees.
*A similar staff has been commissioned by Ferns Cathedral and will be used by the Bishop on his visits there in the future.