PEDALLING FOR HEALTH – HOME AND AWAY
ROBBIE SYME SETS OFF TODAY!
Heart attack survivor pedals again in week of April 22nd – 28th!
Heart attack survivor and Enniscorthy parishioner, Robbie Syme, a man very well known in this Diocese, is taking to his bicycle once more, in an even bigger way than in 2017, to raise money for two good causes this year – one at home and one away.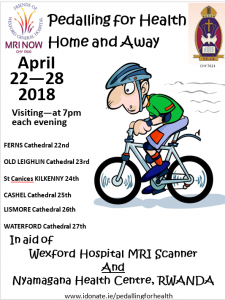 This year the Wexford General Hospital MRI Scanner appeal will benefit from his efforts as well as a health centre in Rwanda.
Last year he raised €6000 toward the restoration of the organ in St Mary's Church, Enniscorthy by cycling 250 km around Wexford.
This time he will be cycling to the six cathedrals in the Church of Ireland Diocese of Cashel, Ferns and Ossory and this will see him clock up 380 km on his electric bike over the course of a week. He will visit the cathedrals in Ferns, Leighlin, Kilkenny, Cashel, Lismore and Waterford beginning Sunday April 22nd  in Ferns and finishing in Waterford on Saturday, 28th April. He will arrive at each of these cathedrals at 7 p.m. each evening.
FERNS – Sunday, April 22nd – 7 p.m.
OLD LEIGHLIN – Monday, April 23rd – 7 p.m.
ST CANICE'S KILKENNY – Tuesday, April 24th – 7 .p.m
CASHEL – April 25th – Wednesday, 7 p.m.
LISMORE – April 26th – Thursday, 7 p.m.
WATERFORD – April 27th – Friday, 7 p.m.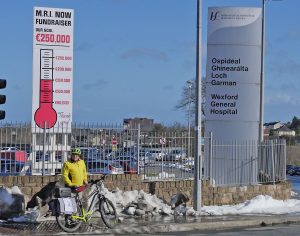 When he had a heart attack in 2016 Robbie was a patient of Wexford General's Coronary Care Unit (CCU) and his experience there led to his decision to fundraise for the MRI scanner this year.
"Being very well looked after in Wexford General's CCU does have a bearing on my decision," he says. "After all charity begins at home! I also benefitted from the Cardiac rehab programme there so I definitely have a 'grá' for the place.  I also think that an MRI scanner is badly needed and I much admire the "Friends" of the hospital, having raised so much money to date for several causes. I hope that the funds raised in this venture will help in some small way in reaching the target of €250,000."
The 'away' cause of putting a roof on a health centre in Rwanda is also important to Robbie as he has been visiting Rwanda since 2002. He, along with a group of friends known as 'Friends of Shyogwe Diocese', have already contributed to the upgrading of two dispensaries there.
"The original dispensaries consisted of one roomed buildings which just dispensed some medicines," he says, "whereas the upgraded health centres provide primary health care to approximately 25,000 people.
The walls of the health centre in Nyamagana that they are fund-raising for have already been built with the roof set to cost €9000. A group of people from the Diocese of Cashel, Ferns & Ossory intend travelling there to help with this work.
Rwanda was ranked the 17th poorest country in the world in 2016 and the parish they are heading to, is 50 miles from the capital, Kigali.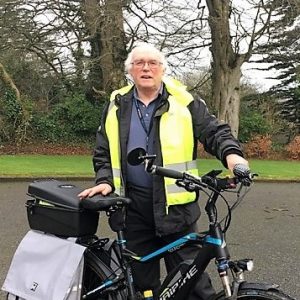 This new venture is also another celebration of Robbie's return to fitness after his heart attack, he says.
"Thanks to the good Lord and a good surgeon I survived," he says.
A big fan of electric bikes he and his wife, Jennifer, sold one of their cars in 2014 and bought two e-bikes to keep fit.
"Any journey of less than 10 km we now cycle – hail, rain or snow," he says. "I found that cycling was exercise I enjoyed and the electric bike gave me that extra bit of power on the hills and there are a good few of them around Enniscorthy!"
Please donate via www.idonate.ie/pedallingforhealth
Or go along to your nearest cathedral at the appointed time to meet him!
He will be delighted with your support.
Safe cycling, Robbie!