DIOCESAN READER COMMISSIONED IN STRADBALLY
Well-known Youth leader and Kilkenny College Boarding Houseparent Emma Purser from Stradbally was commissioned as a Diocesan Reader in the Church of Ireland Diocese of Cashel, Ferns and Ossory on Sunday evening, January 12th. The special service took place in her home parish of Stradbally, in St Patrick's Church.
Daughter of the Reverend Alec Purser, priest-in-charge of Stradbally Union of Parishes and Gillian Purser, also a Diocesan Reader, Emma will now be licensed to take services in churches around the diocese when required.
Diocesan Readers have an important voluntary role in assisting the ministry of the church and after a two-year period of training in Bible study, theology, ministry and preaching are authorised by the Bishop of their diocese to preach, teach, lead worship and engage in pastoral work, not just in their own parish but in other churches throughout the diocese.
The Right Reverend Michael Burrows, Bishop of Cashel, Ferns & Ossory, led this commissioning service on the Feast of the Baptism of the Lord, focusing, therefore, on baptism and praying for Emma in this new chapter of her work, discipleship and ministry.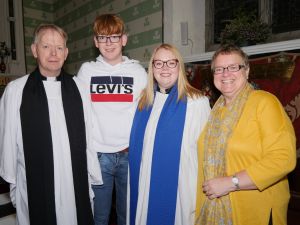 "We remember that all ministry is rooted in baptism," he said, "and that it is from that source that the calling in Christ arrives."
He compared baptism to a game of Pass the Parcel.
"God, in his infinite grace, gives us a parcel of gifts. We spend our lives unwrapping them and entering more and more into the truth and into the mystery. That unwrapping involves work and particular moments of decision but if we don't do the unwrapping, we can't blame God for failing to give the gift."
Applause for Emma followed the commissioning, licensing and dedication section of the service that took place around the font.
The preacher was the Very Reverend Maria Jansson, Dean of Waterford who has been aware of Emma's work as a youth leader in the diocese for many years.
"Your ministry didn't begin today," she said. "Your genius with young people, your capacity for fun and passion, your knowledge and love of God and your deep understanding of young people – I'm delighted that you have received your voice today… and that now others will hear it – parents and grandparents too…in this, the beginning of the next chapter of God's life with you."
It is really important that Emma develop her own authentic voice, the Dean said.
"As a woman you will preach differently," she continued. "You have been given a voice – a woman's voice – and you are to use it in every place where you feel God has called you to raise that voice – in the reading of Scripture, in the prayers… You are – to the God who has gathered us tonight – 'my daughter, beloved'."
She prayed that Emma's voice will touch the darkness and give light and that through her many more may also know that they are beloved.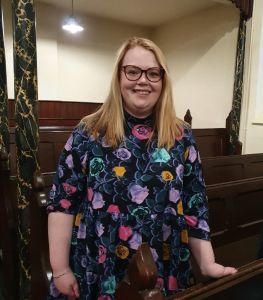 The hymns chosen included Be Thou My Vision, Lead Us, Heavenly Father, Lead Us and Brother, Sister, Let Me Serve You.
Refreshments were enjoyed in the church following the service.