DIOCESAN READER COMMISSIONED IN LISMORE
Daniel Fleming, business systems analyst and Deputy Librarian of the Cotton Library in Lismore was commissioned as a Diocesan Reader in the Church of Ireland Diocese of Cashel, Ferns and Ossory on Sunday evening, January 19th last.
This special service took place in the historic St Carthage's Cathedral in the town of Lismore, County Waterford.
Daniel will now be licensed to take services in churches around the diocese when required.
Passionate about books and an active member of Lismore Union Parish, Daniel is a member of the Cathedral 2020 Project Steering Group and the Board of Management of Lismore Mochuda National School. He is also currently studying for a BA degree in Religious Studies and Philosophy with the Open University.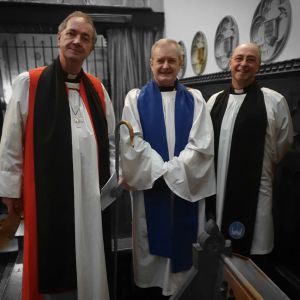 His commissioning and licensing as a Diocesan Reader on Sunday night – a role that is important in assisting the ministry of the church – follows a two-year period of training in Bible study, theology, ministry and preaching. Daniel is now authorised by the Right Reverend Michael Burrows, Bishop of this United Diocese, to preach, teach, lead worship and engage in pastoral work, not just in his own parish but also in other churches throughout the diocese.
Bishop Burrows led this commissioning service in the Week of Prayer for Christian Unity, welcoming everyone present and thanking them for 'surrounding Daniel on this special day'.
"The Epiphany season is about the display, the experiencing and the sharing of His glory and in many ways, that's what ministry is largely about," he said. "We take great pleasure tonight, therefore, in admitting to ministry in the context of the distinctive ministry of a diocesan reader, Daniel Fleming, and we look forward to his wider contribution and his ministry of the Word here and beyond. Many of us know what he has already given to this place, not least, of course, through (being Deputy Librarian) of the Cotton Library* here in the Cathedral so it is great to have Daniel on board for this role."
Applause for Daniel followed the commissioning, licensing and dedication part of the service.
The preacher was Mr Brian Dungan, Diocesan Reader, and after acknowledging Daniel's commitment and work leading up to this day, he went on to mention history, tea and technology in the context of his sermon about the acceptance of calling.
Daniel has accepted a calling to help the spiritual life of Lismore Union of parishes and the wider diocese, he said, and while it will not be without its challenges, he said that the role is, in his experience, a rewarding one, spiritually and socially.
"It provides the Diocesan Reader with the opportunity to worship in many different churches," he said, "and over time to get to know a wider circle of fascinating people."
He concluded with an excerpt from a poem by the poet John O'Donohue.  May your new work excite your heart…may this work challenge you towards new frontiers that will emerge as you begin to approach them, calling from you the full force and depth of your undiscovered gifts…
Speaking during welcome refreshments provided by parishioners in the nearby Red Hall, the Very Reverend Paul Draper, Dean of Lismore welcomed Daniel's commissioning and also thanked everyone who helped organise this special event.
*The nineteenth century Cotton Library in St Carthage's Cathedral is predominantly the collection of Henry Cotton, one-time Dean of the Cathedral and features ecclesiastical, historical and theological books as well as a Bible from the 16th century and many antiquities and eccentricities.  It is currently being catalogued and restored to its former condition.