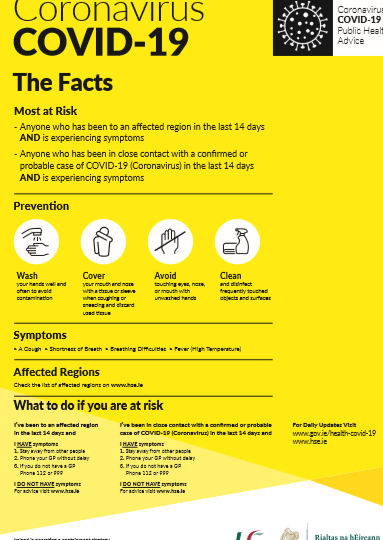 In the light of the statement of An Taoiseach Leo Varadkar TD yesterday, 12th March 2020, the bishops of the Church of Ireland, having consulted with each other, are expecting all members of the Church of Ireland in the Republic of Ireland to comply fully with the requests being made by the Government.
In the light of the request that there should be no indoor gatherings of more than 100 people, and in order to err firmly on the side of caution, I now albeit with a heavy heart request the cancellation of the normal schedule of Church Services in this diocese at least until 29th March, the date announced by the Government. These arrangements will be reviewed by me thereafter, taking the advice of other bishops. The request with respect to gatherings of over 100 people extends to public gatherings for occasional offices such as Baptism for the time being; I have suspended all plans for the holding of Confirmations for the present. 
Local arrangements may, however, be made for churches to be open for extended periods of time to allow for private prayer, pastoral ministry and, where appropriate and in strict accordance with advice from the bishop, the distribution of Holy Communion where the elements have been already consecrated in the presence of a small number of witnesses.
Funerals and marriage give rise to different emotions and realities: times of both sorrow and joy in our lives.  In those cases, where pastoral Services absolutely must be held, the limit of 100 people also applies, provided also, however, that the other requirements of the HSE as set out in their guidelines, such as hand-sanitising and social distancing, are adequately put in place. It is recognised that this will be particularly challenging, yet hugely important, in the context of funerals. 
At this time all church members are urged to show solidarity and to give such support as they can to everyone in the community, particularly to the isolated and vulnerable. Special pastoral support needs also to be given to those who are disappointed following the cancellation of long-planned occasions and events of celebration. The clergy of the diocese have been further briefed concerning the safest and most sensitive, as well as imaginative, ways to continue to exercise their pastoral ministry of care and prayer, and such advice will be continually updated.
Like other Church of Ireland bishops, I recall that previous generations have faced challenges such as this, and greater than this, with fortitude, and the Christian way of faith, hope and love.
Wishing you all strength and blessing in these days
Michael Cashel Ferns and Ossory