Would you like to attend a Dawn Eucharist this Easter Sunday?
If so, please see the following list of locations and times in the Diocese of Cashel, Ferns & Ossory:
 CASHEL, COUNTY TIPPERARY
6.00 a.m. – St. Sedna's Church, Clonbeg (Glen of Aherlow) – Dawn Eucharist
 GOREY, COUNTY WEXFORD
6.00 a.m. Courtown Harbour – Gorey Churches Together will gather for an Ecumenical Praise service
KILLANNE, COUNTY WEXFORD
5.45 a.m. Dawn service – The Empty Tomb – Balinlug, Killanne
LISMORE
7.00 a.m. Mahon Falls – Sunrise Eucharist
Celebrant : Rev. Jenny Crowley.
STRADBALLY, COUNTY LAOIS
5.35 a.m. – Lakeside – Stradbally Hall. Dawn Eucharist. Bishop Michael Burrows will lead worship
TINAHELY, COUNTY WICKLOW
6 a.m. Rectory lawn, Kilcommon for a "Son"rise Eucharist.
If weather is poor the service will be held in Kilcommon Church at 6 a.m. instead
TRAMORE, COUNTY WATERFORD
6.15 a.m. Tramore Beach – Dawn Eucharist
ROSSLARE STRAND, COUNTY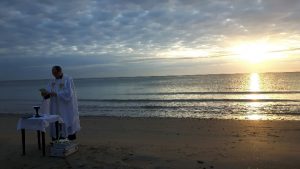 WEXFORD
6.16 a.m. – Rosslare Strand – Dawn Eucharist
HAPPY EASTER