It's NOT OK! Mothers' Union All-Ireland Action – 16 Days of Activism against Gender Violence
November 26, 2016 @ 11:00 am

-

4:00 pm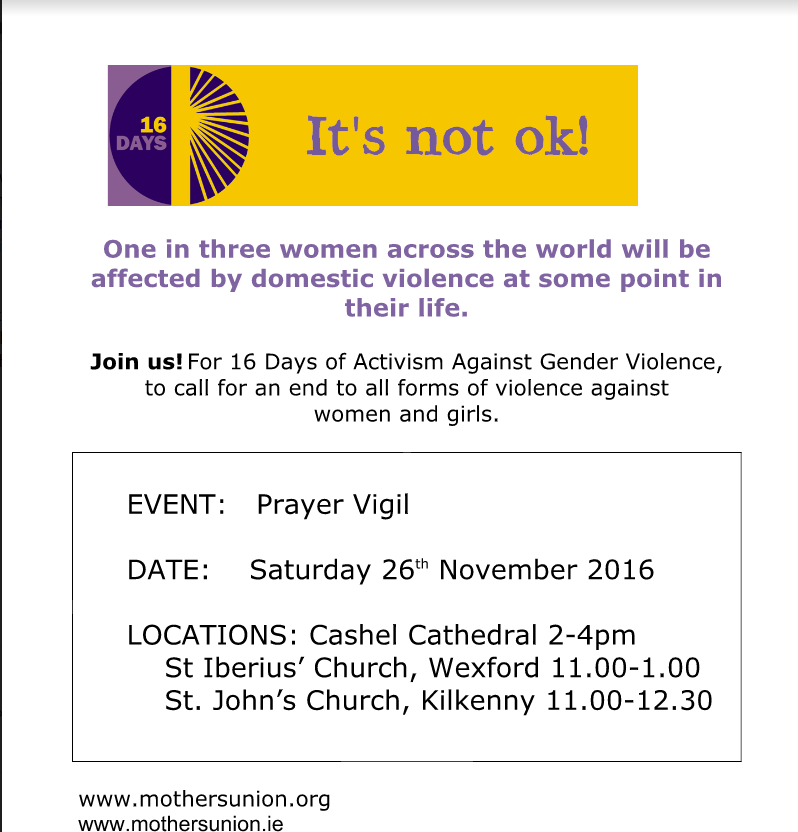 In solidarity with those who suffer gender violence 
Saturday, 26th November
16 Days of Activism by Mothers' Union – internationally and in your parish
3 Vigils are being held in this diocese on Saturday, 26th November. They will include the lighting of a candle, readings, prayer, silence, music and collecting essential items to donate to Women's Refuge Centres in each area
The vigil times are as follows:
Cashel Cathedral 2-4pm;
St. John's Church, Kilkenny 11.00am-12.30pm and
St. Iberius' Church, Wexford 11.00am-1.00pm, all on Saturday 26th November.
As part of this event members of the Mothers' Union in this diocese and all others around Ireland are collecting essential items like toiletries, clothes and toys to give to Women's Refuge Centres in their areas.
Christmas is the busiest season of the year in Women's Refuge Centres. Many have no essentials with them when they arrive so a supply of these items will mean a lot.
All toiletries are needed e.g. toothbrushes/toothpaste/face cloth/deodorant/shampoo/soap/ brushes/combs
Nightwear and underwear, slippers, good quality second hand clothes and toys in excellent condition also required.
First step for organizers: check with your local shelter on what their exact requirements are. Also include a card from MU when delivering.